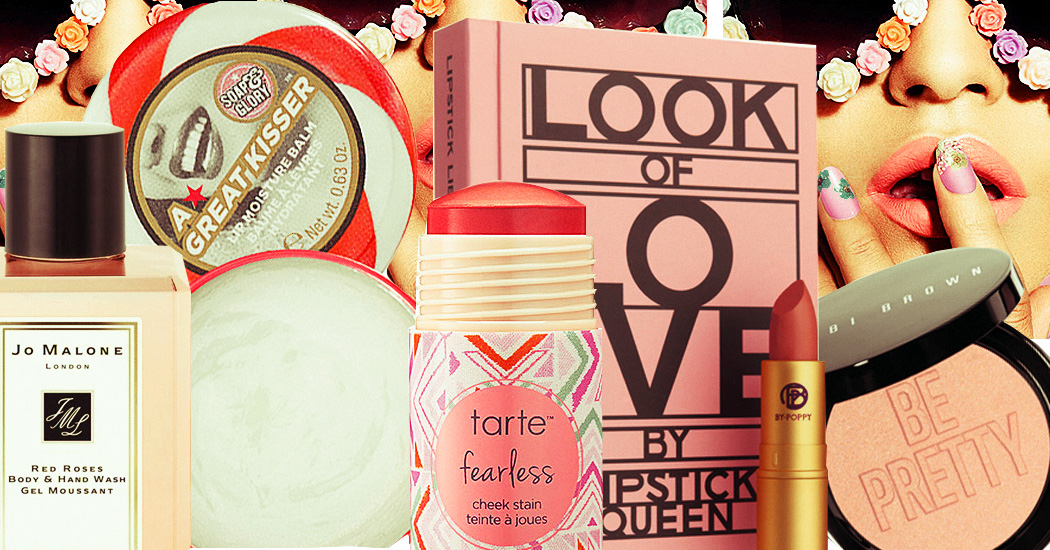 Whether you're in love, in lust, or feeling bah-humbug-y about February 14th, there's no better way to celebrate Saint Valentine than to snap up some beauty goods. Because regardless of your relationship status, you always have a relationship with yourself (which is the most important one, after all), so rejoice in your unique inner beauty and treat yourself! Here are 10 sexy suggestions, all $55 and under:

$55
This limited-edition set of calming lavender-scented products is the perfect way to indulge in some serious chill-out time. The kit includes DollyMoo's Lavender Body Scrub, Lavender Body Oil, Lavender Calming Butter and Lavender Water, all of which will leave you relaxed and ready for love.

$50
Crushed violet leaves, a blend of seven sumptuous roses, and a hint of lemon combine to make this pretty pink Body & Hand Wash a Valentine's Day must. Plus, the Joe Malone jar will look so sweet sitting on your sink.

$50
Does the lovey-dovey holiday have you feeling a little down this year (a recent breakup, perhaps)? LBF's all-natural concentrate is the perfect pick-me-up. Organic Blue Tansy, Italian Blood Orange, and sweet Bulgarian Rose Otto oils blend beautifully to create a de-stressing scent that will no doubt leave you with a smile on your face. (Your broken heart may take some more time to heal, unfortunately. But it will.)

$49
If you're a fan of fine skin care, this trio is a great way to say "I love you" to your winter-weary derma. Beautifully (but lightly) scented and infused with oils such as  grape, argan and hibiscus, three head-to-toe items are contained in this kit: mini versions of Caudalie's Divine Oil, Divine Scrub, and Divine legs. A heavenly gift that every woman deserves to give herself.

$48
You've got to treat yourself to a new lipstick this V-Day, and Lipstick Queen (a.k.a. Poppy King) is one of the best brands to choose from. This "Look of Love" set, which includes two lovely lip colors—Saint Lipstick in Pinky Nude and Butterfly Ball Lipstick in Smitten—as well as the Oxymoron Lip & Cheek Color in Honest Politician, is a lip-xurious volume to gift yourself for Valentine's Day. Plus, shipping is free until February 14th!

$38
A limited-edition powder from Bobbi Brown is a definite must-get, and this soft and smooth pressed bronzer, which is packed with micro pearls, will give your face a natural, light-pink glow. Plus, the "Be Pretty" message embossed on the powder will remind you of what this holiday is really all about—loving yourself.

$30
If you prefer cheek stains for color, these two new shades from Tarte are fabulous. Fearless is a pretty pink that's nice and light, while True Love is wonderfully blendable sheer watermelon. Take your pick, apply, and show off your sexy flush.

$25
Treat yourself to fabulous fingers, as well as some fun at-home beauty time with Ciaté's nail kit. Easy to use and a great way to get psyched for spring, if you're a fan of nail art, this one's a flower-petal-filled no brainer.

$10
A soft, kissable pout is paramount to feeling sexy, and this long-lasting, pepperminty balm will ensure that your lips stay that way. It contains Mango butter, apricot berry, and lingonberry oil, all of which lock in moisture protect your smackers from the winter wind. Plus, the adorably decorated tin is oh-so-easy to tote, so you'll have it with you wherever you end up on Valentine's Day.

---

Susan is a freelance writer, born and raised in NYC and currently based in Brooklyn. She's the senior beauty editor for Meets Obsession, and also writes for online publications such as Mamasarollingstone.com, TueNight.com.
and The Huffington Post. Susan had a serious candle hoarding issue that she has no plans to address. She's currently obsessed with Marc Jacobs' new beauty line, her black Zara moto jacket, and Aaron Paul.
All author posts