Oh, MAC, you so nasty…and we love you for it.
Nasty Gal and MAC Cosmetics have teamed up to create three bold lipsticks that ooze bold coolness.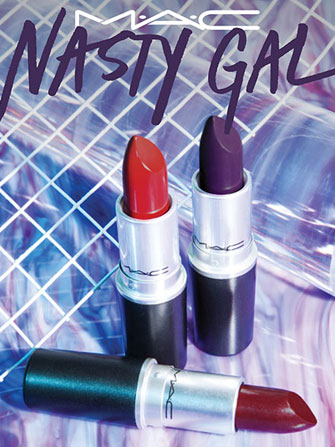 Just like the OG #Girlboss and founder of Nasty Gal, Sophia Amoruso,  we're all  about empowerment and originality– which is why we're totally going apeshit over this potentially rad collection.
According to the Nasty Gal blog, the collab collection is comprised of three high-intensity lip shades: deep purple, bombshell red and rich burgundy.
There is also talk of further collaboration in the form of nail lacquer. (Our fingers are crossed).
Fall brings the return of the bold lip with a vengeance and we're pumped to get our pout on when these lipsticks hit the shelves on December 4.
So, go ahead, throw aside the peach, light pink, and nude colors. Make a statement with your lips.
Hopefully Nasty Gal and MAC Cosmetics will come up with even more innovative style changes in the future.
For now, pucker your lips and wait for December 4!