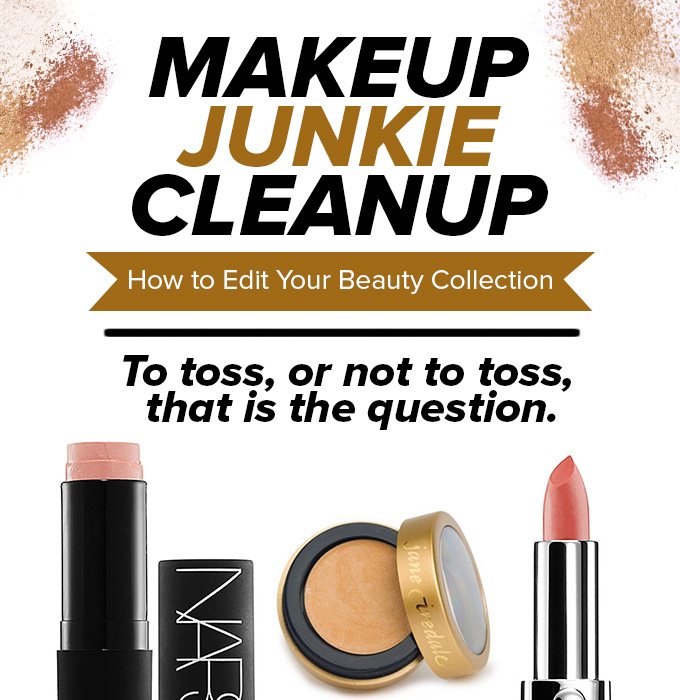 If you're a beauty junkie, a good spring cleaning should apply to your makeup stash as well as to your wardrobe and closets. It's easy to hoard products—believe me, I'm public offender number one—but I've learned that less actually is more when it comes to beauty, especially with items you know you don't need (that fabulous, but untouched, swag bag from that event you went to three week ago? OUT!).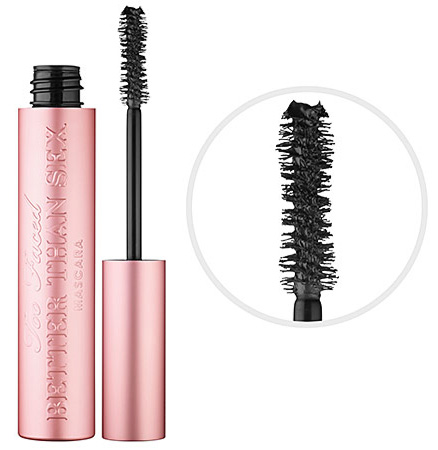 So set aside some time for a serious overhaul of your makeup bag and drawers—wherever you keep your goods. Editing your beauty collection takes serious organization, some tough decision-making and a few compromises (OK, fine, I'll hold on to my Clinique All About Shadow Quad, but it's time for my Too Faced Better Than Sex Mascara to go). The end result might just make you love your makeup even more.
Product Shelf Life
This is the easy part—tossing those products that truly do you no good because they have expired. Replacing your mascara regularly is key (about every three months) and really, do you need more than one at a time? If you like to vary your eye look from day to day (black, brown or perhaps blue) that's fine, but the point is you should actively be using any mascara you have in your beauty bag or drawer. There's no reason to own an idle mascara.
The same goes for eyeliner, especially if it's liquid. I tend to hold onto my pencil liners a little bit longer (6 months), but liquid liner, like mascara, can be a breeding ground for bacteria, so you should give yours the boot and start using a fresh one after four months max.
Also, if you tend to hoard foundations (maybe you scored a really expensive brand at a department store giveaway, but it doesn't really suit you, for example), give the ones you don't use the heave-ho. If you have normal skin that's not prone to breakouts (lucky lady), you can usually use your foundation until the bottle is done (about 6-8 months, if you wear it daily). And again, if you're happy with the one you have, do you really need another? Just take it one foundation at a time.
If you use a daily face powder to set your foundation, that can last up to a year, as long as you clean your makeup brushes regularly and keep the palette carefully covered.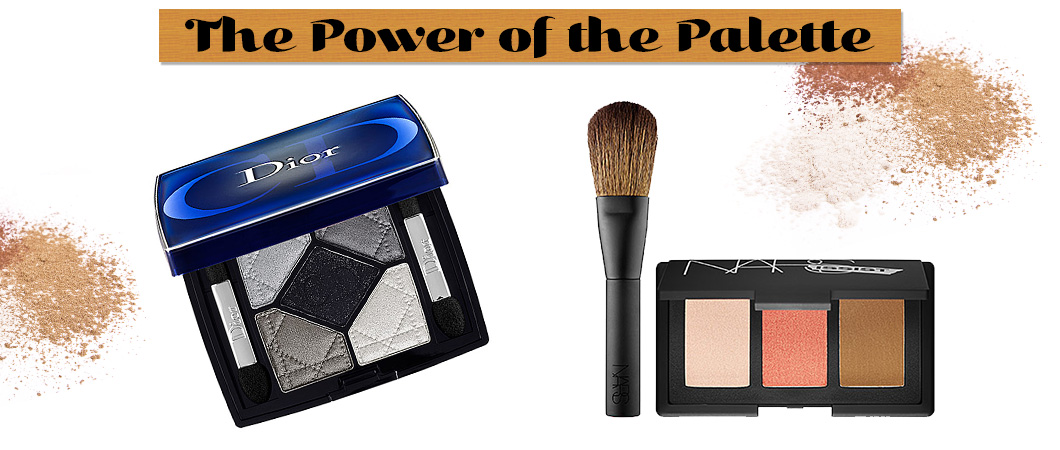 The Power of the Palette
Now come some of the tougher decisions, as eye shadows, lipsticks, blushes and bronzers all have a much longer life span. And these are, admittedly, products that are ideal to have multiples of, so you can vary your day, night, and weekend looks.
I swear by palettes to keep my collection under control. Having four to six to ten shades of eye shadow, lip or cheek colors all in in one compact—one that's usually prettily packaged to boot—is an instant organizer. Not only do you have your makeup neatly contained, but it's also already organized by shade, as most palettes are usually made up of complementary colors. For example, I currently have Dior's 5-Colour Eyeshadow palette in Gris Gris, $60, in my rotation, which I use regularly as a black liner, as well as for my evening smoky eye looks.
I also love NARS' brand new NARSissist Cheek Kit, $49, which contains two of my all-time favorite blush shades from the brand (Devotee and Orgasm), as well as their excellent Laguna bronzer.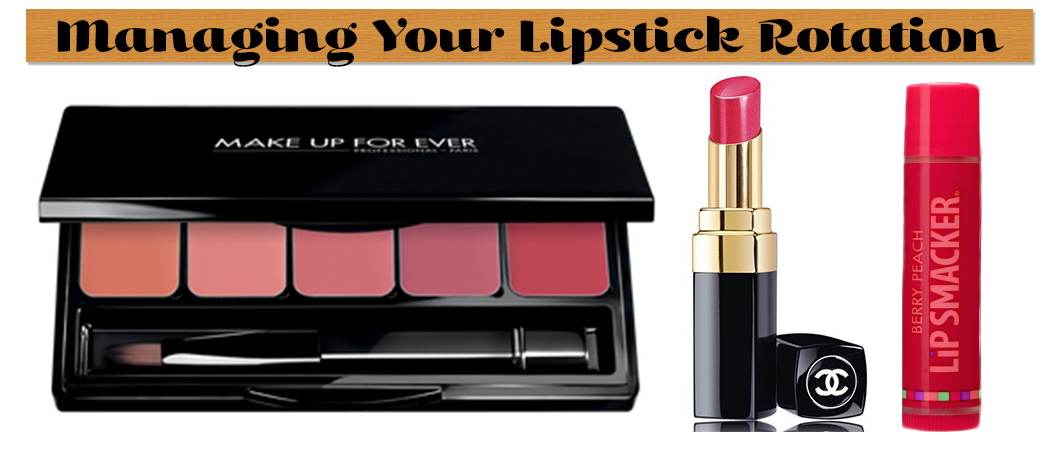 Managing Your Lipstick Rotation
Keeping your lip colors in order is probably the hardest part of maintaining a well-edited beauty collection. For on-the-go lip color, I still recommend a palette. That way you'll have a few color options in tow, without having to fish through your beauty bag to find a specific shade. I'm currently carrying Make Up Forever's Rouge Artist Lip Palette in Warm Pink, $39, which contains five shades that range from coral to candy pink.
But let's face it: actual lipsticks are beauty essentials. They're also the easiest—and most fun—products to hoard, as they can last for up to two years and you'll no doubt finish them well before. Whether it's a classic Chanel tube or a Bonnie Bell Lip Smacker, a smooth, creamy lip color can make all the difference in one's look and mood. In fact, sometimes I really do wonder, is there such a thing as too many lipsticks?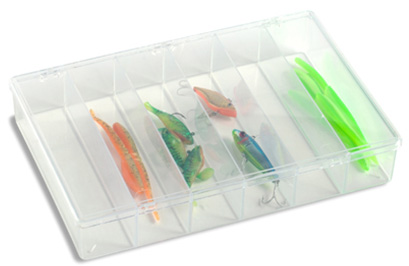 In my fantasy world the answer is no, but in my one-bedroom apartment with limited product space, the answer, sadly, is yes. I recommend sticking with six lipsticks in a rotation at any given time. I keep mine in this 6-Compartment Unbreakable Box from The Container Store, $18, which then lives in my top dresser drawer. I rotate certain sticks out when the seasons change or when I start to get sick of a specific shade. And because I'm obsessed with this adorable, elephants-in-love lipstick case from Paul & Joe Beauté, $5, sometimes I'll take the one I'm wearing with me for the day (while still toting my palette as backup).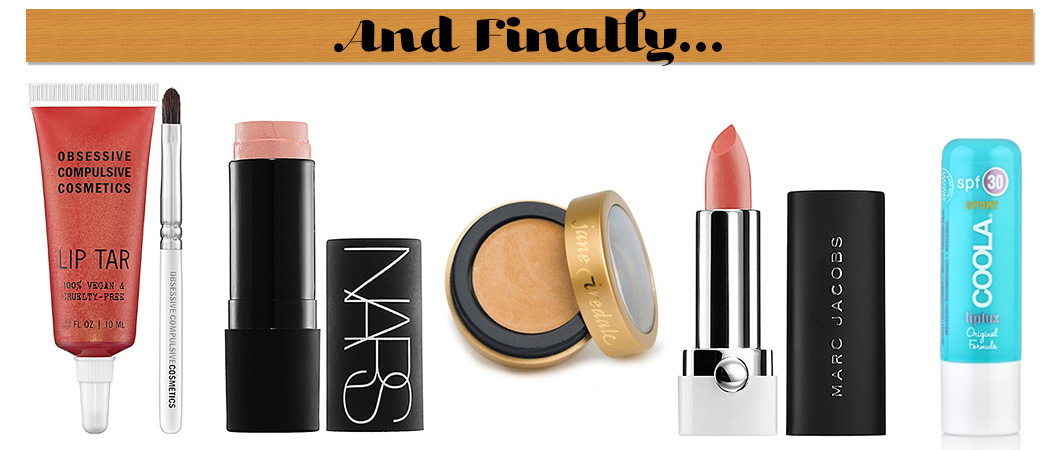 And Finally…
Create an easy-to-access "best-of" bowl and fill it with the products that you are currently using and loving the most. Rotate its contents every week or month, or pull out specific pieces and replace them with others. For example, my current "best of" bowl contains: a tube of Obsessive Compulsive Lip Tar in Super NSFW, $18, NARS The Multiple in Orgasm, $39, the Dior eye shadow palette I mentioned above, Jane Iredale's Lid Primer in Canvas, $16, Marc Jacobs Beauty Lovemarc Lip Gel in Flirt, $30 (just added!), and Coola's Liplux SPF 15 in the original formula. When I notice I'm starting to use one product more often than another, I make a switch (bye bye Bare Minerals Marvelous Moxie = hello Marc Jacobs Lip Gel.
So there you have it—my tips for keeping a clean and well-edited makeup collection. It's not easy (and you'll notice I didn't even mention nail polish and perfumes—that's a whole other post) but it really does make life easier when your beauty essentials are organized and easy to access.
Now if I could just get help for my candle hoarding issue…
---

Susan is a freelance writer, born and raised in NYC and currently based in Brooklyn. She's the senior beauty editor for Meets Obsession, and also writes for online publications such as Mamasarollingstone.com, TueNight.com.
and The Huffington Post. Susan had a serious candle hoarding issue that she has no plans to address. She's currently obsessed with Marc Jacobs' new beauty line, her black Zara moto jacket, and Aaron Paul.
All author posts