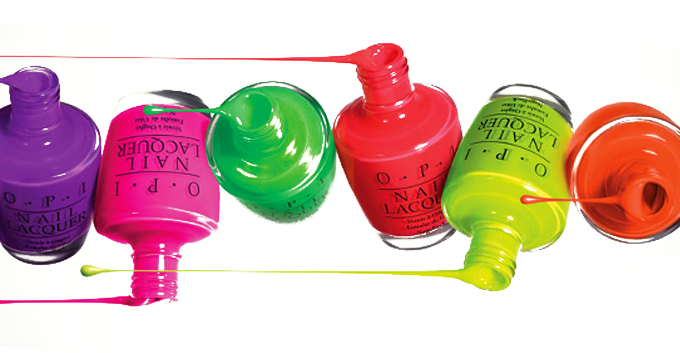 Listen up, neon lovers—your favorite summer shades are about to pop pop pop like never before.
Neons by OPI—the brand's new blinding 2014 summer collection, features six full-sized, fabulously electric nail lacquers, just in time for the warm weather. This collection is a first for OPI, which has never before released a full-sized set of neon shades. And to top it all off, all six colors will become permanent additions to the OPI line. So you'll be able to get glowing manis and pedis anytime of year.
But since summer is now, you've got to take advantage of these bright, bold and deliciously daring colors ASAP. Here's the electric—and eclectic—rundown of shades (and so cleverly named, as always).
Down to the Core-al. A stunning and sexy ready-to-party coral-red.
Hotter than You Pink. We dare you to find a brighter, hotter, pinker shade. It's impossible.
Juice Bar Hopping. You may need to resist the urge to lick this creamy and cool tangerine color.
Life Gave Me Lemons. So give your hands an radiant, lemon-lime shine!
You are So Outta Lime! Bright green and beautiful, there's nothing cooler than a lime-colored lacquer.
Push & Pur-Pull. An incredibly potent, purple-neon hue.
Put a Coat On! Use this color-boosting base coat to amp up the radiance of all of the above shades.
Turn on your JavaScript to view content
So get those hands and toes glowing, girl! You'll look as fierce as ever sporting those neon shades by the pool.
---

Susan is a freelance writer, born and raised in NYC and currently based in Brooklyn. She's the senior beauty editor for Meets Obsession, and also writes for online publications such as Mamasarollingstone.com, TueNight.com.
and The Huffington Post. Susan had a serious candle hoarding issue that she has no plans to address. She's currently obsessed with Marc Jacobs' new beauty line, her black Zara moto jacket, and Aaron Paul.
All author posts