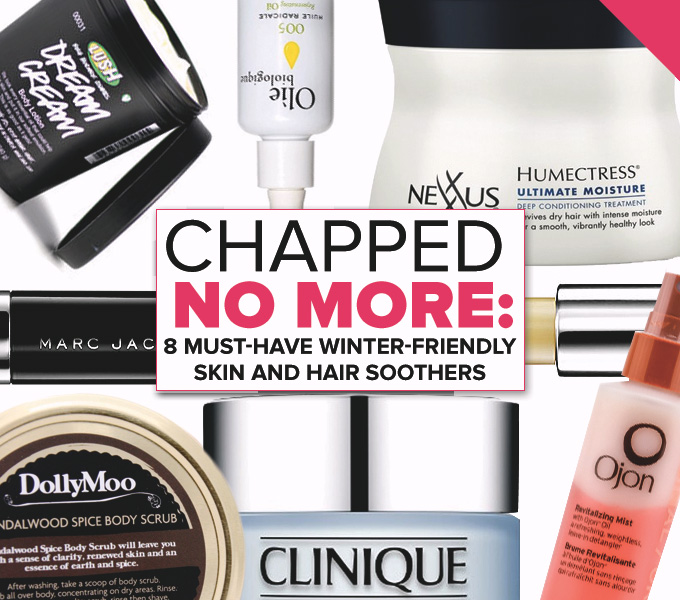 Here on the East Coast, we've really been dealt a doozy of a winter this year. And I know I'm repeating what everyone's already said a thousand times, but "enough already!" However, that is a completely unrealistic statement, as it is only mid February, and we still have that painfully long, 31-day month of March left to go right after.
So in addition to snow boots, socks, gloves and scarves, we need to make sure we're protecting our temperature-sensitive skin during this cold, moisture-zapping months. Here are 8 products for face, body and hair, that are great for healing chapped, dry skin and keeping it happy and hydrated until the warmer weather finally beings to appear.
For Face

An Excellent Oil
Olìe Biologique Huile Radicale 005 Rejuvenating Oil, $68
Olìe Biologique is one of my favorite organic skin care lines, and its Huile Radicale Rejuvenating Oil is an amazing way to hydrate parched skin while giving it a lovely, natural glow. I love how un-oily (i.e. non-greasy) it is, which makes it easy to wear under makeup. It's packed with anti-oxidants, fatty acids, and eight organic plant seed oils and floral extracts, all of which heal as well as hydrate.


An Overnight Moisture Infusion
Clinique 'Turnaround Overnight' Radiance Moisturizer, $47
During the winter, applying a deep moisture cream before bed is an excellent way to keep dry skin at bay. Clinique's Overnight Moisturizer is one of my favorites. I smooth it all over my face 10 -20 minutes before bed, and while it is thick, it's not overly heavy. So by the time my head hits the pillow, it's completely absorbed. And in the morning, my face feels super soft.

For Body

A Serious Scrub
DollyMoo Sandalwood Spice Body Scrub, $24
This is the perfect winter scrub, hands (or body) down. Dead sea, pink Himalayan, and dendritic salts are combined with grape seed oil and vitamin E, to really slough of dead skin cells while making sure your skin is not stripped of moisture. Plus, organic cloves, sandalwood, and Frankincense fragrance oil give it a warm, wintery scent.


A Dream Body Cream



Lush Dream Cream, $27
For seriously dry skin, this cool, calming body lotion is one of the best. Its blend of oat milk, lavender and chamomile are perfect for reducing red spots and soothing painful flakes. Olive oil and cocoa butter are also included to soften hard surfaces (works great on feet!) and leave your derma feeling anything but dry.

For Hair

A Superior Strand Spray
Ojon Original Revitalizing Mist, $24
This spray is so lightweight, at first you can't believe it will do anything. But it DOES, especially if you're someone with super frizzy hair–like me–that practically turns to straw during the wintertime. Apply it liberally to damp hair, and whether you blow or air-dry, your strands are left soft, smooth and incredibly "moist" (meaning, you can feel the hydration in your hair, even though it's not technically wet). And the smell is simply lovely.


A Seriously Deep Conditioner
Nexxus Humectress Ultimate Moisture Deep Conditioning Treatment, $14
It's good to get into the practice of using a deep conditioner year-round, but during the winter, it's essential. Neuxxus' intensive moisture mask contains avocado and honey extracts, which help replenish vital moisture as well as reduce frizz and breakage. It also strengthens, adds shine, and leaves your hair feeling fabulous, winter be damned! For best results, use twice a week. Trust us, you'll notice a difference immediately.

For Hands and Lips

Hand Cream Heaven
Soap & Glory Hand Food Hand Cream, $12
Our hands suffer the most during winter, since they are so often exposed to the cruel cold. Soap & Glory's Hand Food is thick and fabulous. It takes a little bit of time to absorb, but it's well worth the quick wait. It soothes and protects the driest of hands, as well as nails and cuticles. Clearly, its creative combo of Shea butter, macadamia oil, and marshmallow really works. I always carry a small tube (there's a 1.7 oz for $5) in my bag.


Lip Love
Marc Jacobs Beauty Lip Lock Moisture Balm, $24
Sure it's a bit of a splurge, but everything in Marc Jacobs' beauty line is top-of-the-line, and this moisture balm is no exception. It smoothes already chapped lips instantly while locking in extra moisture in to keep your smackers smoochable. Enriched with exotic oils and butters like andiroba, buriti, Shea, and avocado, it's worth the extra dough. 

---

Susan is a freelance writer, born and raised in NYC and currently based in Brooklyn. She's the senior beauty editor for Meets Obsession, and also writes for online publications such as Mamasarollingstone.com, TueNight.com.
and The Huffington Post. Susan had a serious candle hoarding issue that she has no plans to address. She's currently obsessed with Marc Jacobs' new beauty line, her black Zara moto jacket, and Aaron Paul.
All author posts