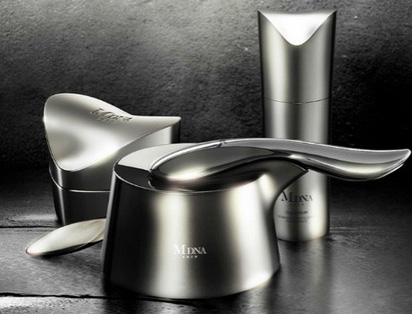 Say what you want about Madonna, but one thing you can't deny is that the 55-year-old pop culture icon doesn't look a day over 40.  Seriously, we'd kill for her skin (and body).
For those, like us, wondering what her secret to her flawless skin is, we've got news: Madonna has just launched a skincare line.
Yep, that's right.  Appropriately called MDNA, her three-product line is comprised of an anti-aging serum, a skin rejuvenator and a clay mask.
A promotional video has just been released for her beauty line and it's exactly what we'd expect a beauty video to look like from Madonna.
The black and white filmed promotional clip features a sultry Madonna wearing black garters and provocatively chanting, "Your amber silken skin smells of your mind. Touch my skin… Touch me" and "transformation. Enigmatic. Substance. Connection. Spirit. Intuition. Mystical. Ambition. Infinity. Immortal" while suggestively rolling around in a bathtub.
Will her video sell beauty products? Maybe. But at least it's something different that we havent seen before.
Now for the bad news. For now, MDNA will only be sold in Japan.
Thank goodness for eBay.