As the year comes to an end, it's finally time to assess everyone on their beauty-related decisions. Some were fantastic, and some got weird very quickly. We'll start on a positive note:
THE BEST OF 2014:
1. The Long Bob 
It seems as if everyone over the summer hacked off their long locks for a tousled, shoulder-skimming bob. In fact, people were pretty much calling any crop a "long bob" just to be trendy, and even coined a term for it: "the lob." This mature and stylish look was seen on countless celebs like Lucy Hale, Vanessa Hudgens, Olivia Palermo, Lily Collins and even Queen Bey.
2. Shapely Brows
Apparently, everyone learned to do their eyebrows in 2014. I know this because each of us have that one girl on Instagram who posts a bi-weekly selfie with the hashtag "eyebrowsonfleek." While bushy, au-naturale brows à la  Cara Delevigne were once the desired look, highly defined arches were the coveted brow shape this year. We're into it.
3. "Sombre" Hair
This trend was a glorious breakthrough, because harsh ombres make me cringe. The "sombre" (soft ombre or sun-kissed ombre) is a much more natural version of the un-ending trend. Instead of the lighter ends fading to solid blonde, the pieces are more like strategically placed, grown-out highlights. Obvious roots are (thankfully) becoming a thing of the past.
And now, THE WORST:
1. Alien Lip Colors
Can we all just agree that blue lips aren't cute? Neither are green or purple lips, in any social setting, unless you're standing on a street corner in Tijuana. I'm all for a dark lip, but sampling the rainbow spectrum on your mouth rarely works. Only  Rihanna can pull off a primary colored pout. It's Rihanna.
2. Cat Ear Headbands
Seeing any full-grown adult sporting a cat ear headband on a day other than Halloween makes me seriously question them. Perhaps they've escaped from the ward. Even if they're more subtle, wire headbands, it's just a slightly awkward look. I'm lookin' at you, Ariana Grande.
3. Over-lined Lips
Made ridiculously popular by Kylie Jenner, over-lined lips were the new thing to try in 2014. Kardashian-lovers are lying to themselves if they think that Kylie hasn't had lip injections, which further leads them to believe that coloring outside of their lip line will look normal and just like hers. Realistically, this makeup trick will just look silly on most people.
---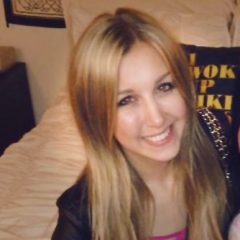 Sara is a student at The George Washington University. She loves sharing her need-to-know beauty and fashion tips, and thinks everything should come in leather. She can't live without NARS bronzer, Voluspa candles or her four cats.
All author posts