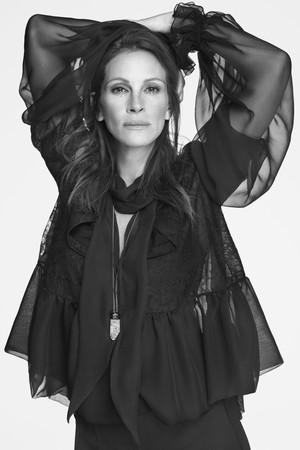 Oh hello there, pretty woman.
That's what we'll certainly be saying when Givenchy launches their spring 2015 ad campaign.
Casting actress Julia Roberts as the brand's new face for spring, Givenchy is joining other companies that are passing on the still-in-puberty, 16-year-old models that fashion tends to be fond of and, instead, opting for timeless, elegant women who are over the age of 50.
This year, we've seen Helen Mirren cast as the face of L'Oreal Paris, Charlotte Rampling as the stunning, 69-year-old model for Nars, and now rom-com favorite Julie Roberts for Riccardo Tisci's Givenchy.
Shot by Mert Alas and Marcus Piggott, the black and white photos reveal a more serious and masculine side of  Roberts.
We're proud that fashion finally gets that women often become more beautiful and relevant with age.
Now, if only Hollywood could follow suit.