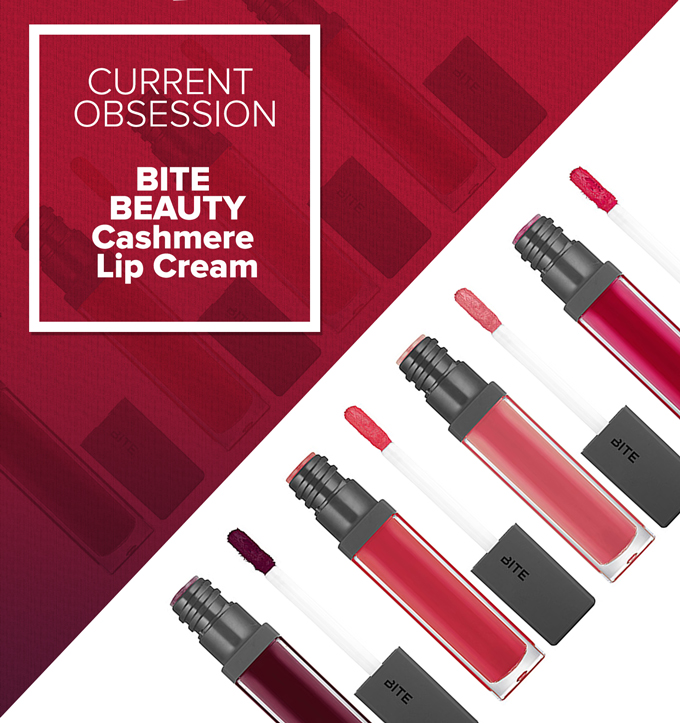 Bite Beauty's amazing Cashmere Lip Cream, $28, is a cream-to-powder lip color unlike any I've tried before. It has a nice buttery feel that smooths on seamlessly and quickly dries to a matte finish. But the real kicker is its intensity. It's formulated with four times the average amount of pigment, which means bold, vibrant, beautiful color that's no joke. The color is simply incredible.
So what shade should you select? At $28 a piece, you probably want to make sure to choose one (or two, or three!) that you'll still love when it get it home and try it on again. So here's a quick primer on lip color best practices to help:
1. If you want to keep your look natural and light, one of the best ways to gauge a good lip shade is to use your true lip color. Choose a hue that is no more than two shades lighter or darker than the actual color of your lips. For me, that means Bite's Napa, which is a deep cotton candy pink that's just a hint darker than my bare pinkish lips. The color is perfect for an effortless, "I'm wearing no makeup" makeup look.
2. If you're looking for a shade that will really show off your pretty pout, you can usually find a good match by taking your skin tone into consideration. Generally speaking, fair skin looks best with rosy red/pink shades (such as Bite's Moscato or Sancerre); olive tones work well with deep wine and plum shades (try Port, Bordeaux or Burgundy); and dark skin is great for carrying crimson colors (like Rioja or Crianza).
3. Your hair color also makes a difference. Lip colors typically look brighter with brighter hair, so a platinum blonde could be rocking the same shade of red as a dirty blonde yet give off a totally different effect. So if you're a light-haired lady, make sure that the lip color you choose isn't intensified beyond what you are comfortable with as a result of super blonde locks or bright highlights.
Of course, it ultimately comes down to preference, especially when you're dealing with a product like this one, which packs a major pigment punch. Try on a Cashmere Lip Cream shade at your local Sephora, walk around, shop and browse, then look back in the mirror a good 10 to 20 minutes later. If you still love what you see, you've probably picked a winner. Giving yourself (and your lips) some time to adjust to the color is key.
My personal favorite? Sancerre, which is a combo of pink and red—a perfect compliment to my fair-to-medium skin and highlighted blonde hair.
---

Susan is a freelance writer, born and raised in NYC and currently based in Brooklyn. She's the senior beauty editor for Meets Obsession, and also writes for online publications such as Mamasarollingstone.com, TueNight.com.
and The Huffington Post. Susan had a serious candle hoarding issue that she has no plans to address. She's currently obsessed with Marc Jacobs' new beauty line, her black Zara moto jacket, and Aaron Paul.
All author posts