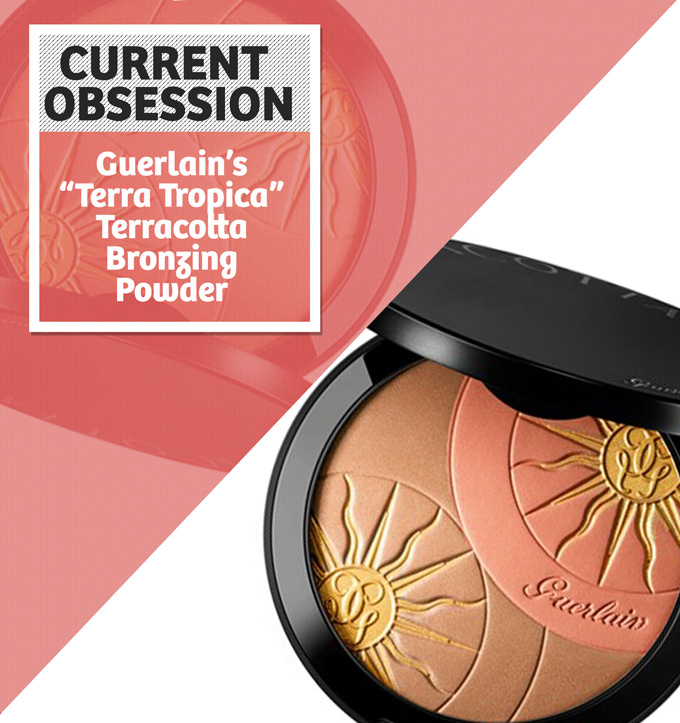 As I'm sure is the case with most East Coasters, I'm currently obsessed with the sun after the dreadful winter we've just been through. However, I've also fallen in love with a brand new bronzer: Guerlain's 'Terra Tropica' Terracotta Bronzing Powder, $72. It's one of the most beautifully crafted powders I've ever seen, with two fun, ray-exuding sun icons embossed in the bronzer itself.
Plus, the powder is infused with the scent of Tiare flower — a smell so divine, you'll feel like you've been transported to the tropics. (And if you find that you do love the scent as much as I do, pick up a bottle of NARS' Monoi Body Glow II, a hydrating oil that has an actual Tiare flower in every bottle.) Guerlain's bronzer leaves just hint of the fragrance on your face, as well as an all-over sun-kissed glow and a natural flush on your cheeks.
And don't forget your décolletage! Use a large bronzer brush to highlight your chest, shoulders and neck, for a sun-worshipping shimmer that says you're ready for summer to start!

---

Susan is a freelance writer, born and raised in NYC and currently based in Brooklyn. She's the senior beauty editor for Meets Obsession, and also writes for online publications such as Mamasarollingstone.com, TueNight.com.
and The Huffington Post. Susan had a serious candle hoarding issue that she has no plans to address. She's currently obsessed with Marc Jacobs' new beauty line, her black Zara moto jacket, and Aaron Paul.
All author posts