An evening filled with unforgettable performances, fashion and music, the 56th Annual Grammy Awards took place Sunday night. From the next generation of musicians to the greatest musicians of all time, the Grammys started with a Beyoncé BANG. Not only did Beyoncé kill it with her provocative (and much talked about ) performance, but there was also a Beatles reunion and the show closed with Queen Latifah officiating 33 couples to the tune of Macklemore and Madonna. It was quite a night.
Ahead, our favorite and unforgettable red carpet fashion moments.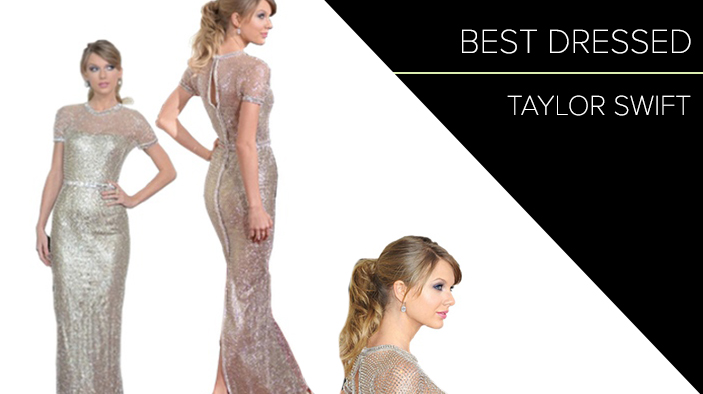 Best Dressed: Taylor Swift in Gucci Premiere
We are having a Gucci moment right now. With Gucci crushing the competition at the Golden Globes and the SAG Awards, Taylor Swift stepped out in a gorgeous Gucci gold column dress. While sparkle is typical for Ms. Swift, this dress was beyond sensational. As she described on the red carpet, the intricate design was like wearing "a suit of armor" and the material had the same consistency of "chain mail." But, what we loved most about Taylor's outfit was the choice of a trendy ponytail, bold eyeliner and soft pink lips, which was a welcomed change to her signature red pout. All together, Taylor looked flawless.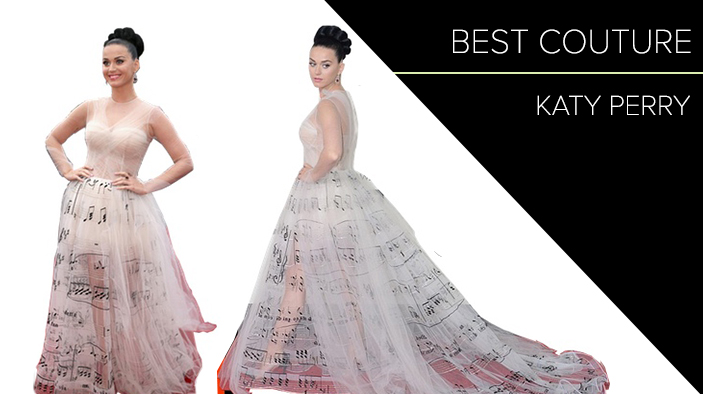 Best Couture: Katy Perry in Valentino Haute Couture
This gown was made for Katy Perry. With stunning jewels and a tight, intricate updo, Katy Perry turned the red carpet into her own personal runway. Rocking musical note tulle, she raised the bar of couture on the red carpet. Katy, you're a firework!

Most Fierce & Best Nails: Rita Ora in Lanvin
Rocking the red carpet in a knee-length green sequin Lanvin dress, Rita Ora turned a normally conservative dress length into a fierce fashion statement. Gorgeous curls, simple heels, and funky nails made Rita Ora one of the best dressed at this year's Grammys.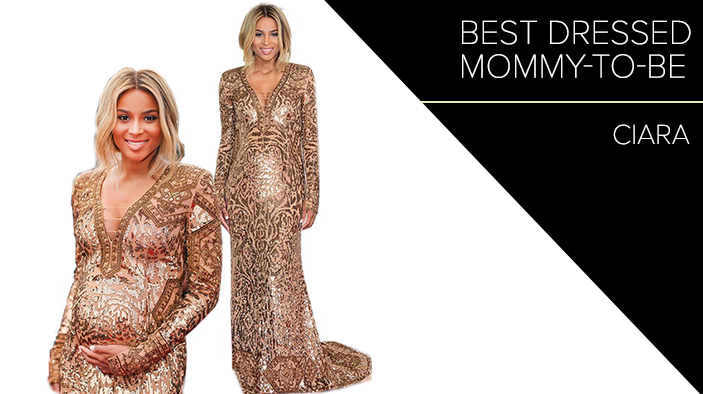 Best… Forgot She Was Pregnant: Ciara in Emilio Pucci
Ciara was glowing on the Red Carpet at the Grammys, debuting her baby bump in a gorgeous beige and gold Pucci gown.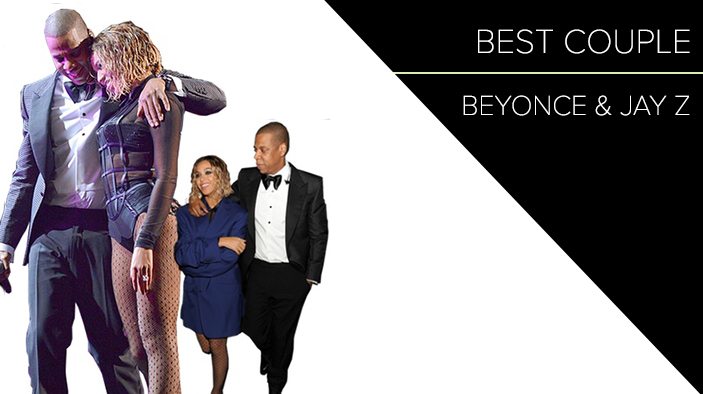 Best Couple: Beyoncé Knowles and Jay Z
Beyoncé was "Drunk in Love" all night with husband Jay Z. And although Beyoncé was not a nominee of the night, she was definitely what everyone talked about  when she opened the show wearing bondage-inspired La Perla on stage. Later, she supported Jay Z as he picked up a Grammy, or what he likes to call, "a gold sippy cup" for daughter Blue Ivy.  No doubt these two are an amazing power couple who are both dominating the world one mega-hit at a time.

---

Lindsey is a writer based in Washington, D.C. She is currently in her third year at The George Washington University studying Business Administration. Lindsey enjoys spending time working at DC's famed Georgetown Cupcake, and in her spare time watches anything that smells like an Oscar nomination. Lindsey is currently obsessed with Skyping with her dog, listening to Avicii on monument runs and making pancakes at midnight.
All author posts