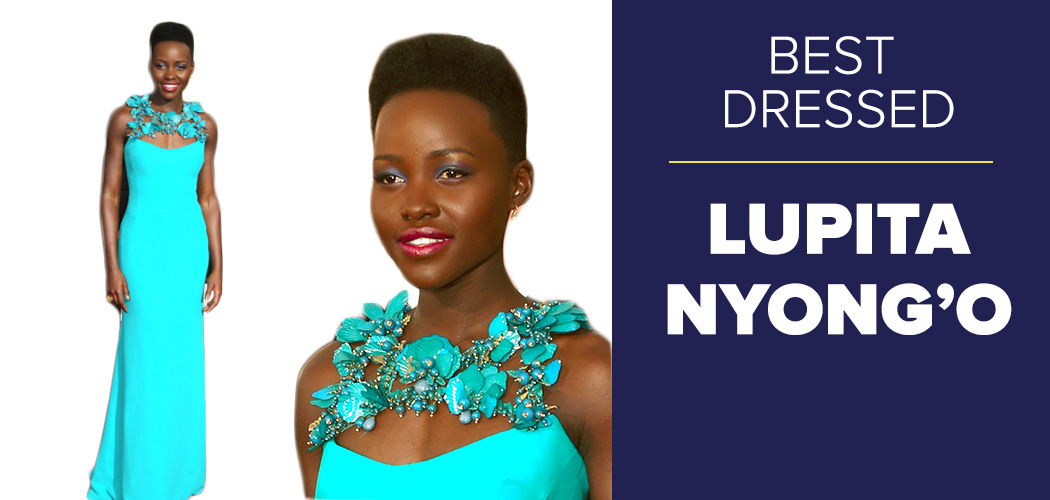 Best Dressed:
Lupita Nyong'o in Gucci
Currently starring in "12 Years a Slave"
Most of the best dressed lists following this month's Golden Globes put Lupita Nyong'o at the top. Although we absolutely adored her red caped Ralph Lauren dress that she wore at the Golden Globes, Margot Robbie stole our heart with this cream Gucci stunner.  For this year's SAG awards, Gucci strikes again, but this time on Lupita, who wore a one-of-a-kind turquoise gown with gorgeous turquoise and gold floral embroidered straps. Lupita's red carpet look definitely puts her at the top of our "one to watch" list.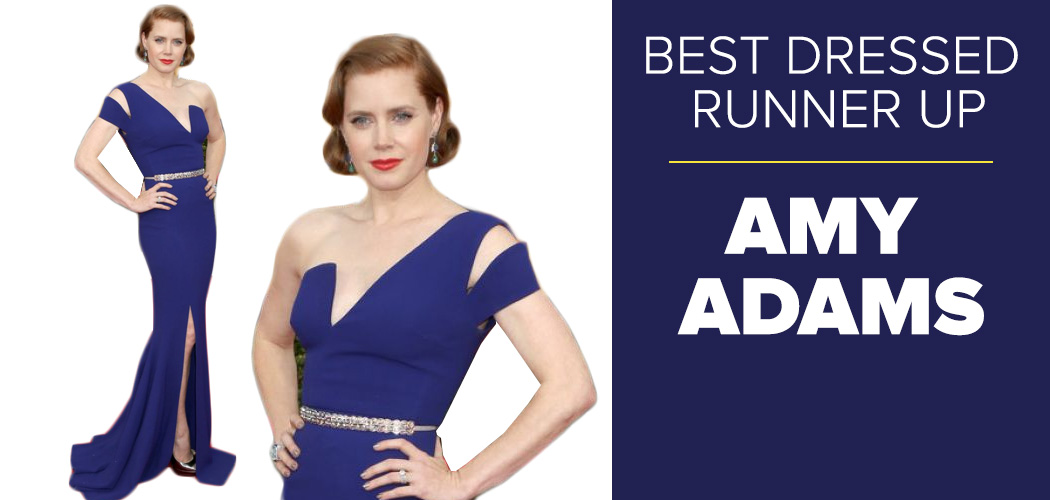 Best Dressed Runner-Up:
Amy Adams in Antonio Berardi
Currently starring in "American Hustle" and "Her"
Amy Adams did everything right on the red carpet at the SAG Awards Saturday night. From her faux bob, to her colorful coral lips, and her green tear-drop earrings paired with a cobalt dress — Amy was Old Hollywood perfection… almost. Amy's look  was sensational, but we couldn't help to think that a WOW factor was missing. Perhaps she is saving that missing moment for the Oscars (we say, by all means, go ahead, Amy.) Although she's not our number one favorite (really, who could rival  Lupita?),  Amy takes the cake for our second favorite look at the SAG awards.  Not bad, Ms. Adams..not bad at all.

Best Sparkle:
Jennifer Lawrence in Christian Dior Couture
Currently starring in " American Hustle"
Some people critique Jennifer Lawrence for constantly wearing Dior, but if it were us, we would totally wear Dior every chance we got, too. And although the silhouette of her dress was slightly underwhelming, the sequin embellishments screamed for our attention. Her sparkle column dress was simply exquisite, offering multiple dimensions. On film, the dress offered an interesting purple and maroon pattern of sequins. Under the intense flash of the red carpet cameras, the dress popped as multi-colored sequins became exposed under the blinding lights. Simple makeup, drop earrings, and an effortlessly chic styled bob completed the look to make Jennifer Lawrence unforgettable.  And did we mention her entire interview about armpit fat, calling it an armpit vagina? Leave it to J. Law to find a beautiful way with words while wearing a couture dress. We cannot wait to see what Lawrence and her stylist Rachel Zoe have in store for the Oscars.

Best Dressed Couple:
Camila Alves in Donna Karen Atelier & Matthew McConaughey in Dolce & Gabbana
He is currently staring in "Dallas Buyers Club"
Mr. McConaughey has been breaking all the rules when it comes to wearing jackets for this awards season. First, he wore a green velvet Dolce & Gabbana at the Golden Globes, then he rocked a silver Lanvin jacket at the Critics Choice Awards, and at Saturday's Golden Globes, the "Dallas Buyers Club" star looked like a million bucks in his gorgeously patterned Dolce & Gabbana jacket. Luckily, his wife is every bit as fashionable as him, killing it Saturday night in Donna Karan Atelier. 

Biggest Statement



Natalie Dormer in Marios Schwab
Star of the TV show "Game of Thrones"
The TV star debuted a new hairstyle for her upcoming role in "The Hunger Games: Mockingjay." No one really seemed to notice her dress (which was GORGEOUS), because her partially shaved head was making a big enough statement already. Finished off with an ear cuff, Natalie Dormer turned an elegant dress into a fierce fashion statement.
---

Lindsey is a writer based in Washington, D.C. She is currently in her third year at The George Washington University studying Business Administration. Lindsey enjoys spending time working at DC's famed Georgetown Cupcake, and in her spare time watches anything that smells like an Oscar nomination. Lindsey is currently obsessed with Skyping with her dog, listening to Avicii on monument runs and making pancakes at midnight.
All author posts