She may have made Harry Potter and Ron Weasley swoon as the silver-haired siren, Fleur Delacour, in "Harry Potter and the Goblet of Fire," but now Paris-based Clemence Poesy is making her name known across the pond, and frankly, she means business.
The triple threat actress, model and singer has made her way onto both the French and American fashion scenes with her awe inspiring street style, and we're taking notes.
Regardless of the occasion, Poesy always manages to look simple, yet undeniably posh. I mean, seriously, can she do anything wrong? Ah, I digress. Well, even though we cannot be her (*cue tears*), we can at least dress like her. Here's how to emulate Poesy's street-chic look with these five staples.
A Boyfriend Blazer
Grey Check Boyfriend Jacket • $59.00

Honestly, if you don't have one of these by now, you've been living under a rock for the past few years. This multi-purposeful piece is less fussy than the traditional shrunken blazer. The oversized style can conveniently double as a jacket and adds a touch of cool to any look.
A Pair of  Not-Quite-Black Skinny Jeans
Stella McCartney Low-rise skinny jeans • $325.00
These pants make everyone look good–even us mere mortals. They can be paired with anything from going out blouses to combat boots. Not only are they a classic, but their fitted style will never be boring.
A White Button Down
Factory white button-down shirt • $27.00
Tuck this classic piece into your favorite mini-skirt or high-waisted pants for instant elegance a la Poesy. Don't be afraid to wear it open, layered over a basic tee, too. This versatile piece can be easily dressed up or down, so get creative!
A Statement Jacket
DAY Birger et Mikkelsen Sequined crepe blazer • $147.00 
Whether it is tweed, metallic, or embellished with some glitter, a funky jacket will add an "I'm-cooler-than-you" vibe to any outfit… and who doesn't want that?
A Wide-Brim Fedora
Burgundy classic fedora hat with wide brim and band detail. 100% wool. • $48.00
This go-to piece is the cherry on top of any look–no pun intended! This topper has the ability to transform a feminine outfit into haute fashion or polish off a laid-back, androgynous look.
If you don't already own these pieces, it's time to go shopping. Clemence Poesy may have snagged the role of French "It Girl," but in America, the title is still up for grabs.
---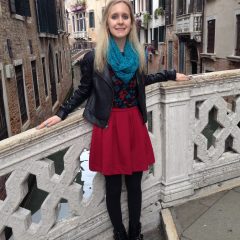 Hayley Lind is a rising senior at Philadelphia University with a major in Fashion Industry Management and a minor in Professional Communication. She currently serves as the blog co-editor for her college's fashion publication, Styleline. She hopes to one day write for a fashion magazine in New York City. Hayley is currently obsessed with outdoor yoga, thrift store shopping, and avocados.
All author posts