Politicians are fighting a war on women. Pop culture bombards us with scantily-clad women attacking one another and acting like catty second graders. And with the Sarah Palins, Snookis, and Kim Kardashians, it's sometimes hard to remember how far we've come.
We're lawyers, doctors, fire fighters, mothers and CEOs. But we're more than just (young) professionals fighting against a glass ceiling; we're athletes, artists, DJs, musicians, X-Game contenders, and it's about time we got our recognition.


Lady AIKO, the Graffiti/Street Artist
The Manhattan-based artist—who originally hails from Tokyo—began her love affair with graffiti in the late 90s.
While she was working on her MFA from New School in New York, she joined forces with two other students. The three of them eventually became known as the street art collective, "FAILE."
"FAILE was like a school for me," AIKO told Obsessed. "I lived with them for five years, examining techniques of printing, painting, collaging, stenciling and wheat pasting in the classroom, at home and in the street."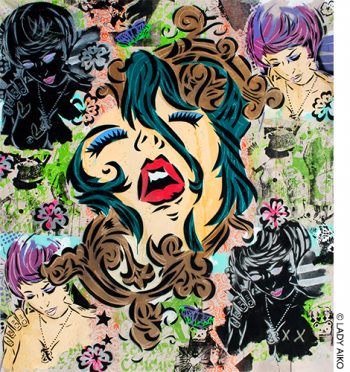 During that time, FAILE traveled the world with their art. "It was such beautiful team work," AIKO sums up, but eventually she left the group to pursue her art independently as Lady AIKO.
Since then, her work has been commissioned for both coasts and exhibited throughout the world, including Rome's Marco, Shanghai's MOCA and the Brooklyn Museum.
Though she is a recognized artist throughout the contemporary art and street scene she notes, "As an Asian female artist in this world-wide scene, I am one of very few successful cases. And I've had bitter experiences, too, because the street art and graffiti field is a male-dominated world."
Yet, the mixed media artist—whose work is a blend of graffiti, street and pop art styles combined with traditional Japanese aesthetic—has no regrets about her chosen field.
"I enjoy working in this environment very much. My past helps me create a deeper message, which no one else can make. I love challenges."
At the end of the day, AIKO stated, "Street art is for everyone. It doesn't matter who we are; nationality, age, gender, rich or poor."


Laura Petracca, the Drummer
Laura Petracca, one of the two original members of the all-girl band, Hunter Valentine, says that as a group, they've definitely come up against sexism.
"A lot of times men don't expect you to be good musicians," Petracca told Obsessed about playing live shows—which is what the band is known for. "So it's funny seeing how they respond to us after they've heard us play. There's a lot of 'WOW! You're actually good.'"
For Hunter Valentine, the first four years—out of the eight they've been together—were the most difficult, but Petracca says it's gotten infinitely better.
"Today, it's a lot more subtle. Mostly guys in other bands will offer to help us set up our equipment before shows, but you never see them doing that for other guys. I find it condescending, and really, I'm just like, 'Go get me a whiskey, how 'bout that?'"
Coincidentally, all four members of the band are queer, and while they've dealt with their fair share of sexism, rarely have they received anti-gay feedback. Petracca can only recall one or two times when they actually had to deal with homophobia. "Sexuality and music kind of go hand in hand, but being queer doesn't have a lot to do with it," explained the drummer.
"We try not to identify ourselves as a Lesbian-Rock Band…We're a band and we happen to be gay," explains Petracca. "But I've found that being a lesbian in the music industry has made it easier for me because sometimes guys look at us like we're on the same level."
Petracca, who's 31, has been playing the drums for as long as she can remember. "My mom says I was a big kicker in the womb," Petracca joked. "But I didn't really get into it until my teens." Like many artists, she's experienced moments—sometimes even years—of wanting to walk away from it all, but she just can't seem to let them go.
"I have a love affair with drums- every time I try to quit, they find me again." In fact, she'd been on a drumming hiatus for two years when she met Kiyomi McCloskey, the guitarist and singer of Hunter Valentine. "I tried to leave drumming three times, and I'm still playing. Music will be part of my life forever."
Similar to music and cooking—Petracca's other love in life —is another profession dominated by men. She doesn't let it faze her though. "Kiyomi and I, we're tough girls. I know I work twice as hard because there are so many men, and as a girl you have to prove yourself even more. But that's what makes it so much more worth it. As a group, I think we've definitely helped pave the way for up-coming girl bands."
The ladies of Hunter Valentine—Petracca, McCloskey, Vero Sanchez, and Somer Bingham—spent the summer touring the country in preparation for their release of "Collide and Conquer," their second full-length album. Additionally, the girls can be found on the current third season of "The Real L Word."
Petracca concludes, "Over the past eight years we've had a lot of good and bad experiences, but being in a male-dominated field excites me. It makes it more challenging. My closing statement: girls can do it and I think we can do it better because we have to work so hard for it. Because our pathway is harder, we end up better at it."


Ebony Dumas, aka Natty Boom, the DJ
Tulsa, OK, native Ebony Dumas came to D.C. in 2005 after graduating from the University of Pittsburgh. She began deejaying two years later after she joined forces with a group of women to start the organization known today as Girls Rock! DC.
"I kept noticing that all the DJs I saw on the scene were white, cisgender, straight men, and the spaces they were creating didn't feel safe for queers or black people," Dumas explained to Obsessed. "At Girls! Rock I met a woman who wanted to teach me how to DJ, and I decided that I wanted to learn how to do it and do it better."
In Dumas' experience, men reign over the field of  deejaying. For example, common "Top 100 DJs" lists will only mention two or maybe three women. Or nightclubs tend to advertise the rare female performer with her tits out. "I'm fortunate to be around a good group of people from different backgrounds, color, and sex so sometimes I don't see it that much until I go out in it."
One of the more difficult things about being a black, queer female DJ is that many of the people in power (such as club owners) tend to be men, so they don't usually understand the importance for reaching out to different DJs and creating safe spaces. Dumas once attempted to hold a Female DJ Workshop in one club owner's space and the owner "just didn't get it. He was like 'what's the big deal?'" says Dumas. "People in power don't have to think outside their existence, so a lot of times, they don't."
Today, Dumas is part of Anthology of Booty, a five person, queer, women-of-color DJ collective. "Together with Booty, I try to make cool shit happen with the added goal of creating a safe space," says Dumas. When Booty throws a party they put in a lot of effort to make the space comfortable and accessible to everyone. The collective talks to the owners and the bartenders and also makes all bathrooms gender neutral. "This is another thing a lot of promoters don't get; it's like they have blinders on and think that no one actually gets harassed in bathrooms."
In addition to her work with Anthology of Booty and as the singular Natty Boom, Dumas also works part-time at Transformer Art Gallery, does the occasional drag king performance, and was the host of this year's Capital Fringe Film Festival Review. Her advice to her younger self and to upcoming girl DJs? "Be open to anything, be ready for anything; but also listen to your gut and your values."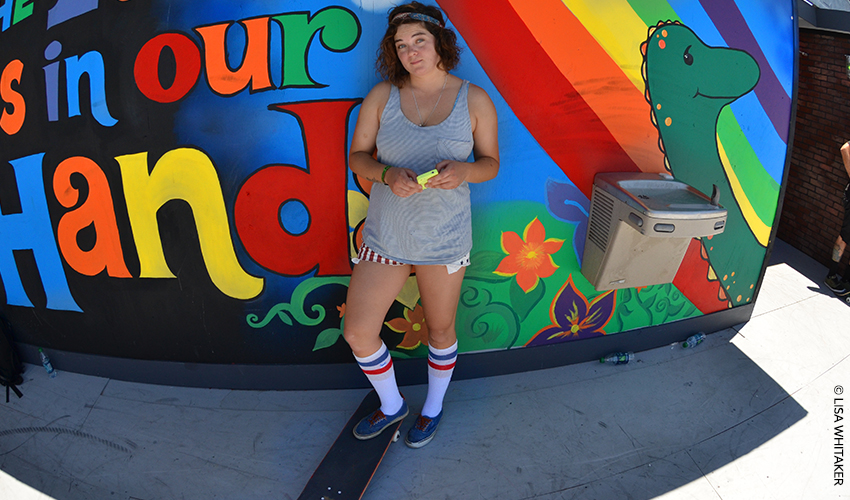 The Skaters of Lisa Whitaker's MEOW Skateboards
Lisa Whitaker has been skating for nearly a quarter of a decade, but in the early 2000s Whitaker stopped skating in contests and started filming them.
She specifically focused her camera on the up-and-coming girl skateboarders, such as Amy Caron and Vanessa Torres. By 2003 she'd created GirlsSkateNetwork.com –formerly thesideproject.com—in order to fill the void in female skateboarding coverage. After nine years of running the site, filming skaters and co-producing Villa Villa Cola's "Getting Nowhere Faster" (the biggest female skate videos to date), Whitaker found the spare time to create MEOW Skateboards.
"With the economy getting tighter it seemed like more and more of the girls were losing sponsors, contests, exposure and opportunities," Whitaker explained to Obsessed on why she started MEOW with an all-female team. "I felt there was a piece of the market that wasn't being represented and I wanted to make something that the girls could feel a part of."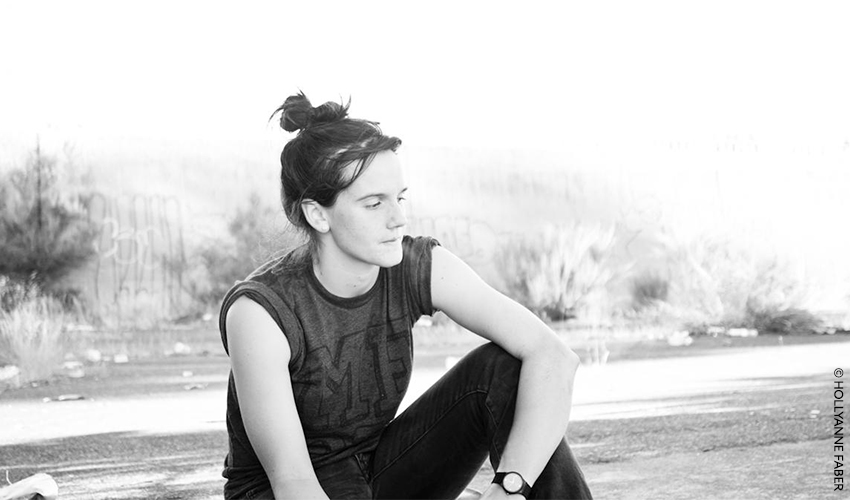 The girls of Meow consist of 16-year-old Jennifer Soto, 27-year-old Amy Caron, 23-year-old Kristin Ebeling and 26-year-old Vanessa Torres. They are four of the top female skateboarders in the country, and all of them agree that Whitaker is doing something groundbreaking for girl skateboarders.
"Growing up, what kept me skateboarding was her website," Ebeling, who's been skating for ten years, admitted to Meets Obsession.
"I really respect her." During the summer, Ebeling works full time teaching kids to skate at the YMCA in Seattle because she thinks it's important for the next generation of skaters to see that girls and boys of every race can be a skater—it's not just a white male sport.
"As a kid I was drawn to everything edgy, but I got excluded a lot for being a girl," says Ebeling, who was called "JLo" at the parks and originally wasn't sponsored because she "wasn't pretty enough."
It wasn't until she attended Skate Like a Girl – an all-girl skate contest – when she was 18 that she finally felt at peace about being a girl skater. "Girls almost automatically get an 'Awe' factor when you nail something. It used to piss me off, but now I try to use it to my advantage. Skating can be exclusive, and it's even harder when you're a minority. So if something makes you stand out then people will gravitate to you, and you can use that to create change."
Today, Ebeling is the key person behind the national non-profit Skate Like a Girl in Seattle, and she's also started a Wheels of Fortune girl's skate contest, and was on MTV's  "True Life: I'm going to Skatopia."
Caron, of Long Beach, CA, notes that in the twelve years she's been skating she's definitely seen an increase of girls at skate parks. "When I started out there weren't too many girls at the park, and if you saw a girl you reached out," Caron told Obsessed. "Now there are tons of girls at skate parks. In the last five years or so it's become more like just skateboarding."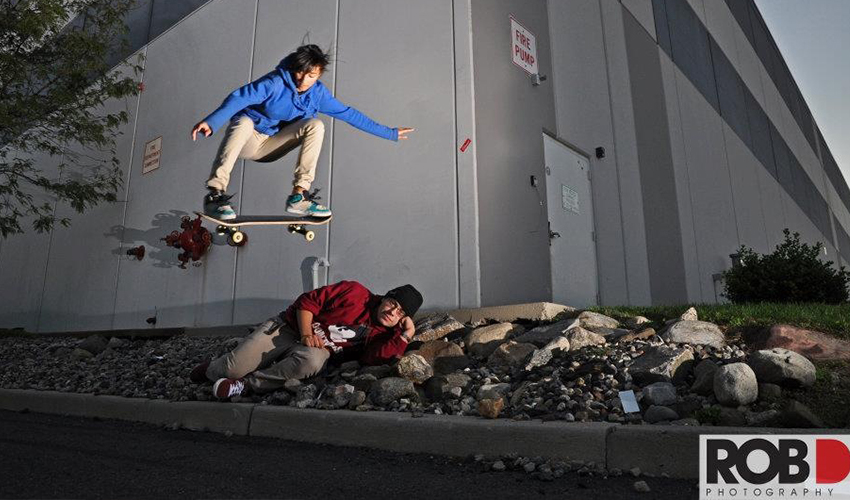 Soto agrees that being a girl on a board can be intimidating, but she ignores the negative comments.
"I just want to skate. A skater is a skater," she told Obsessed. "It doesn't matter who you are." But she also added that girls shouldn't limit themselves just because they're girls. "If you're a girl and you're scared you should push yourself more, that's what motivates me. I'll throw myself down anything, especially if I'm scared of it."