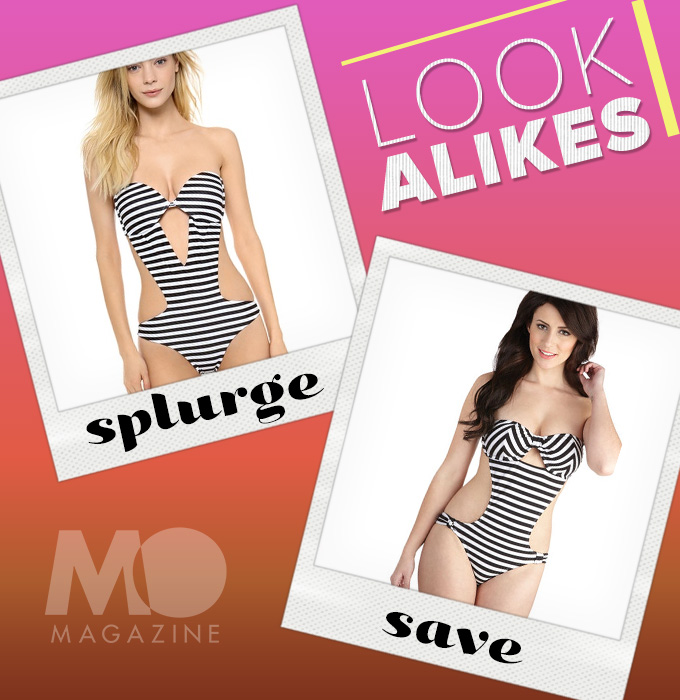 Now that spring has finally arrived, it's time to head to your local boutique to find the perfect swimsuit.  Yea, we know. Shopping for swimsuits can sometimes suck. Where do we start? There's the dreadful dressing room, which always manages to have bright, fluorescent lights that show every inch of cellulite, not to mention the unflattering awful mirrors that reveal angles of your body that you wish to never see.
But there is hope.  The payoff is that moment when you've found that to-die-for swimsuit that makes you feel less like Miss Piggy and more like a Bond girl.
And speaking of sexy, we found this striped, cutout Durban One Piece Swimsuit by Mikoh. It's perfect for a trip to the beach and will have you ready to pose for the best summer selfie. But style don't come cheap. At over $200, this perfect-for-summer swimsuit might be a bit out of your budget, which is why we found this identical Modcloth swimsuit for only $72. Now grab your gold arm bangles, a wide brimmed straw hat and be sexy, darling.
Watch your back, Giacinta 'Jinx' Johnson.  There's a new beach babe in town.

MIKOH Durban One Piece Swimsuit
Modcloth Shimmer in the Sun Monokini