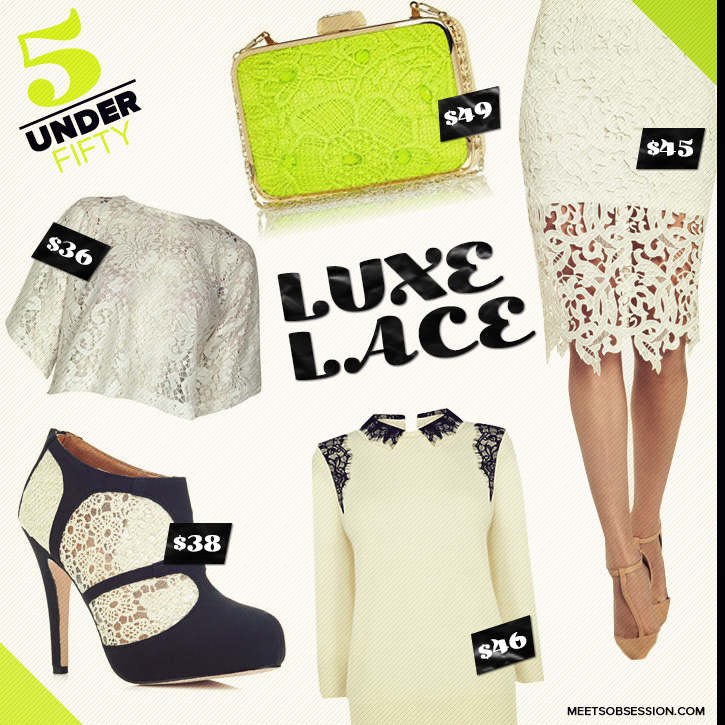 With Valentine's Day approaching, we couldn't resist focusing on all things feminine and flirty.
Not just meant for pretty lingerie anymore, lace is often incorporated into the collections that we love to stay awake at night and dream about. But not all lace is equal. There's grandma doily lace, and then there's the kind of lace that we were born to wear.
For a few seasons now, designers have been putting their own signature on lace by dying, texturizing and completely transforming the lightweight fabric. The usual suspects, like Valentino, Balenciaga and Chanel, are masters at reinterpreting the fabric into something new, edgy and never seen before. Just look at their last few seasons.
But, as much as we daydream about wearing that lovely, lacy Valentino number, the truth is that a dress in that price range is way out of our budget (unless we decided to forgo eating for an entire year).  Thankfully, not all is lost.  There are still a few wardrobe worthy and affordable options out there. Ahead, our favorite lovely lace pieces that are all under $50.


Miss Selfridge Tabitha Mono Lace Panel Heek | $38
Boohoo Rachel Woven All Over Lace Top | $36
Venetian Lace Skirt | $45
River Island Lime lace box clutch bag| $49
Oasis Lace Collar Jumper, Off White | $46