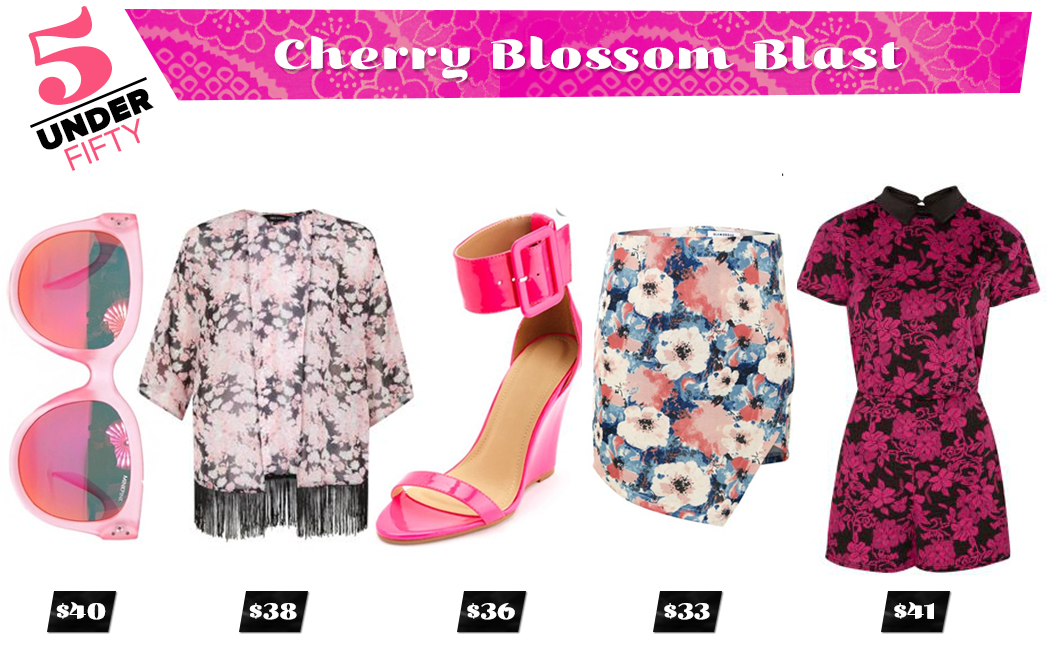 Now that it's no longer snowing in spring, we can properly celebrate the Cherry Blossom Festival in true Washingtonian fashion.  Thankfully,  we'll have something to look at too, as DC's famous Cherry Blossoms are finally starting to bloom — and not only that, this upcoming weekend marks the fireworks celebration at the Southwest Waterfront as well as Art Whino's Cherry Blossom-Inspired Group Art Exhibit, among many other celebratory events.
Perhaps, like us, the internet has served you a healthy dose of countless pink Cherry Blossom bloom images in honor of the annual event.  Yes, we too, have certainly seen the too-pretty event invitations, year's past photos of the glorious, beautiful Cherry Blossom blooms, and we have even witnessed a few department stores that dedicated entire sections to all things pink.
Seriously, how can you not be inspired? We certainly are!
So in honor of all things pink and Cherry Blossom, we've cherry-picked our five favorite floral items—all under $50 and perfectly pink– that inspire us to get our Cherry Blast on.

Neon Patent Single Ankle Strap Wedges ($36)
Glamorous Floral print asymmetric hem skirt ($33)
Pink Mirrored Sunglasses ($40)
Meme Pink Contrast Collar Floral Jacquard Playsuit ($41)
Pink Floral Fringed Hem Kimono ($38)
Tags:
5 Under Fifty
,
Cherry Blossom Festival
,
Cherry Blossoms
,
Five Under Fifty
,
Pink