Now that Halloween has ended and those tasty Eggnog and Gingerbread lattes are making their appearances at a Starbucks near you (yum!), it's safe to say that winter is among us.
The temperatures have changed nearly overnight and wearing  just a coat will not suffice anymore when going outside equipped for the weather.
If you start to feel drab from wearing countless oversized sweaters and bulky coats, don't fret, because there is one surefire way to look fabulous this winter—just add a hat!
Top your look off with any of these eight unique styles and you will keep warm while still looking cute.

This updated classic piece is perfect for you glamour girls. Pair it with a sweater dress and some over-the-knee boots and you will look cozy and chic.
Part Olsen twin, part French girl, you can't go wrong with this luxurious standout piece made from the finest rabbit fur.
Attention all music lovers: this one's for you! This soft beanie features removable speakers and an in-line microphone, so you can keep warm and listen to your favorite tunes all at once.
I could not leave this one out due to its cult following. Complete with colorful, woven prints and braided strands that dangle down, this kitschy piece could have been knitted by your grandmother.
This is probably one of the most sophisticated baseball caps in existence, and the wool material makes it appropriate for winter. Dress it up with a sequined top and some boyfriend jeans, or pair it down with leather leggings, high-tops and a slouchy sweater. The possibilities are endless!
Between its fur lining and its earflaps, this is one of the warmest options out there. Channel your inner lumberjack by pairing this hat with a flannel shirt and some Sorel boots.
The classic beanie is given a fresh twist by juxtaposing netting on top of the traditional knit material. Refrain from wearing too much white with this piece—you don't want to look like a bride!
This omnipresent piece is a must-have accessory for any fashion maven. Add this hat to any of your winter looks—preferably a fur coat—and you will be the epitome of chic.
These are just a handful of the different hats available this season. As always, there is something out there for everyone. Buy as many hats as you please and you will be on top of your style game this winter.
---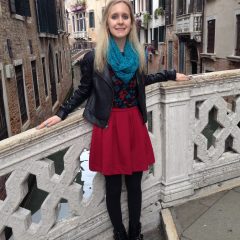 Hayley Lind is a rising senior at Philadelphia University with a major in Fashion Industry Management and a minor in Professional Communication. She currently serves as the blog co-editor for her college's fashion publication, Styleline. She hopes to one day write for a fashion magazine in New York City. Hayley is currently obsessed with outdoor yoga, thrift store shopping, and avocados.
All author posts