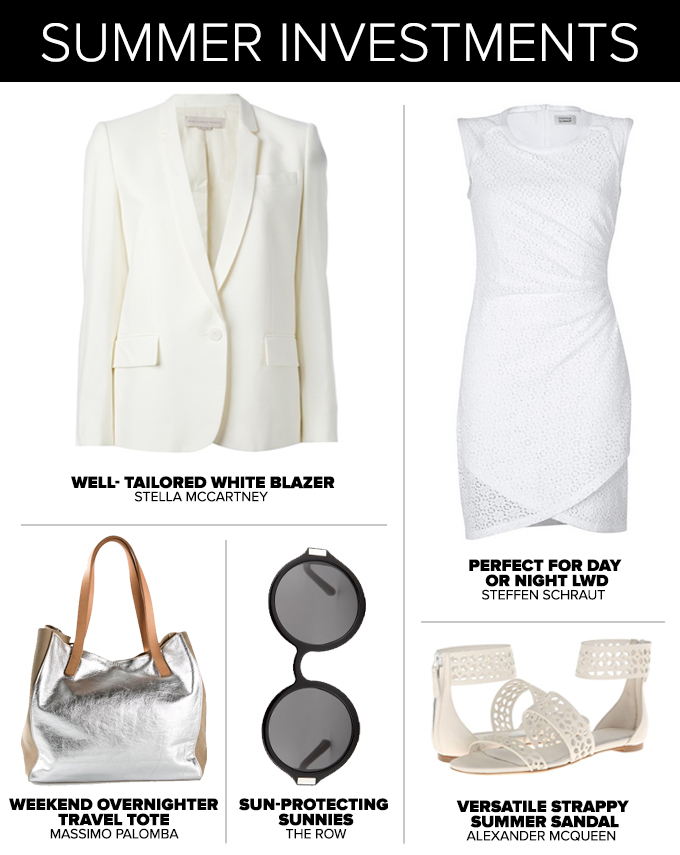 There comes a point in your adulthood when you realize that maybe, just maybe, not everything you own needs to be on the fast-fashion level. Yes, chains like H&M, Zara and Forever 21 offer high fashion silhouettes at affordable prices.  But let's face it, sometimes these instant-gratification pieces don't have much lasting power.
But hey, that shirt was only $8.99 and so what if it shrivels apart on the third washing, you might argue.
We get it.  You like a good deal and, like us, sometimes it's hard to resist a bargain when you have the ability to buy a whole wardrobe for only a few hundred dollars.
THINK LONG TERM
But now that you're in your late 20s, perhaps you might consider investing in a few good timeless pieces that will last forever.  You'll look expensive and you can mix and match with your fast fashion options (or even that rare vintage piece you found at your local thrift store for $3.99).
Ahead, we've selected 5 sunny season, Editor-approved investment pieces that you can wear–and that will LAST–for the next decade of summers.
Sure, it's a  bit of an investment, but in the long run, it'll be so worth it.

A Well- Tailored White Blazer: Stella McCartney | $1700
Sun-Protecting Sunnies: The Row by Linda Farrow | $371
Versatile Strappy Summer Sandal: Alexander McQueen | $740
A Weekend Overnighter Travel Tote:  Massimo Palomba | $695
A Light, Perfect for Day or Night, LWD: Steffen Schraut | $365