It's finally time to change seasons.  And for some of us, this means turning over our closets in exchange for a completely new wardrobe.
However, if you're resourceful enough, you don't have to retire your favorite summer pieces just yet.
Many pieces can be transitioned into fall and winter, with one key word: layering!
Here are some tips on how to transform your summer staples.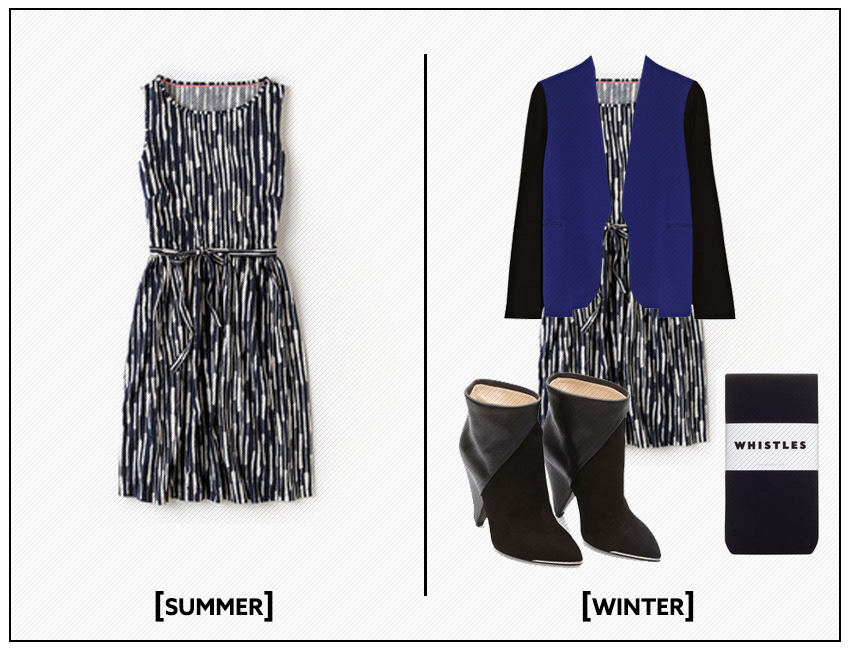 SUNDRESSES. These are one of the easiest pieces to adapt. Throw a cardigan or blazer on top and add some tights and a pair of boots or flats. You can also add a scarf or belt to tie the look together. Just keep in mind that while floral dresses are still acceptable, you should retire dresses with tropical prints and sheer fabrics. When in doubt, stick with a dress that has at least a little bit of black in it, as it can easily be paired with all-black accessories.
[show_shopthepost_widget id="286664″]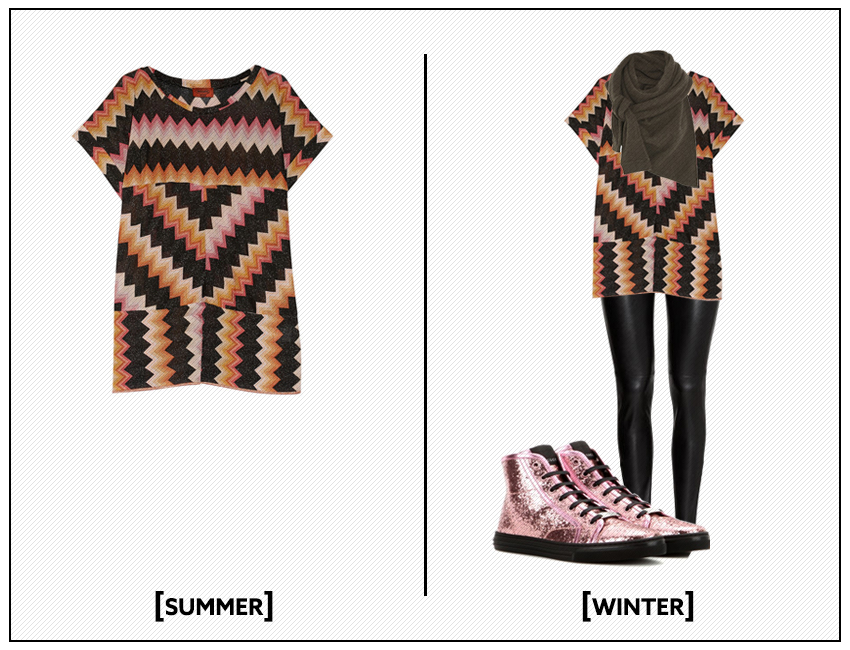 LIGHTWEIGHT KNITS. This applies to tops and tunics that were previously worn as dresses and bathing suit cover-ups. When layered over leggings and t-shirts and paired with pretty scarves and boots, these items turn into quintessential go-to pieces for the chilly weather.
[show_shopthepost_widget id="286668″]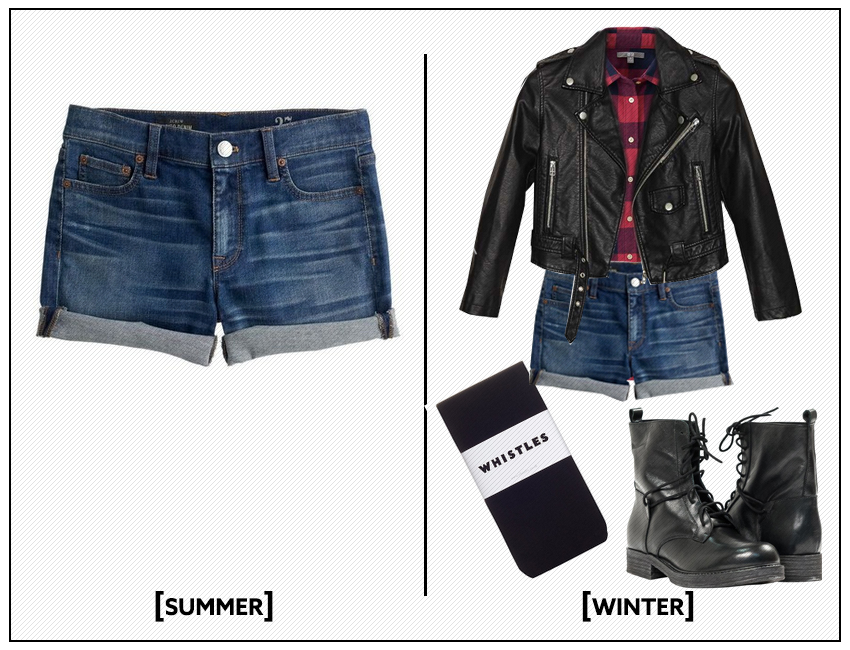 SHORTS. Shorts with tights are one of the most eclectic and cool combinations out there, as they can be manipulated to suit nearly any style. Try denim shorts with a plaid flannel, a leather jacket, tights and combat boots, or rock some tweed shorts with a cardigan, tights and heeled boots.
[show_shopthepost_widget id="286680″]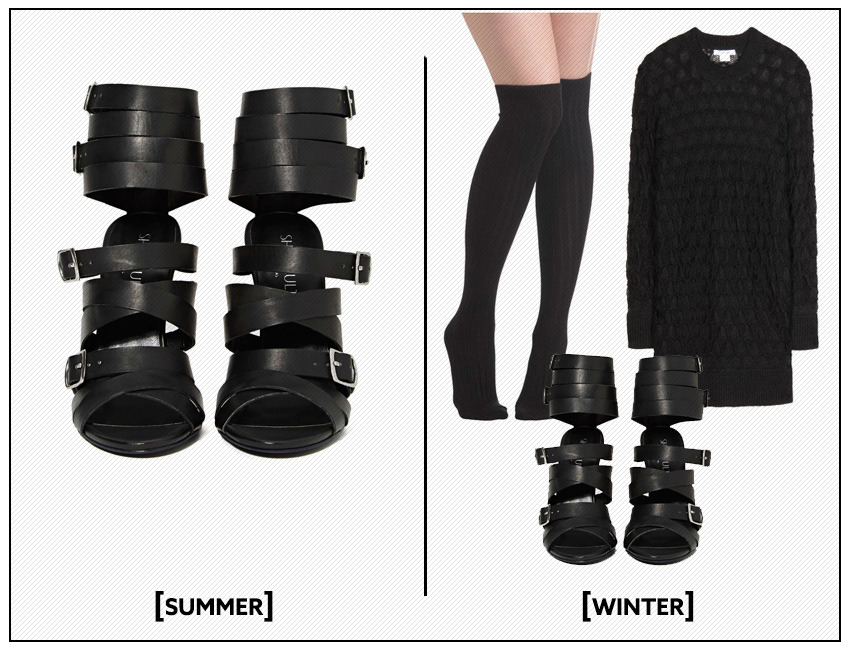 STRAPPY HEELS. Open-toed shoes can be worn in the winter, as long as they are heels or wedges. Try your heels with a sweater dress, tights and some cable knit socks. You will look comfy, cozy and chic.
[show_shopthepost_widget id="286688″]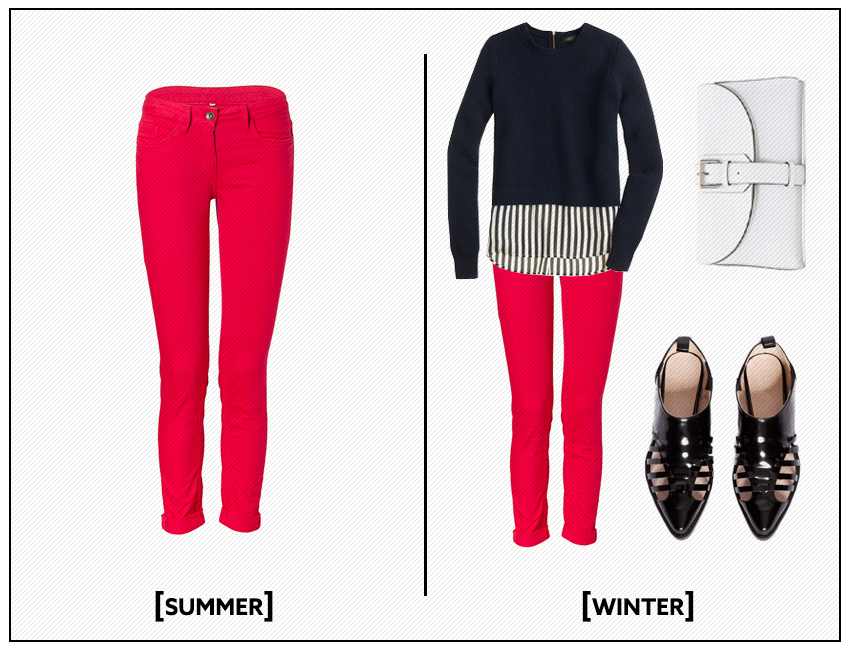 NEON BRIGHT JEANS.  Who says rainbow brights are only reserved for warm seasons? You can rock red, aqua, hot pink, or even yellow jeans during the cold season. Just avoid wearing your springy tops and add a thick sweater with coordinating colors. You can also add a neutral blouse or button down. Just keep in mind that blouses should be long-sleeved and button downs should be black or denim.
[show_shopthepost_widget id="286648″]
Ultimately, there are no rules in fashion. The best kinds of pieces are the ones that can be transformed into any season for any occasion. Almost anything can work as long as you want it to. Try something unconventional this season, as layering should be bold, not boring!
Tags:
Essentials
,
Fall
,
Fall Style
,
Winter