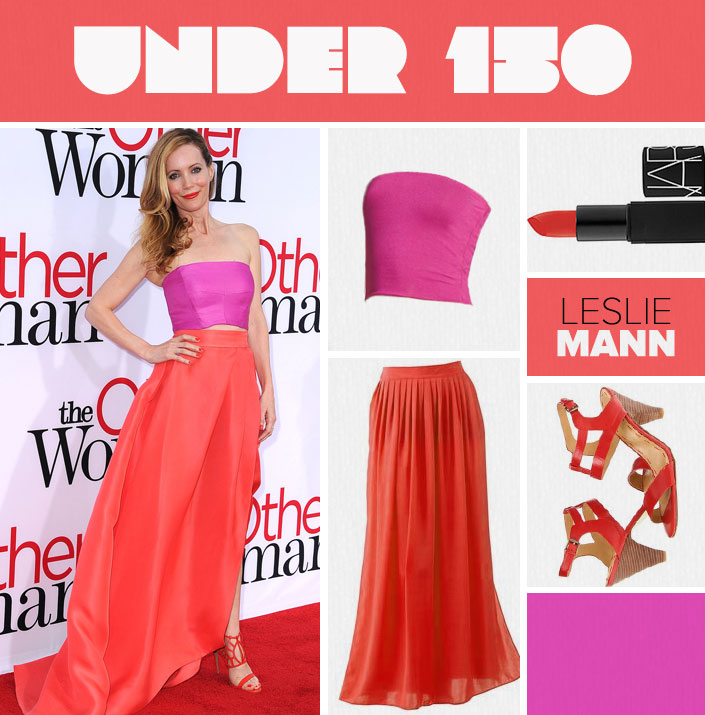 Is it just us, or does Leslie Mann seem to be killing it on the red carpet lately?
When we spotted the queen of made-for-dudes comedies at the LA premiere of 'The Other Woman,' we were swept away by her darling Monique Lhuillier look.
Why this look works: This skirt and top combo reminds us of a fresh spring day. Sure, the pops of neon pink and coral were a bit shock and awe-ish, but paired together, these colors work brilliantly.  Leslie  perfected the art of proportional balance with her fitted bandeau top and her full, pleated floor-length skirt. The slit was just high enough to make the skirt less matronly and more playful and sexy.
How to Get this Look: You might not be besties with Cameron Diaz and you're probably not as funny as Leslie (who really is anyway?), but that doesn't mean you can't emulate the 'Knocked Up'  actor's look.  We opted to go for a daytime version of Leslie's red carpet ensemble by pairing this Apt. 9 maxi ($17) with a hot pink Leith Knit Crop Tube Top ($16). Add a pair of strappy heels, bright right lipstick, and you're ready for  summer.
Total cost to our look: $108