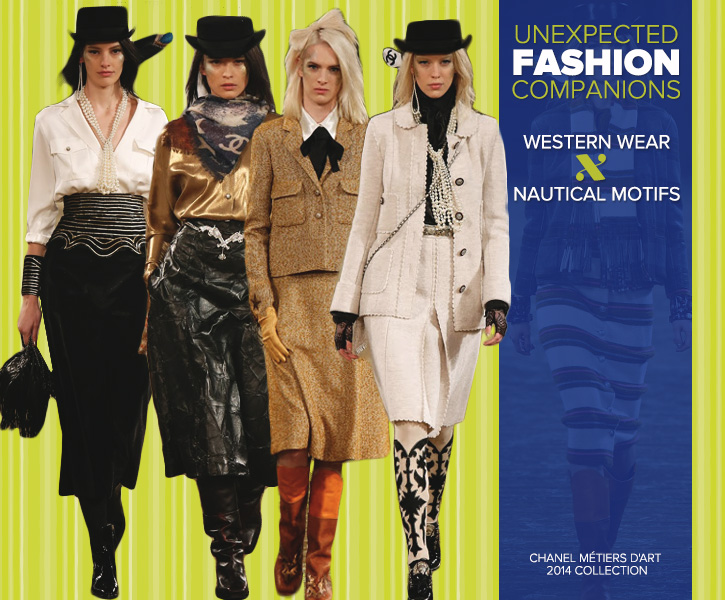 Western wear has long been the hallmark in Ralph Lauren's design aesthetic. While we've come to expect collections tinged with western detailing from the all-American designer, it was a nice surprise when Karl Lagerfeld staged Chanel's Métiers D'Art 2013 collection in Dallas, TX. From denim, to fringe and feathers, to prairie skirts and cowboy boots, the entire Chanel collection was a nod to all things from the Wild West.
Of course, Lagerfeld made sure that signature Chanel elements were infused into his collection. Taking a cue from his Pre-Fall collection, we wanted to see if incorporating another element into a western inspired outfit was possible. Or would it be overkill and veer on the side of campy? Deciding to add nautical motifs, we show you how to walk the fine line of downtown cool versus a day at the rodeo.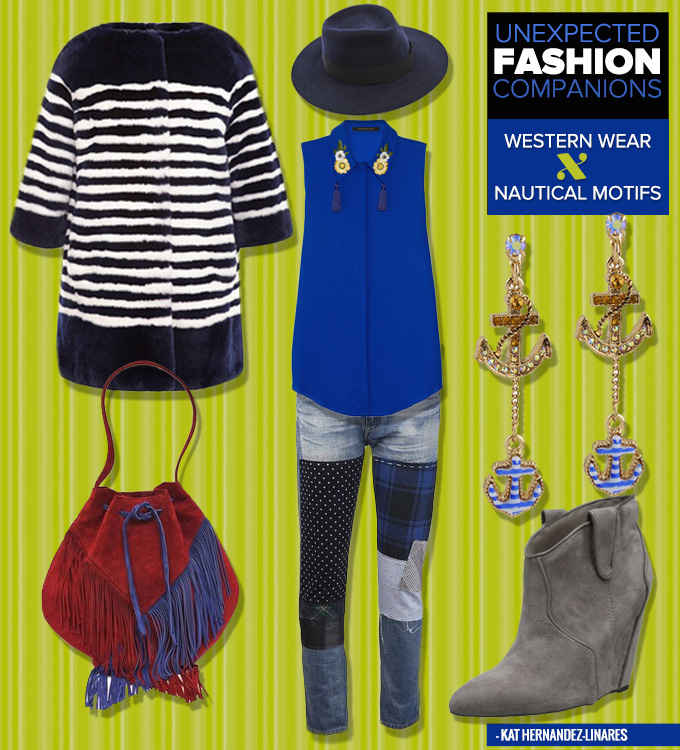 Why it works: Keeping the color palette limited to blues with a pop of red keeps the look cohesive. Cobalt adds a welcome splash of color to break up the rich navy's in the outfit.
Marc Jacob's Striped Coat is a fresh take on nautical stripes and the perfect way to top off this look.  Instead of clashing with the rest of the outfit, the colors and stripes nicely compliment the indigo hues in the Comme des Garcons' Patchwork Jeans.
Steve Madden's Sarni Boots offer a fun update on the classic cowboy boot resulting in a downtown inspired look.  Carnet de Mode's suede bag adds a bit of texture and a bright pop of color to the outfit, and Betsey Johnson's earrings add a bit of whimsy and complete this look.

Coat:  Marc Jacobs Striped Rabbit Fur Coat
Trousers:  Comme des Garcons Junya Watanabe patchwork jean
Bag: Carnet de Mode Shoulder Bag
Hat: LAROSE Fedora hat
Shoes: Steve Madden Women's Sami Western Boot
Top: Mother of Pearl Umiko embroidered sleeveless wool-crepe shirt
Earrings: Betsey Johnson Gold-Tone Crystal and Striped Nautical Anchor Earrings