While Channing Tatum fans like them big, dumb and full of…fun (ok, that's what we'll say), Eddie Redmayne appeals to opposing forces of attraction and is arguably the thinking fangirls' idol of choice.
Educated at Eton with Prince William and then proceeding to Cambridge for university, Redmayne's new film, "The Theory of Everything," has him diving back into his own past. Redmayne plays the renowned physicist, Stephen Hawking, and we caught up with him at the Smithsonian's (cue girls in glasses swooning) red carpet screening on a crisp November evening in the District.
"I read it and everything about it was new information to me. I'd been at university where Stephen teaches and seen him a lot, seen him across the campus. And every time you saw Stephen Hawking it was a pretty big deal."
[note note_color="#36424e" border_color="#ffffff" text_color="#ffffff" radius="0″] "When I read this, I knew it was a story important to tell."[/note]
Redmayne speaks with a eloquence and a sweet earnestness that oozes English public school charm, "After I read the script I just couldn't believe there was this whole story behind the icon. Our job at it's best is to tell interesting stories and when I read this, I knew it was a story important to tell."
"The Theory of Everything" is a contextually powerful and ambitious addition to the Redmayne catalogue, which already includes "The Good Shepherd" and "Les Miserables."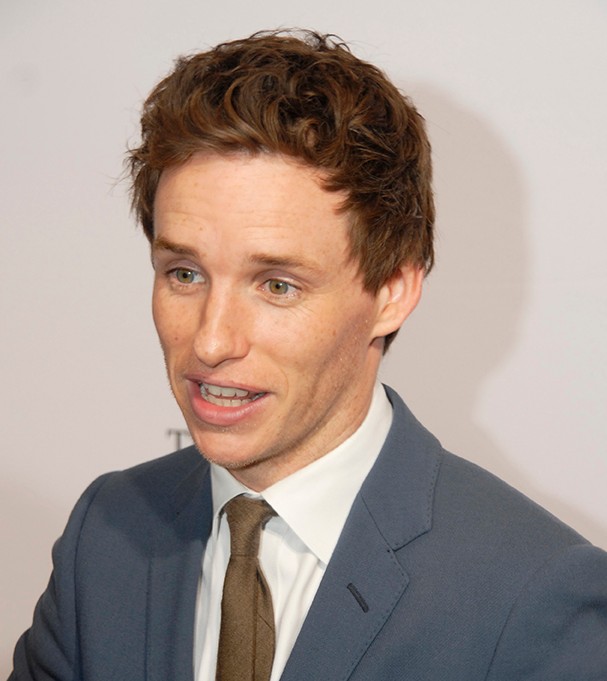 However, playing Stephen Hawking and returning to Cambridge may be his most meaningful and personal project yet. "There were moments while going back to film at Cambridge that were really intense and powerful for me. A lot of memories, a lot of emotions, and even returning to see things and seeing they were not as they once were or at least remembered."
Well girls in glasses, if that doesn't do it for you, we don't know what will!
As for working with Academy Award-winning director, James Marsh, Redmayne was thankful for the creative freedom. "He's an amazing man with amazing capacity. He held us by our hands and emboldened us to create–I hope–interesting work. If I said, hey I've got an idea, he would always say 'Do it!' and allowed us that freedom, which was wonderful."
[note note_color="#36424e" border_color="#ffffff" text_color="#ffffff" radius="0″] "I was afraid, fearful… "[/note]
For an actor that has sung live and held his own in compelling dramas as the son to characters played by Angelina Jolie and Julianne Moore, Redmayne has surely evolved from just another beautiful, young thing into a star of his own. Yet he expressed a charming modesty about tackling Hawking, "I was afraid, fearful… Trying to understanding the science, being authentic to a disease was a huge responsibility. And playing a living man, playing an icon scared me."
We don't think Redmayne has much to fear, as there is already plenty of chatter of his remarkable performance in "The Theory of Everything," with some critics even calling it his Oscar-worthy moment.
As we said goodbye, I had to tell him his suit was killing it.
For the record, he was wearing Gucci and gave us the assurance that there's more modeling and fashion editorial to come soon.
Ok ok, he's still a beautiful, young thing and we love him for it!
VIEW GALLERY
photos: Reggie Campbell
[carousel source="media: 64602,64609,64608,64607,64606,64605,64604″ limit="11″ link="lightbox" target="blank" width="NaN" height="400″ items="5″ title="no"]
---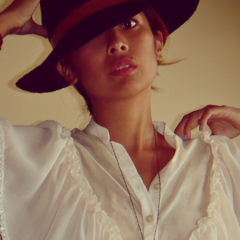 Sinta Jimenez is currently obsessed with Opening Ceremony collaborations, Band of Outsiders, warabi mochi from Temari Cafe, meteor showers, and finding a Jeff Buckley soul with a Jason Segel sense of humor.
All author posts