THE WHO
Jamie Foxx, Cameron Diaz, Quvenzhane Wallis, Rose Byrne and Bobby Cannavale in a film by William Gluck
THE WHAT:
A 2014 modern musical inspired by the 1920's Little Orphan Annie comic strip (which also inspired a movie in 1932, another movie 1938, a Broadway musical in 1977, another movie 1982 and yet another remake in 1999). In this latest iteration, the eternally optimistic Annie is a foster kid (Wallis) who tries to win over the heart of a determined billionaire cell phone tycoon (Foxx) who is running for New York City Mayor.
THE BIG DEAL:
I went into the theater expecting to hate this film.  Growing up in the 1980s there was only one "Annie" for me, in which  Carol Burnett, Albert Finney, Tim Curry and Bernadette Peters had powerhouse roles.  I watched this film for no less than a hundred  viewings, rewinding and pausing the VHS tape over and over again to sing along with my favorite songs.  I wanted to be one of the orphans dancing along with red-haired wigged Aileen Quinn.
Writer/director William Gluck ("Friends With Benefits,"  "Easy A") would have his work cut out for him to convince me his version was better.
As my culturally relevant age appropriate litmus test co-reviewer – I brought along a 7-year-old girl who was in love with the Quinn Annie as much as I was.  The lights went out and we stared skeptically at the giant screen and waited.
And then magic occurred.  Gluck introduced us to the immensely likeable Quvenzhane Wallis, Annie B. after providing a brief glimpse of a red-hair-ing Annie.
Annie B. is a street smart, foster kid who has learned to navigate the streets of NYC and hustle her way through school, on the streets and in her current foster home.  Along with four other foster kids, they sing and dance their troubles away and somehow manage to survive the bitter Mrs. Hannigan played by an over-the-top Cameron Diaz.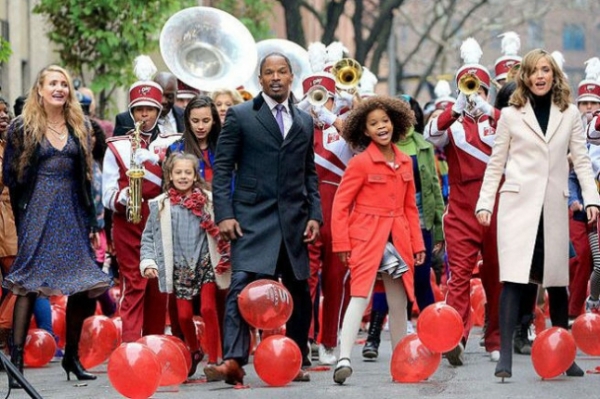 While carelessly running on the streets, Annie is saved from getting hit by an oncoming car by the billionaire Will Stacks (Foxx) who is currently down in the polls in his race for mayor of New York City.
His campaign manager, Guy, (Cannavale) convinces him that taking in Annie as a foster kid would increase his poll numbers and help him get elected.  Stacks goes along with Guy and learns to navigate the world of girls with some help from his company's VP and love interest, Grace (Byrne).
What I liked about this film is that director Gluck recognizes and tips his hat at previous versions of Annie,  but still manages to update the storyline into something wholly new and yet familiar.
For example, the name of the band at the night club Mrs. Hannigan frequents is called "The Leaping Lizards."  Also, like the original Annie comic strips, Gluck uses the film to pepper in social commentary like when Guy tells Annie that people 'should be afraid of big business and not the government.' (agenda, much?)  The 1982 Annie purest may say that Gluck strayed too far from the original story while others may say that he didn't stray far enough, however I think he struck a nice balance.
In addition to the delightfully multi-racial cast – the story ads some new plot twists.  Both Annie and Stacks are hiding secrets that they must both admit to themselves before they can get help from the other to heal and move on.
A few stand-out moments to share – the cameos from Ashton Kutcher, Mila Kunis and Rihanna for the movie within the movie was fun to see.  Also Stephanie Kurtzuba's performance as the social worker, Mrs. Kovacevic, was spot on brilliant and definitely a highlight of the movie.
Produced by Will Smith's Overbrook Entertainment and Jay Z  (among others), the updated music mixes new and old songs together with catchy beats that play well together.  The 118 minutes flew by.
My 7 year-old reviewer said she liked it just as much as the 1982 version, which she loves.  I agree that, while not an artful masterpiece, Annie is unexpectedly entertaining.
THE GRADE: B
Tickets & Showtimes | Movie Trailer | Official Website
Annie opens today in theaters everywhere.