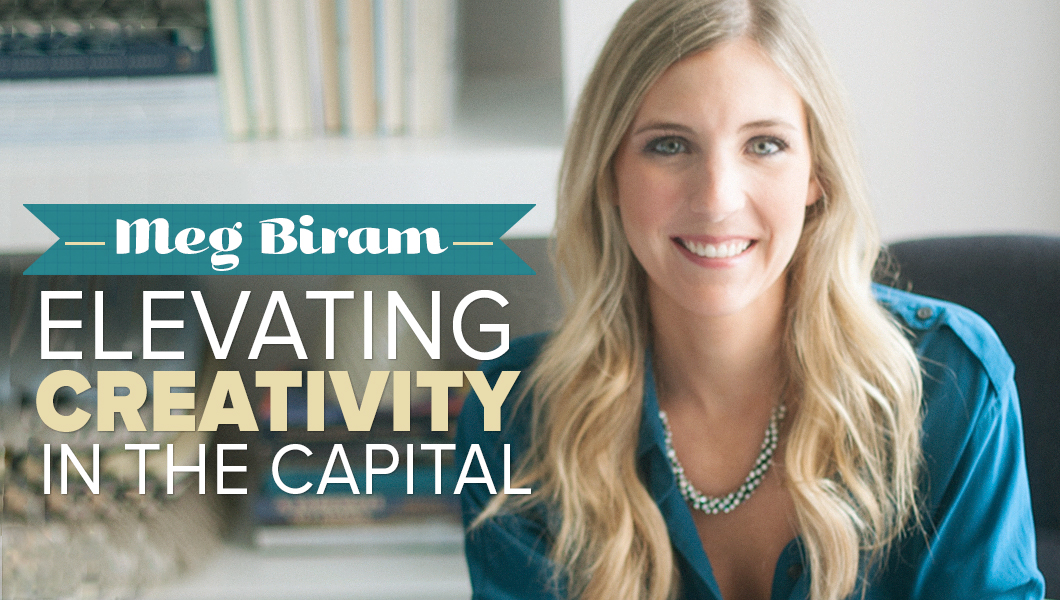 It is a sunny spring day when I arrive at a walk-up on M St. to interview Meg Biram, DC's reigning power blogger. Her Georgetown office is called the Creative Collective and shared by Biram with nine other women in the creative industry. I'm greeted by an impeccably groomed woman named Claire Ashley, who I will later discover is a YouTube makeup artist sensation.
Biram isn't in the office and no one's heard from her all day. A couple text messages later and I get a phone call. Biram's stuck at her accountant's office but she's happy to chat. She's candid, straight forward, and enthusiastic. We speak for an hour and as we say our goodbyes over the phone, she suggests I come hang out again with her on Saturday when she holds a workshop. Naturally, I accept.
Capitalizing on the Capital
In 2011, Meg Biram moved to DC where her style blog rapidly conquered and inspired the city. Lauded by everyone from the Washington Post to the Washingtonian, Biram became one of DC's most prized influencers proving that style hounds do exist within District lines. And it could not have been at a better time, as DC continues its slow but steady move to becoming a more stylish, artistic city.
Biram acknowledges that her great and almost immediate success as a style blogger in DC is due to minimal competition. Biram explains, "I am so grateful to DC. Creatives living in DC are at an advantage because there simply aren't as many people to choose from. People were instantly open and excited about what I had to say. In a place like New York or LA, there's so many voices and people trying to do the same thing. It's hard to stand out."
DC boasts the highest rate of education per capita in the country. Nearly 70% of residents are college graduates. The basic fact is that DC residents are professionals in the strictest and most traditional of ways, clocking in at government jobs, legal jobs, and other supporting industries.
However, in a generation of young professionals who move from one big city to the next, many are bringing with them artistic and cultural interested culled from more progressive cities. The result is an increasing demand for art, style, and design, and Biram has heeded the call. "DC is growing – so much in the past three years," says Biram.
When I asked Biram about how living in DC keeps her at a certain arms-length away from where the fashion happens, unlike bloggers who live in Los Angeles or New York, she brushes off the distance. "Of course, living in DC, there isn't immediate access to show rooms, compared to living in New York or LA, but fashion show stream. There's so much information available online."
Sharing the Wealth
Though Biram's rise to blogger fame seems, at first, to be a typical tale of another power blogger rising from the woods of the world wide web into the spotlight. But before DC labels, Biram was a Midwestern blogger, who's been hitting the keys since 2007.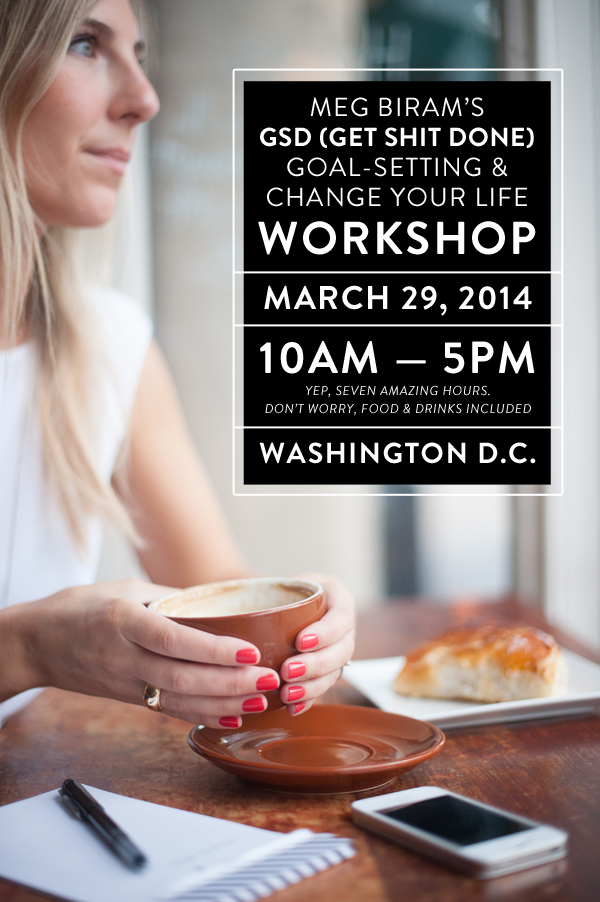 Though her blogs have always featured interior design, style, and art, Biram revamped her website last year. "I have evolved with the internet and my blog has evolved with it," she says.
Now her website includes not only a blog but a curated shop and links to her multiple creative and social media projects. From an online gift giving quarterly to a blogger e-book, her projects are impressively numerous, revealing a compulsive drive to create, share, and engage.
While most power bloggers keep the secret of their success sheathed beneath immaculately privileged veneers, Biram has made a business (literally) out of sharing her trade secrets with hopeful bloggers and female entrepreneurs.
I joined Biram and 8 women who signed up for her "Get Shit Done" workshop on a rainy Saturday afternoon. The workshop's genesis is Biram's popular advice posts on her blog, which offer tips on everything from prioritizing life goals to wardrobe organization. Biram hosts these workshops regularly; some focused on life goals, some on social media training, and has done them all over the country.
It's at this workshop when I first see Biram in person. She is tall, lean and lithe, a pale blonde, but with a decisive energy. Her assertiveness is palpable and so is her eagerness to connect with attendees.
"I channel fear and anxiety into productivity," says Biram proudly and resolutely. In her workshop, she challenges women of similar anxieties and ambitions, to make the most of it, as she shares actionable advice along with personal anecdotes about how she paved her path to success.
The whole exchange is remarkable. While there are power bloggers out there who occasionally divulge advice here and there, they keep the secrets to their success largely guarded, like a proprietary software that could be replicated and stolen. Blogger success has the myth and the mirrors of fame, like any other. Biram breaks this mold.
"I would go to blogger conferences where people said a lot of vague things about working hard and success but gave no actual advice. I came away not knowing anything or understanding what to do. I am doing the opposite of that. I want to give real, step-by-step help."
At the end of the workshop, Biram hugs all the attendees, says encouraging words and offers detailed and specific advice, like a realife blogger fairy godmother. The women, hugging their "Get Shit Done" binders full of Biram advice and Kate Spade-filled goodie bags, leave in an air of confidence.

Creating Creative Community
The Creative Collective is awash in light. Sunlight streams through large windows onto pale hardwood floors , upon which rest elevated white desks that fit snugly against each other, in a clutter-less workspace designed in form and function to encourage discussion while availing space to retreat into one's Apple computer to design a website, post a vlog, or check Instagram. The office is clean but with an artful lamp here and sleek, carved chairs there.  It is curated for creativity.
And if you ask Biram about this space on M St. and the women she has invited to join her, you would find that it was painstakingly developed. "This is something I wanted. I wanted to be with inspiring women everyday, in a creative space where I want to go, where I would be able to run my business and create. And I made it happen. "
Biram, who browsed co-working spaces, like 1776, ultimately decided she had to branch out on her own. Initially driven by a desire to find the perfect aesthetic, Biram's idea evolved into creating a workspace for interesting, innovative women that are leading the pack in the District's creative community.
The Creative Collective so far includes wedding planners, several stylists, a make-up artist, a photographer, event planners, designers, and other bloggers.  Biram, at this point, has closed the office to additions hoping to keep it intimate.
"I would love to us to turn into a go-to for people who need these services. And that you can trust are recommendations of the other person because we really know each other's work. It was really important I had people part of the Creative Collective whose work I love and can also be reliable."
I chat with Biram after her workshop for a little while, along with her photographer Yvonne Rock. She has great hope for the Creative Collective space, the photo shoots they can do, the classes they can hold, and the collaborative meetings. The energy is exciting and empowering, and it's an honor to see a dream become a reality, I tell Biram in so many words. "You'll have to come to our opening!" she exclaims.
Count me in.
---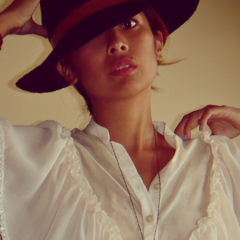 Sinta Jimenez is currently obsessed with Opening Ceremony collaborations, Band of Outsiders, warabi mochi from Temari Cafe, meteor showers, and finding a Jeff Buckley soul with a Jason Segel sense of humor.
All author posts