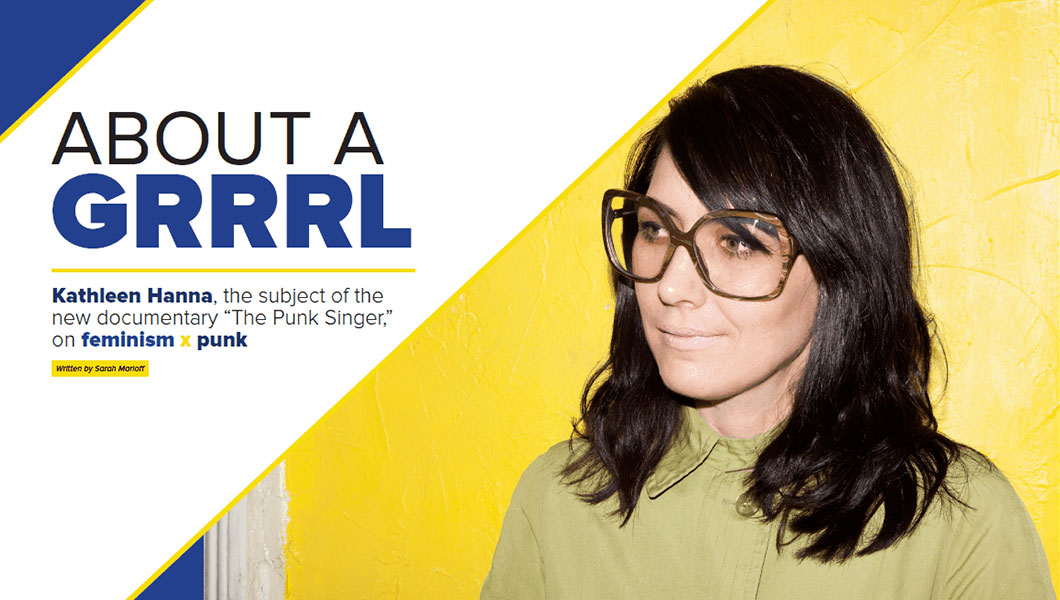 "Feminism is a hate movement."
This phrase is the third most searched term on Google, starting with "Feminism is a…"
Nearing 2014, there are enough people out there that believe the feminist movement, or gender equality, is about hate.
Frequently, we as a country pat our backs and say, "Hey, we've come a long way."
But if that is true – how far have we come since 1990? The year Tobi Vail, Kati Wilcox, and Kathleen Hanna joined forces as Bikini Kill, an Olympia, Washington-based band whose mission was to build a space for women in punk rock culture.
In fact, if Kathleen Hanna had to sum up her 23-year music and activist career in five words, she would say, "Feminist theory meets punk rock."
But like so many other -isms, sometimes it's hard to give a precise definition of what exactly feminism means. And as evidenced by Google, the term is often misconstrued, raising the question: what is feminism?
"I think it means fighting to end the oppression for all people," Hanna told Meets Obsession.
"For me it starts with challenging the binary definitions of male and female. That dichotomy is too extreme and too oppressive. But the only way to end sexism is to challenge everything at the same time. It's not just white women climbing up the equality ladder. We have to confront racism head on, and homophobia is also connected to sexism. It focuses so much on hating the feminine, and if we don't end homophobia, or racism then we don't end sexism."
Hanna has been dubbed a pioneer of riot grrrl, a co-creator of grrrl power, long before the Spice Girls ever zigazig ha'd, and a feminist icon. Her bands Bikini Kill, which kick started the riot grrrl movement of the 90s, and the later electroclash band Le Tigre never faltered under public scrutiny.
In the former, she created and enforced a "girls to the front" rule at shows, demanding men move to the back to allow the women, both on stage and off, a safe place to enjoy the music.
Hanna, along with Vail and Wilcox, and later with Le Tigre's Johanna Fateman and JD Samson, never lost sight of her morals.
Now, after over five years of near radio silence from Hanna, she's back. Her new band The Julie Ruin went on its first national tour this summer, and "The Punk Singer," a documentary on Hanna directed by Sini Anderson, was released this month.
And while The Julie Ruin isn't aiming to hit the same political buttons of Hanna's earlier work, she's still just as passionate today as she was two decades ago.
"I want to support the work of other feminist artists," explains Hanna of her current goals. "Everything I've done is possible because of the feminists who've come before me and those who were working alongside me. And now I have a bunch of younger girls – Grimes, Dum Dum Girls – who are inspiring me as well – that's such a great thing."
If The Julie Ruin sounds familiar, it's because Hanna recycled it from an earlier solo project of hers.
As Bikini Kill was slowly starting to break apart, Hanna recorded her first electro album from the interior of her bedroom, under the alias Julie Ruin.
"In 1998, back before the Internet, there was this secret creativity burgeoning in girls' bedrooms that never saw the light of day," says Hanna of what she calls "bedroom culture."
[pullquote]"I was afraid everyone would hate Julie Ruin, but I knew for this one project that I made in my bedroom – I recorded the vocals in my closest – there were a thousand more just like it that would never be shared."[/pullquote]
The opposite happened. According to "The Punk Singer," Hanna's husband, Beastie Boy Adam Horovitz, believes it was one of the first recordings that truly sounded like Hanna.
"While I was in Bikini Kill I thought of myself as a female performance artist playing the part of a girl in a band," says Hanna, who credits feminist performance artist Karen Finley as a key influencer in her career, as well as her life. "It took a lot of moxie and gumption to release Julie Ruin, but I wanted to put something out that sounded raw – so that people wouldn't throw away the art they created."
Coincidentally, Dum Dum Girls also began with a bedroom recording.
As Hanna, a modern-day women's rights activist, recognizes the women who came before her, as well as the women she has worked alongside, who has left the biggest impression on her?
Along with Finley, Hanna notes author and social activist Bell Hooks, whose writing "changed my life," and Kathy Acker, who told her to start a band.
"I wrote an intro to one of Karen [Finley]'s books, I've hung out with her, and I still look up to her," explains Hanna, who has also worked closely with other icons such as Kurt Cobain and Joan Jett.
"By now I've worked with Joan Jett for so long that I look up to her, like a slightly older sister, but I don't idolize her anymore. It's been nice to no longer have idols [and] just have mentors."
But don't misunderstand her – she still gets star struck. 
"I ran into one artist at a party and had a nervous breakdown. I've been obsessed with her for 15 years and I didn't know I was going to meet her. I cried," says Hanna humbly. "Everyone still has those people and – I don't want to brag – but when people come up to me and say 'you changed my life' or 'you helped me through my adolescence,' 'you turned me on to feminism.' It's the biggest form of flattery. I love that I am that person to somebody."
When all is said and done, Hanna hopes that she has encouraged people to look at the history of activism, the roots of racism, and the methods of unionizing. "I really hope I brought people to women's studies and encouraged them to read their own histories," she adds.
And for those women in feminist (punk) bands following in Hanna's footsteps, she offers a few words of advice.
"Follow the trail of bread crumbs in your own head. There's always bullshit work that goes along with it – rude, offensive journalists who are going to write about what you look like and not what you sound like – and you just need to smile at them and be nice, because you don't want them to mess up your sound on stage. And sometimes that means kissing someone's ass even if they treat you like shit," says Hanna, speaking from personal experience that, for her and the rest of the Riot Grrrl bands, resulted in a media blackout during the 90s.
"Avoid reading your press or comments on the Internet. Just remember, the most important thing is your art."

The Punk Singer opens in select theaters on Friday, December 13.