The September 2013 release of the Arctic Monkeys' latest album, "AM," launched the Sheffield natives into a stratosphere of Brit-rock stardom that few have been able to achieve. Their tremendous success can only be attributed to their own strand of creativity, best showcased in the neat little black and white packaging of said career affirming album.
With music comes music videos, and the Arctic Monkeys' latest foray into the visual with their music video for "Snap Out of It" certainly holds true to the bands affinity for most things offbeat.
Featuring actress Stephanie Sigman (Miss Bala) who seems to be in the midst of some kind of manic episode, the video promises to be the only 4:08 seconds where you can see a drop-dead-gorgeous woman cook a steak, eat a steak, cry, watch grainy home videos on what seems to be a television from the '90s, and dance in various states of undress. If this sounds at all appealing,  check out the above video.
---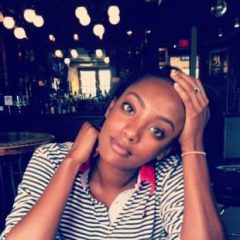 Saron is a writer and student born in Ethiopia and raised in Washington, DC. She is incapable of keeping a phone for longer than a few months, exclusively wears Miss. Dior Cherie, and her guilty pleasures include any novel written by V.C. Andrews (don't judge), Essie's "Little Brown Dress", and Stoli. She is currently obsessed with the poetry of Edmund Wilson and The Arctic Monkey's latest album "AM".
All author posts