Actress Freya Adams knows her makeup. Both on camera and off, she is a master at creating a polished yet natural look — one that has allowed her to book a wide variety of roles. "I've played so many different nationalities," she says. "I've played Hispanic, Asian, African American, Caucasian, and I just got a job playing an Irish woman, of all things, on "The Blacklist."
Most recently, Freya plaved a Native American in Adult Swim's "The Heart She Holler." She's also nabbed roles on TV shows such as "New Amsterdam and Damages," and stars in the upcoming independent film, "Advantageous." (Which I can't wait to see. It's based on this episode of "Futurestates," in which Freya also starred. If you like cool sci-fi that makes you think, check it out.)
So how does makeup play a part in her process? "When I go on auditions, I want to give the producers as honest a depiction of my interpretation of the character as possible," she explains. "Because it's the makeup artist that ends up having the most to do with how the character will ultimately look — and I don't want to get in the way of that. I want to go in with as neutral a palette as possible. At the same time, I don't want to feel self-conscious, so I need to make sure all blemishes and imperfections are covered."
Here's what Freya carries in her audition beauty kit:

Laura Mercier Tan Flawless Face Book, $49
"I love this portable foundation palette. The Tinted Moisturizer works really well for contouring and the Secret Concealer, which is a beige-apricot shade, is great for covering dark under eye circles. I use the light shade of the Secret Camouflage as a highlighter and the darker shade to cover blemishes."

Make Up For Ever HD Pressed Powder, $36
"Laura Mercier's powder in too heavy for me, so instead I use this pressed power after applying concealer. Then I blend everything together with this buffing brush by Real Techniques, $9."

BCL BrowLash Ex in Taupe $17
"There's a great little shop on Mott Street called .35. It's got all of these fantastic Japanese and Korean beauty products, like this BCL eyebrow pencil. The waxy texture makes the double-sided pencil buildable, so you can control the intensity of the brow. And I find if I use a light brown shade for my eyebrows they always look natural."

Givenchy Noir Couture 4-in-1 Mascara in Black Satin, $32
"If I'm playing a character that I think would look more done up, I'll add some mascara. Givenchy's is seriously the best I've ever used — it doesn't clump, it looks natural, and it curls, lengthens and volumizes."

MAC Lip Pencil in Vino, $16 and MAC Cremeblend Blush in So Sweet, So Easy, $22
"Because I don't like to wear foundation, traditional blush doesn't work for me, it has nothing to stick to. So I draw MAC's lip pencil lightly on my cheeks and blend. If I want a slightly darker, more flushed look, I use MAC's Cremeblend Blush, which I first apply to my fingers and then work into my cheeks. I also use both of these on my lips."
Freya's Quick Tip: "Instead of using eyeliner, I'll take a brown brow pencil and line the plastic cushion on my eyelash curler. When I curl my lashes, the color is deposited right at the root, creating a subtle, very natural looking line right at the base of the lid. This is one of my favorite makeup tricks."
---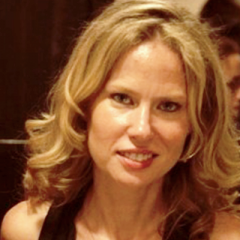 Susan is a freelance writer, born and raised in NYC and currently based in Brooklyn. She's the senior beauty editor for Meets Obsession, and also writes for online publications such as Mamasarollingstone.com, TueNight.com.
and The Huffington Post. Susan had a serious candle hoarding issue that she has no plans to address. She's currently obsessed with Marc Jacobs' new beauty line, her black Zara moto jacket, and Aaron Paul.
All author posts