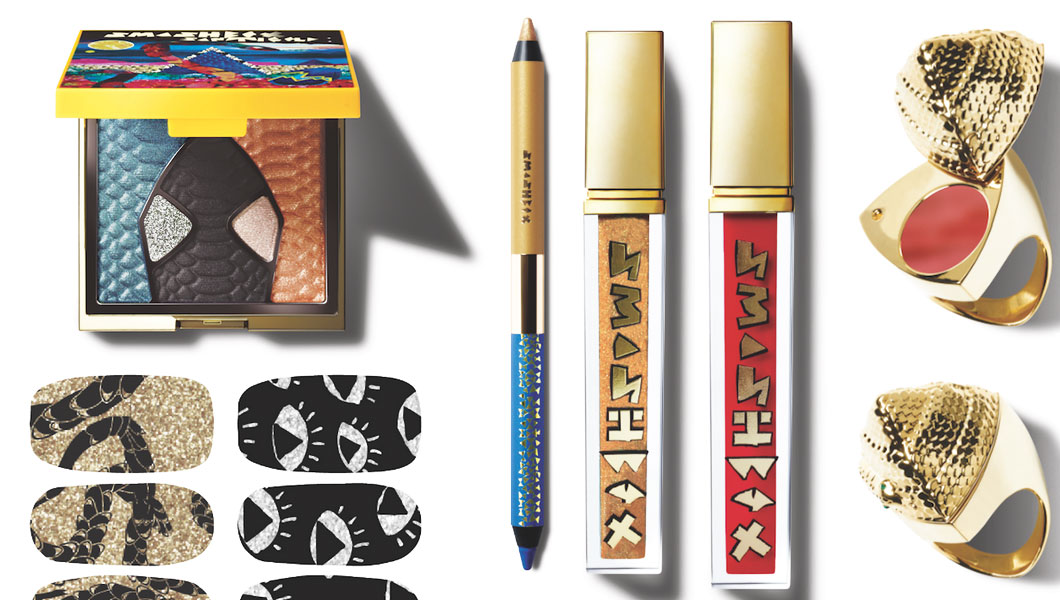 It was announced last month that cosmetics company Smashbox and singer/songwriter Santigold would partner to release a limited-edition collection just in time for spring. We, like you, were super-thrilled to hear the collaboration news and, ever since, have been counting down the days until we'd get a glimpse of what the collection might look like.
Well, wait no more. The official Santigolden Age Summer collection has launched and it's just as awesome as we thought it would be.
The collection is inspired from a post-2012 Golden age, where "the earth, stars, humans, aliens and all co-exist harmoniously." This inspiration can be seen throughout the collection.  There are Eye Shadow Collages ($36) that are strategically placed to resemble alien heads as well as Double-Ended Limitless Eye Liners ($24) and Nail Polish Art Strips ($22) that feature ancient writings and symbols. But our favorite among the collection has to be the Be Legendary Lipstick Ring ($49), a cool golden pyramid shaped adornment with a hidden lipstick compact.
The Santigolden Age Summer collection is now available at Smashbox.com, Sephora, Sephora Inside JCPenney, Ulta, Nordstrom, Beauty.com and select Macy's. Shop the entire collection below.