For those looking for a few new flicks to get excited about, here are four recently released, watch-worthy trailers. We'll see in the theater!
The Hunger Games – Mockingjay Part 1
Part One of Mockingjay, the final installment of Suzanne Collins literary and box office hit, "The Hunger Games" series has finally released its trailer. Set to premiere in theaters this November, the minute long video promises just as much action, rebellion, and revolution as its predecessors.
Fifty Shades of Grey
After much teasing,  E.L. James' "Fifty Shades of Grey" trailer has finally been released. In the past 48 hours the two and a half minute video has attracted over 10 million Youtube views. The smash hit "Twilight" fan fiction became one of the first erotic novels to gain mainstream success in quite sometime, so it's no surprise that the film's 2015 release is so highly anticipated.
The trailer features Anastasia Steele, played by Dakota Johnson, who  transforms from dowdy coed to beddable seductress at the hands of business mogul Christian Steel, played by Jamie Dornan.
The video is pretty tame considering the S&M theme of the novel. Universal focused on the tension between Ana and Christian, giving viewers only snippets of the eroticism that rocketed the novel to the top of the New York Times Best Seller List. While Johnson and Dornan did wonderfully, the true standout is Beyoncé's stripped down version of her "Crazy in Love" hit song. It doesn't get much sexier than Queen B's raspy uh oh's.
Mad Max: Fury Road
This year's Comic-Con revealed the trailer for the new "Mad Max" film starring Tom Hardy as the titular character. Set to be released in 2015, the clip promises a visually stunning film that portrays the dystopic setting in a  unique and terrifying way.
Nightcrawler
This autumn, Jake Gyllenhaal will be  starring in "Nightcrawler,"  a story about an enthusiastic newbie journalist who finds himself ensnared in the dangerous world of underground crime journalism. Gritty in the best way possible, "Nightcrawler"  is the film to watch if you want to catch a glimpse of the darker side of ambition.
---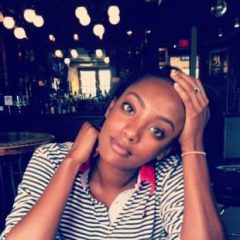 Saron is a writer and student born in Ethiopia and raised in Washington, DC. She is incapable of keeping a phone for longer than a few months, exclusively wears Miss. Dior Cherie, and her guilty pleasures include any novel written by V.C. Andrews (don't judge), Essie's "Little Brown Dress", and Stoli. She is currently obsessed with the poetry of Edmund Wilson and The Arctic Monkey's latest album "AM".
All author posts