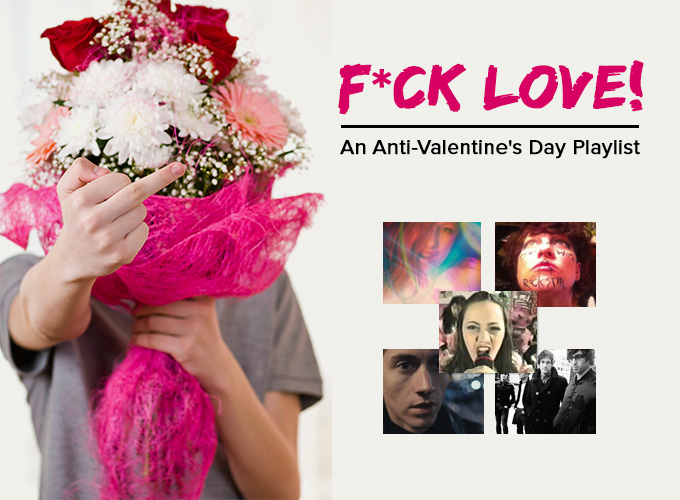 East Coasters, tonight there will probably be no fancy dinners, no surprise flower deliveries and any Valentine's Day plans you may have had will probably be cancelled. Yea, thanks for that, shitty snowstorm.  But don't worry, you can now  join the rest of the single population, many who don't really celebrate the Hallmark-marketed day of love and sappiness.
If you're lucky enough to be on our own on this dreadful holiday, here are few songs to get you through the day. Consider this your Anti-Valentine's Day playlist.
HateFuck – The Bravery

Free as a Bird – Beetles

Def Leopard – Love Bites

Get Rid of That Girl – The Donnas

Lauryn Hill – X Factor

99 Problems – Hugo

Amanda Palmer and the Grand Theft Orchestra – Do it with a Rockstar

Friend Crush – Friends

Long Legged Guitar Pickin' Man – Johnny Cash  & June Carter

Why Do You Only Call Me When You're High? – Arctic Monkeys

Marvin's Room – Drake

Drop Dead Baby – Ty Segall & Mike Cronin

Single – Lil' Wayne

Beyonce – Irreplaceable

PS. A special thanks to Miriam, Alex and my finished bottle of red wine for contributing to this list.
---

Saron is a writer and student born in Ethiopia and raised in Washington, DC. She is incapable of keeping a phone for longer than a few months, exclusively wears Miss. Dior Cherie, and her guilty pleasures include any novel written by V.C. Andrews (don't judge), Essie's "Little Brown Dress", and Stoli. She is currently obsessed with the poetry of Edmund Wilson and The Arctic Monkey's latest album "AM".
All author posts