Joan Jett is a woman with a whole lot of entrepreneurship under her belt.
At just 15, she started iconic rock band The Runaways; at 22 she became the first woman to own a record label. And now, Jett has proved that she's still worth keeping an eye on with the release of a covetable fashion line.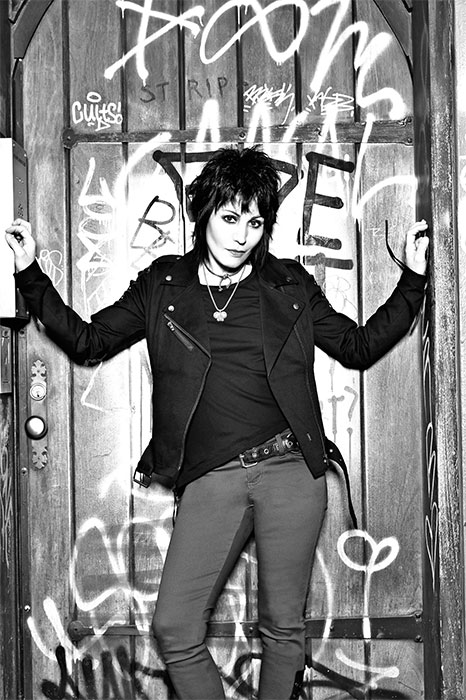 The queen of eyeliner herself has joined forces with Hot Topic to create clothes with a punk edge. Her collection will include an assortment of moto jackets–one resembling her iconic look–skinny pleather pants, a twill vest, skinny jeans, an asymmetrical tank top and a Black and Red Destructed Heart Sweater. Prices for individual pieces in the collection will range from $33 to $65.
Considering that Hot Topic was originally among only a handful of places for finding and buying alternative rocker fashion (before the Wastelands of the world),  it was only fitting that the company decided to celebrate their  25th anniversary by partnering up with Joan Jett, the original rocker girl, and X TRIPP NYC.
"Working with Daang and TRIPP NYC was effortless, as we approached this collection from the same fashion sensibility and DIY spirit," explained Jett. "I'm blown away by how the collection turned out – these clothes are some of my favorite new additions to my closet."
The Joan Jett X TRIPP NYC Fashion Collection for Hot Topic will be available for purchase starting on November 4.
---

Louise is a freelance pop culture and lifestyle writer with a life-threatening obsession with television. She talks about every TV over at The Cutprice Guignol, and edits and writes for modern music blog The Cutprice Jukebox, as well as publishing poetry in a number of international journals. She can generally be found watching horror movies, wearing ill-advised hats, and trying to find her cat. @thecutpriceguignol. Follow her on Twitter @thecutpriceguignol.
All author posts