There's nothing worse than looking in the mirror and immediately hating everyone you've been around all day because you're thinking, "why the hell did no one tell me my face looked like this?" as you wipe away the eyeliner that has run down to your clavicle.
Thankfully, we've got a few beauty tricks to help your makeup last longer and stay in place all day or night:
 
Primer
A painter never paints a canvas without priming it first, and the same rule applies to your foundation and concealer. Primer acts as a base so your makeup can go on smoothly and adhere to the skin better, thus lasting longer. Smashbox makes a primer for just about every skin type or problem.

Makeup Setting Sprays
Tons of makeup artists swear by setting sprays like Model in a Bottle or Urban Decay All Nighter. These act as a sealant for your makeup (just like sealant for a painting– noticing a trend here??) and lock it in place, so it won't smudge or settle into fine lines. It's kind of like hair spray for your face. Urban Decay's has temperature control technology that actually lowers the temperature of your makeup to resist heat and humidity. I know, right?

Using Both Liquids/Creams and Powders
Something I've noticed that makeup artists do to keep their clients looking perfect for hours– even without setting sprays–is layering different formulas. For instance, to keep contour and highlight looking fierce, apply cream bronzer and highlight first. Then, apply powders in matching shades on top. The powders will then sink into the creams and lock them in, making your face pretty resilient. Anastasia Beverly Hills sells both cream and powder contour kits. The same goes for runny eyeliner on your bottom lids. Always put some matching shadow at the lash line to create a barrier so the liner doesn't melt down under your eyes.

Setting Powder
You don't need to buy a foundation that boasts hours and hours of wear. Setting powders can do a lot for keeping oil at bay, and making your foundation last long. Some of the best and most used powders by professionals are Makeup Forever HD Setting Powder and Ben Nye Luxury Powders. Dab or pat the powder onto your skin– don't swipe it. This ensures that you won't displace your makeup in the process and you'll get better, longer-lasting results this way.

Always Use Concealer and Lip Liner
Muting out your lips with some foundation/concealer before applying lip color not only gives you the truest color of the lipstick, (without your natural lip color interfering) but also will prevent feathering. The next step is lip liner. Lip liner is essential when using darker lip colors– especially reds. Clean edges are the key to a flawless red lip. Additionally, you can clean up the edges even further with concealer just outside your lip line. MAC and NYX  lip liners come in endless colors to match whatever shade you're going for.
---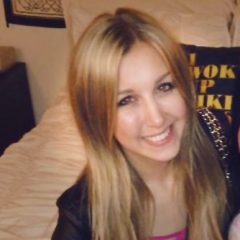 Sara is a student at The George Washington University. She loves sharing her need-to-know beauty and fashion tips, and thinks everything should come in leather. She can't live without NARS bronzer, Voluspa candles or her four cats.
All author posts