Now that February has come to a close, it's time to review our most loved products from the past month. Here are a few of our "holy grail shit" products that we're dying to share:
This mask with clay and botanical ingredients can take your skin from scary to gorgeous literally overnight. It has both purifying and calming qualities, quelling breakouts and preventing new ones from forming. It has kaolin (the golden ingredient you should look for in a mask), to extract dirt and oil from clogged pores. Apply it in the evening when you have a breakout, and we swear it'll be improved in the morning. If your skin is congested and bumpy, you need this in your life.
Lorac is killing it lately with their products, which is  why I picked up the Lorac Pro Palette at Ulta and have used it every day since. It has the perfect mix of sexy, never boring neutrals for daytime and sultry nighttime shades to fill in the blanks in your makeup bag. Whatever look you're in the mood for, this palette has the colors to create it. Not to mention the texture of the shadows is so velvety and delish, you only need a little bit to create major impact.
A sexy glow and highlight is such a coveted look lately, and it can be difficult to achieve with glittery highlighting powders and luminizers. This opalescent cream is perfect for layering underneath your foundation for a "lit from within" glow that doesn't look like makeup. Apply this glowy cream on your cheekbones, bridge of your nose, upper lip and center of your forehead before applying the rest of your makeup. You just have to try it– you'll thank me later.
You don't always need to use black eyeliner to get a smokey evening look. In fact, this chocolate brown liner with soft gold shimmer accentuates every color and gives an ultra sexy look when used on the lower lashline and waterline. This liner intensifies blue eyes without looking overdone, and brings out the highlights in dark eyes. It's universally flattering and the perfect finishing touch to your eye look.
I'm the worst when it comes to taking off my makeup at night. So, I like the convenience of using a wipe to remove all my makeup without water. I've tried many brands of makeup wipes, but they always give me this "I just bathed my face in acid" feeling that I don't really love. However, the hype surrounding these face wipes is totally warranted. Not only do they remove every bit of my makeup, but they're super calming and gentle. They save my skin at the end of the day.
---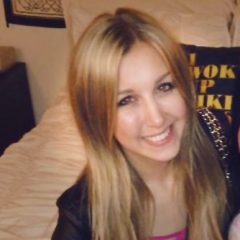 Sara is a student at The George Washington University. She loves sharing her need-to-know beauty and fashion tips, and thinks everything should come in leather. She can't live without NARS bronzer, Voluspa candles or her four cats.
All author posts