It seems like whenever we really want our skin to look good, we break out. It may as well be scientific fact (Murphy's Law is such a dick).  If you're like me and you'd like clearer skin (aka you're a human), then equip yourself with the proper weapons for a pretty complexion:

1. Cleanser
You need a face wash that's right for your skin, or else you'll be throwing the balance off and your acne will actually be worse. Pick one that's made for your skin type.  If your skin is sensitive, never give your face a "one size fits all" cleanser. For acne prone skin, I'm a die hard fan of Neutrogena Pink Grapefruit Oil Free Acne Wash. It's an infallible drugstore option. Also– don't over-wash your face. It'll make things worse. Again, problematic skin needs balance.
2. Spot Treatments
To target specific breakouts, spot treatments do wonders. Iconic options include Mario Badescu Drying Lotion and Origins Spot Remover Anti Blemish Treatment Gel. Apply some to the blemish before bed a few times a week to speed up the drying and healing process.
3. Moisturizer
Unless you have seriously dry skin and small pores, go for an oil-free moisturizer. Oil in our beauty products clogs pores extremely easily, giving us blackheads and bumpy skin. Another term for oil-free is "non-comedogenic," AKA it doesn't clog pores, so look for that on the packaging. Two great oil-free options are Neutrogena Oil-Free Moisturizer and Clinique Dramatically Different Moisturizing Gel. Both these options make your skin feel really soft. Side note– just because your skin is oily, doesn't mean you don't need to moisturize!
4. Masks
If you want skin that's clearer and super smooth, use face masks. There are so many different types of masks for whatever your skin needs at the moment. If you don't have a lot of time and your skin is acne prone, try Clinique Acne Solutions Oil Control Cleansing Mask. It only stays on for 5 minutes, so it's a quick (and effective!) fix for breakouts. Alternate masks for acne with moisturizing ones, to keep you from drying out your skin. Glam Glow Thirsty Mud is a great moisturizing mask for all skin types. It makes your complexion look awesome.
5. Exfoliating
Are you exfoliating? If not, start right the F now. Especially if you're in your late twenties, when your skin's natural exfoliating process starts tanking. Exfoliating your skin removes dead skin cells and oil build up, preventing blackheads and large pores. It also makes your skin feel incredible, look glowier and your makeup will go on way smoother. One of my favorites is the Dermalogica Daily Microfoliant. It's a rice-based grainy powder that you mix with water to form a paste, then you scrub your face with it. It kind of makes me feel like a scientist.
---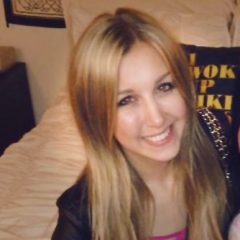 Sara is a student at The George Washington University. She loves sharing her need-to-know beauty and fashion tips, and thinks everything should come in leather. She can't live without NARS bronzer, Voluspa candles or her four cats.
All author posts