As women, we all have body parts of that we are not proud of. Sometimes even a gym cannot fix flabby arms, thigh bulge, or muffin top. Don't fret, because all you need is the correct clothing with a good fit in order to conceal these problem areas.
Faded skinny jeans. Ever wonder why some jeans are darker in the back, but are faded along the front? This is no accident. It essentially makes your legs appear the size of the faded portion; perfect for slimming those thighs!
A skater dress. This style, also known as the "fit-and-flare," will draw attention to the smallest part of your waist, no matter what shape you are. The voluminous skirt is also great for concealing pear-shaped hips and muscular thighs.
A paneled dress or skirt. Many of us may shy away from body-conscious silhouettes, but contrary to popular belief, they can be very flattering. Formfitting sheath dresses and pencil skirts with strategic side paneling will create the illusion of a slim, hourglass figure. If you are still weary, a black dress with simple white panels is the safest, most flattering option.
Liquid leather leggings. Unleash your inner Catwoman with a pair of leggings with a sleek, leather-inspired finish. Make sure they are extremely fitted, and balance them with a loose tunic on top. Your legs will look impossibly tiny!
Nude heels. This is a trick we should have learned  from our favorite celebrities. A pair of pumps that matches your skin tone will elongate the leg, while simultaneously drawing more attention to your ensemble.
A fitted, structured blazer. Blazers not only look professional, but they also nip in at the waist, making them the perfect topper for any body type. Just be sure to button-up!
A monochromatic look. Choose a bold color, like magenta or cobalt blue, and rock separates of the same shade. You will look slim while achieving a cool, modern vibe.
---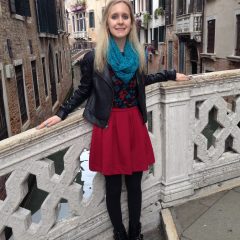 Hayley Lind is a rising senior at Philadelphia University with a major in Fashion Industry Management and a minor in Professional Communication. She currently serves as the blog co-editor for her college's fashion publication, Styleline. She hopes to one day write for a fashion magazine in New York City. Hayley is currently obsessed with outdoor yoga, thrift store shopping, and avocados.
All author posts