Now that (hopefully) the last snow storm is behind us, we can start dreaming and fantasizing about all those lazy days of summer bliss we intend to have. And even though we still need to get through a few months of perfectly-suitable spring weather, we intend to start shopping now for all our usual summer activities, like music festivals, lazy, sunny days on the beach and just chilling out with friends.
With the temperatures significantly warmer, summer style should be light, easy and effortless. We've trolled the internet for the coolest new bikinis, tunics, dresses and accessories for the bohemian, free spirit.
DRESSES
We're all for a look that only requires one step, especially on hot summer days where you don't want to be restricted by denim shorts and tanks. These picks can be worn day or night, and are super unique and fun. This Lna T-shirt Maxi Dress if perfect for layering fun jewelry to spice it up, and Blue Life's low cut tie-dye High Tide Maxi Dress is one stop shopping for a seriously hot day time look.
If you're into shorter dresses and tunics, these gauzy, light-weight frocks  by Jen's Pirate Booty, the Petunia Tunic and  the Coco Tank, are perfect for on & off the beach. They're great for achieving that "oh I just live in a hut on the beach and look like a sexy mermaid all the time" vibe. Love it.
ROMPERS AND JUMPSUITS
If there's one thing that every girl needs in her closet right now, it's a jumpsuit. They're useful for so many different events and looks, and make you feel sophisticated and sexy (and just generally like a bad bitch). We love this gorgeous nude one by Capulet – it's perfect for  highlighting your sexy, summer tan. If you  feel like going for something on the funky side,  try  a staple black version  or this  Black Fuchsia Orchid Eight Sixty Jumpsuit.
Long-sleeved rompers are also a fantastic day-or-night look in warmer weather. They're fab whether your style is more urban or bohemian, because you can do a lot with them in terms of accessorizing.  This Blue Life paisley boho print version makes a serious statement, as does this purple snakeskin piece. If you're not into prints, this black Eight Sixty Jumpsuit is gorg as well.
BIKINIS
There are so many different bikini styles hitting the market right now, it's no longer a decision between one piece, bandeau or triangle top. This Mikoh bikini features a sport scoop top with a crochet racerback– super cute and different. SHE MADE ME's Halter Bikini Top also features the same awesome crochet fabric, but has a full coverage halter design. If you're loving the crochet thing, check out Lost Culture on Etsy for awesome hand-made bikinis.
The mesh and lingerie-esque trend is also huge for bikinis right now. This Minimale Animale The Bandit Top is super low-coverage and sexy, while this Blue life  Monte Carlo Tri-Top is a bit more understated but still follows that undergarment look.
Who said one pieces have to be boring and ugly? Awkward lifeguard-esque suits are clearly no more, because these one pieces, L*SPACE'a Sunsetter One Piece Swimsuit and Lisa Maree's Down The Garden Path Swimsuit, are unreal.
SHOES
Anything with a chunky wood heel is totally summer appropriate and transferrable from day to night. Try Koolaburra's Wren Wood Platform Slide with any of the aforementioned dresses or rompers, and this pair of Morgan Fringe Sandal In Taupe with more casual/boho looks.
HATS
If we learned anything from fashion week, it's that Marc Jacobs loves floppy western hats. We couldn't agree more with this staple accessory to add fashion-savvy style to any look.
If you're not trying to make a big statement, try a smaller hat like a Brixton Wesley Fedora or  a Lovely Bird Buenos Aires Triple Wrap. For those that have something bold to say, go bigger with a Lovely Bird Hats Suede Bohemia Hat or a Lack of Color Montana Midnight Muse Hat,   if you're feeling ballsy.
---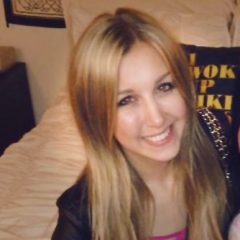 Sara is a student at The George Washington University. She loves sharing her need-to-know beauty and fashion tips, and thinks everything should come in leather. She can't live without NARS bronzer, Voluspa candles or her four cats.
All author posts