There is no greater time-suck than having to change your outfit before leaving the gym in fear of subjecting the outside world with the sight of your tattered t-shirt and ill-fitting basketball shorts. Oh yeah, and there is also that lumpy sack we call a gym bag. Well, friends, our embarrassing gym moments (always in front of gorgeous, buff guys, of course) have finally come to an end. Clothing companies are now producing workout gear you want other people to see see you in. Check out these seven #hot workout items you can rock around the clock.

COLORFUL LEGGINGS
Leggings have truly taken our world by storm. From leather to fleece-lined, these classic pieces are available in just about any colour, length or material imaginable. Their stretch and comfort makes them a great piece of workout gear. But toss those black, tattered ones and spice up your workout with a brightly coloured or patterned pair. Many brands are offering stripes, florals and neons to make your workout a bit more exciting.  Now you have no excuse to wear those grungy sweatpants. Strut to the gym in a cute pair of leggings and you'll be sure to turn some heads.

SCUBA HOODIE
Lululemon has always been known for their comfortable, long lasting and aesthetically pleasing workout gear. Their clothes are versatile and look hot on everyone. One of their most popular (and coziest!) pieces is the Scuba Hoodie. This layering piece is as comfortable as any boyfriend's XXL hoodie, but it is the shape and unique colours that set the Scuba Hoodie apart. Just throw it on after your workout and head to the nearest market for a snack. No one will know you just sweated out the amount of a small pond.

CUTE SPORTS BRA
Probably the most important part of workout gear is the magical sports bra. Seriously, no one wants to see that bounce. Many girls use them underneath tank tops while others, the very confident others, wear their sports bras alone. Whatever your preference, it is important to still look and feel your best. This means even your sports bra should sport a cool design (pun intended) and come in fun colours. Try out different straps, pick one that is two toned or go for a fun pattern that will peak out under your tank. That way, every part of you will feel pretty and ready to get fit.

CROP TOP
Just like leggings, crop tops are everywhere. There is no better way to feel relevant in and out of the gym then by pulling on one of the most talked about pieces of the last few years. Of course, if you're planning on wearing it in the gym, stay away from cotton and opt for one that absorbs sweat, like the ones available at Free People. That way, you'll look runway ready and still free to do a lunge or ten.

DETAILED GYM BAG
Put down the book bag. Throw away the plastic shopping bag. And invest in a gym bag, people! Make sure it is big enough for all of your gear, yet maintains the shape of a handbag. Choosing a style with leather straps or metal detailing will make it look less like a workout bag and more like a designer purse.

TURBAN HEADBAND
The worst feeling is catching a glimpse of yourself after a workout and realizing your hair resembles a bird's nest. In this moment, there is very little to do other than throwing it up in a ponytail and hoping for the best. Thankfully, there is another option now: the turban headband. These headbands can be worn during the workout to keep your hair away from your face, or thrown on afterwards to make the best out of a sticky situation. Choose your favourite colour or pattern to draw people's eyes towards the turban instead of your sweaty roots.

FITBIT ACCESSORIES
The Fitbit is an amazing new piece of technology that tracks your fitness and food intake. It is a great way to visualize your progress while working toward your set goals. Previously, these bulky plastic accessories were not exactly fashion forward. Recently, however, Designer brands such as Tory Burch have taken the plunge and created stunning pieces to accessorize your Fitbit. You will want to wear these pieces everywhere!
Going to the gym is a great thing for both your mind and your body, so every woman should feel beautiful and empowered during and after her workout. With these pieces, you will not only look fabulous, but you will feel it too. No longer do you have to rush from the gym to the car for fear of being seen, you can stop and run some errands on the way home with confidence.
---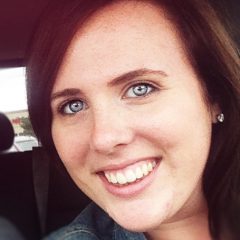 Kate Lutes is a senior at St. Thomas University with a double major in English and Communications and a minor in Sociology. She currently works as the Social Media Assistant for P.I.N.K. Publicity and after graduation hopes to break into the fashion world. Kate is currently obsessed with Sam Smith, rose gold, chai lattes and all things Topshop.
All author posts