Meets Obsession Presents the 10 Most Intriguing People in Fashion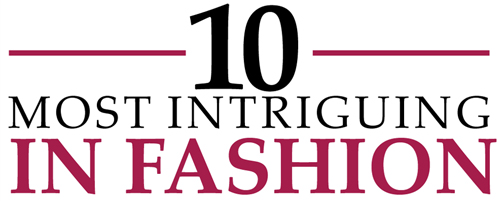 There's no shortage of  creative and talented people in the fashion industry.
But who are the rulebreakers, tastemakers and trailblazers?
Who commands attention?
And who do we love to talk  about, whether good or bad?
Meets Obsession magazine presents the 10 most intriguing people in fashion in 2011.
Our list of fashion figures we love to hate, love to love, and most of all, are intrigued by.
Illustrations by Yiying Lu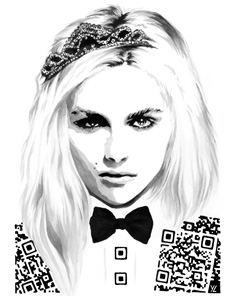 The Femiman: Andrej Pejic
There once was a time when only female supermodels like Heidi Klum and Gisele Bundchen graced the catwalk and turned heads with their long legs and blonde tresses.
Now, it is Serbian-Australian model Andrej Pejic's turn—and no, girls, he is not oiled, tan or posing in the latest Calvin Klein underwear advertisement.
Rather, Pejic, at 19, has mesmerized, electrified and downright confused the fashion world with his gender-bending features of pale skin, pursed lips, Rubenesque eyes, and well, feminine wiles.
Simply to describe Pejic as beautiful would be tantamount to calling Einstein smart. Pejic is androgyny at its apex, and is single-handedly spearheading the next wave in fashion—the "femiman"—or man with feminine qualities.
Yet, even this description falls short in describing his elusive and brilliant qualities. Standing at a statuesque 6'2, with bombshell blond hair, he exudes a graceful masculinity that is combined with a thoughtful, coquettish and contagious charm. When asked if he would consider a sex change operation for a contract with Victoria Secret in a March 2011 interview with The Telegraph, he replied, "You'd have to, wouldn't you? I couldn't imagine doing it any other way."
Perhaps this is the kind of "can-do" attitude a model needs to excel in fashion.
As the hottest male and female model in the industry, Pejic has the unremitting attention of every major fashion designer. He is the current face of two major labels' spring/summer 2011 advertisement campaigns—Marc Jacobs and Jean Paul Gaultier. Last January, he also landed Gaultier's menswear and haute couture female shows in Paris. Gaultier, who has now featured Pejic in multiple runway shows, built his menswear show around Pejic, and closed his haute couture show with the stunning model as the blushing bride.
Yet, with the glowing fanfare that Pejic has received, he is surprisingly tempered in his response to all the public praise. "You can be in one minute and out the next," Pejic said, almost pensively, in a television interview with Australian reporter, Rahni Sadler last February. Further, remarking on his beauty, he went on to say, "I think I am an attractive person… but I don't place that much value on beauty and I don't think society should either."
Some of this modest temperament may be due to his chaotic and humble upbringing. Pejic's childhood has been as richly provocative as his multi-layered looks.
At six months old, he and his family fled a war-torn Bosnia and finally settled in the working class city of Melbourne, Australia in 2000.
It was not until high school that he was discovered by Australian modeling agency, Chadwick.
Since then, Pejic has had a whirlwind career as fashion's "it girl," and has been shot by Steven Meisel, Mert Alas and Marcus Piggott for French and Italian Vogues, and featured in numerous editorials in WWD Japan, Zeit Magazine and i-D magazine.
He recently sparked controversy for his cover for Dossier Magazine that showed him coiffed, shirtless and feminine.
Bookstore chains, Barnes & Noble and Borders censored Pejic's magazine image—which had too closely resembled a topless woman—by wrapping the publication with an opaque plastic cover.
As a controversial male or female model, Pejic is giving all of the top fashion models a run for their money.
Kate Moss, eat your heart out.
Written by Mei Tan |Illustrated by Yiying Lu
Download Free Digital Illustrations of Andre Pejic
iPhone | 480 x 320 | 800 x 600 | iPad | 1024 x 768 | 1280 x 960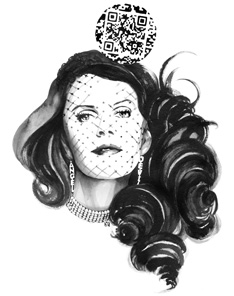 The Clothes Collector: Anna Dello Russo
If there was anyone who ever lived, breathed, and existed for fashion, it would be over-the-top, self-described "passionate fashionista," Anna Dello Russo.
Currently the Editor-at-Large and creative consultant for Japan Vogue, the Italian-born editor, at age 49, has been praised consistently by fashion elites for being a trend setter with a flair for turning daring, runway looks into "ready-to-wear" fashion.
Once described as a "fashion maniac" by famous photographer Helmut Newton, Dello Russo—as a rule—has always placed style before comfort and practicality.
At the age of 12, she attended school with a matching "collection of Fendi bags [that included a] wallet, bag, [and] umbrella," she told New York magazine in an interview last year. The umbrella, she noted, was "part of the look," even though she carried it on a sunny day.
Dello Russo boasts a vast collection of designer clothes that requires storage in not one—but two—mammoth apartments.
Last October, she interviewed with W magazine and opened her apartments (or rather, pseudo-closets) for viewing.
Photographs taken by W captured 250 tuxedo jackets, an extensive exotic fur coat collection, and a 4,000-pair shoe collection that would bring former First Lady of the Philippines, Imelda Marcos to her knees.
"Collecting clothes is complicated because the clothes need a space and the right temperature," Dello Russo told New York magazine in February 2010. "You really destroy clothes if you leave it there…It's dusty, it's hot—it ruins the clothes. It's… freezing in my house! The clothes need to be cold."
Dello Russo, while a former student of Italian literature, has a library that is not filled with books, but rather, the clothes of Dolce & Gabbana, Louboutins, and Prada.
She is meticulously organized in her closet.
The fashion enthusiast places her "top-drawer" clothing, a.k.a. the chicest and most modern, in apartment one, which is decorated top to bottom in leopard.
For items that are considered "less-than-current," she demotes them to apartment two, next door.
When Dello Russo divorced her husband, she expressed her trials and tribulations with the clothes she wore in public. Dello Russo donned a black Balenciaga two-piece to court on the day that her marriage ended. In a September 2010 interview with the Daily Beast, she said, "I was feeling really, really desperate. Balenciaga, Balenciaga! The perfect divorce outfit."
Dello Russo has moved on since then to a new boyfriend. However, he plays second fiddle to her first love. "He doesn't live with me," Dello Russo told New York Magazine in an interview last December. "There is no space because of the clothes."
Dello Russo earned a bachelor degree in Italian Literature and Art History and attended the Domus Academy in Milan.
Prior to leading one of the world's most influential fashion magazines, she spent 18 years cultivating her knowledge and style at Condé Nast Italia as Fashion Editor at Italy Vogue.
She went on to serve as editor of the men's fashion magazine, L'Uomo Vogue from 2000 to 2006.
Dello Russo is often featured in popular street style blogs like The Sartorialist and Jak & Jill.
She has worked with the international clothing website Yoox.com which celebrated its ten year anniversary by producing shirts that highlighted each one of Dello Russo's top ten outfits.
The shirts sold out within a day. Last Christmas, she ventured into the world of perfume and created a new fragrance named, "The Scent of Anna Dello Russo."
The perfume, which had notes of vanilla and almond, came, of course, in a golden shoe bottle.
We would expect nothing less.
Written by Karen Alexis Bastow | Illustrated by Yiying Lu
Download Free Digital Illustrations of  Anna Dello Russo
iPhone | 480 x 320 | 800 x 600 | iPad | 1024 x 768 | 1280 x 960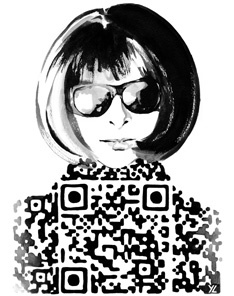 The Fashion God: Anna Wintour
In 1988, Anna Wintour stepped into American Vogue magazine as its Editor-in-Chief and never looked back.
For more than two decades, Wintour has helmed, shaped and molded a $350 billion fashion industry in her trademark sunglasses, and with her unrivaled business sensibilities.
Under her bold leadership and direction, Vogue has become, and continues to be the industry's top fashion magazine. And if that were not enough, the famous editor has a keen eye for talent, and is credited for establishing the lofty careers of fashion designer icons such as Alexander McQueen, John Galliano and Marc Jacobs.
Wintour, who has been anointed by her critics with nicknames like "Nuclear Wintour" and "Wintour of Discontent," is famous both for her cold disposition and unwavering demands of perfection.
She has a rumored $200,000 a year allowance to purchase clothes, worn the same precise bob since the age of 16, and maintainsd a regimented schedule that begins at 6 AM every day. Even her assistants are required to retain a particular look—thin, coiffed and always fashion-forward.
Her well-known demands combined with her grand authority have made Wintour the intriguing and scathing subject of the best-selling novel, "The Devil Wears Prada"; an unauthorized biography, "Front Row: Anna Wintour The Cool Life and Hot Times of Vogue's Editor in Chief"; and a critically acclaimed documentary, September Issue, made by famous filmmaker RJ Cutler.
These public caricatures, however, while entertaining, fail to encompass the successful work of Wintour, who, at age 61, has created a world in which her opinion is the only opinion that matters in fashion.
"There is always a moment when you question if Anna will like it or not… any designer that says the contrary will lie," said designer Nicolas Guescare of Balenciaga in a 2009 interview with 60 Minutes.
Last year, Wintour had Milan in a panic during fashion week when it was discovered that she had cut her visit to just four days, as designers rushed to reschedule their shows accordingly.
A veritable enigma, Wintour is a woman of few words—all of which she efficiently uses to charm, anger, praise and denounce.
"I'm very decisive, and I try to give very clear direction," she said in a 2009 interview with David Letterman, "and sometimes unfortunately they don't hear the answer they [would] like to hear."
A fashion broker and dealer, Wintour has used her extensive authority to continually elevate and promote the fashion industry.
She began the trend of placing celebrities like Demi Moore and Julia Roberts on the cover of fashion magazines, and symbiotically linked the worlds of celebrity and fashion.
For New York City retailers facing dismal sales during the economic crisis in 2009, Wintour successfully organized the event, Fashion's Night Out (FNC), a citywide celebration that encouraged consumers to shop. FNC was so successful in raising revenue sales for retailers it returned as a larger event in 2010 and had 100 cities in 16 countries participating worldwide.
To help fledgling young designers, Wintour also established the Council of Fashion Designers of America's Vogue Fashion Fund in 2001.
The fund, which has an endowment of $10 million, finances, teaches and cultivates promising young designers to ensure that the fashion industry maintains and supports its brightest stars.
"Fashion is not about looking back. It's about looking forward," Wintour once famously remarked.
Indeed, in a world that is fickle and ever-changing, Wintour has outlasted some of her greatest critics.
In the end, she remains the industry's leading authority, always looking forward behind those sunglasses, ever knowing that she can play God for as long as she wants to.
Written by Mei Tan | Illustrated by Yiying Lu
Download Free Digital Illustrations of  Anna Wintour
iPhone | 480 x 320 | 800 x 600 | iPad | 1024 x 768 | 1280 x 960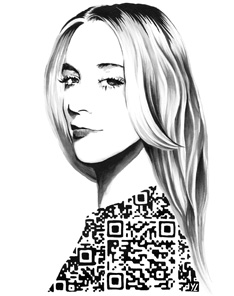 The Fashion Muse: Chloë Sevigny
It was nearly two decades ago when Jay McInerney crowned Chloë Sevigny the "it girl" of the nineties and catapulted the fledgling actress into permanent, high social status. Since then, "cool" may be the most ubiquitous word used to describe Sevigny who, at age 36, has become a noted fashion muse to iconic designers such as Marc Jacobs, Yves Saint Laurent, and Dolce and Gabbana.
However, to describe Sevigny as simply "cool," is rather an understatement.
Few individuals have garnered the relevance, praise and permanence of Sevigny who—whether intentional or not—has the uncanny ability to be a controversial, as well as inscrutable and inspirational figure in the film and fashion industry.
Sevigny is contradiction personified. She is beautiful, and has a resume of work that reflects both conservatism and liberalism, both ambiguity and clarity, and has a surprising thoughtfulness and assertive sex appeal for a girl who grew up Catholic in the waspy, affluent town of Darien, Connecticut.
Perhaps this was why she was once described as "Mona Lisa," by casting director Laura Barnett in a 2001 Vogue article.
Sevigny credits her love for clothes with shopping in thrift and vintage stores in her hometown.
By 17, she was discovered by Andrea Linett, the fashion editor of Sassy magazine who loved Sevigny's urban look and secured her a summer intern position at the magazine. For a moment, it appeared that Sevigny would have cultivated only a career in fashion.
However, by 1999, Sevigny rise in film came when she landed her first serious role in the critically acclaimed movie Boys Don't Cry and was nominated for Best Supporting Actress for the Academy Awards and Golden Globes.
Since then, she has become the movie darling and poster child of independent art house films, securing roles in critically acclaimed movies such as American Psycho and Party Monster.
In 2003, she made headlines with her explicit sex scene with director Vincent Gallo in the controversial and independent film The Brown Bunny, in which she gave Gallo a blow job.
This film is a departure from her current role as Nicki Grant, one of the conservative wives in a family of polygamists on HBO's Big Love series in which she won a Golden Globe in 2010.
But Sevigny is as much known for her artistic movie roles as she is for her notable fashion sensibilities. On the red carpet, Sevigny dresses with a fearless certitude unmatched by any celebrity.
Sevigny, who is best known for her edgy, vintage attire, believes that having personal style does not require one to compromise their wallet. In a 2009 Elle Magazine article, she stated, "It's not what you spend but how you wear it that counts…The key is often to dress up inexpensive basics with accessories. Something like a beautiful designer bag or belt can make everything else look richer and more luxurious."
Her unique style has earned her a clothing line that launched in 2008 with Opening Ceremony. Sevigny described her line to Vogue as, "a little punk, a little rockabilly" and a "late-eighties, early-nineties alternative-girl look."
Last June, Sevigny opened her line for viewing to fashion editors with a full runway show in a steamy, no air-conditioned, high school gym in New York City.
"I wanted you to come in and be transported back to the way you felt when you were a teenager," Sevigny told reporters after the show. "Even little tiny things — the cinder blocks, the color blue of the walls. Anything that would trigger the senses to that time when you're questioning everything."
Even the models that walked the runway were noticeably diverse—reflecting both "young and old and different kind of body shapes," said Sevigny.
Sevigny continues to show the world that, like her eclectic fashion sense, there is more than one way to do things.
Given her effortless transition between fashion and film, cool definitely would be an understatement to describe her.
Written by Mei Tan | Illustrated by Yiying Lu
Download Free Digital Illustrations of  Chloë Sevigny
iPhone | 480 x 320 | 800 x 600 | iPad | 1024 x 768 | 1280 x 960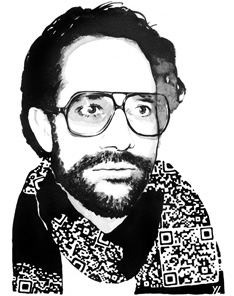 The Controversial American: Dov Charney
2011 hasn't been good for Dov Charney. As the founder and CEO of the American clothing company American Apparel, Charney is not the typical corporate executive managing a multimillion-dollar brand label. For the last several years, Charney has unabashedly made news headlines with his provocative advertisements, financial scandals and sexual harassment lawsuits.
At the same time, he is known for his social consciousness; under American Apparel, Charney has taken a pro-immigration reform stance, provided low-cost health insurance to low-wage workers, and refused to outsource his clothing line to cheaper operations outside the U.S.
At first examination, Charney, who straddles the line between controversy and morality, is a compelling human study. "I've had relationships, loving relationships, that I'm proud of," he said in a 2005 interview with Bloomberg Business Week about having consensual relationships with his staff. "I think it's a First Amendment right to pursue one's affection for another human being."
Thus goes the story of Charney, whose company so far has held up despite his public indiscretions.
Charney's career history—full of highs and lows—remains just as colorful as his personality: In 1997, Charney founded and expanded American Apparel, which became the fastest growing company in the U.S. By 2004, things took a turn for the worse when a Jane magazine employee wrote a controversial narrative of her sexual escapades with the business mogul.
Three years later, Charney's company was met with yet another scandal, this time it was for a provocative billboard featuring a screenshot of actor, Woody Allen, dressed as a Hasidic Jew from the film Annie Hall.
Allen sued American Apparel and won a settlement of $5 million. By 2008, Charney was back on top—he was named one of the top 100 most powerful people in Southern California by the Los Angeles Times. His company, American Apparel—with its iconic and simple t-shirts—was regarded as one of the top trendsetters. Then last year, Charney faced  rumors that his company would shut down due to declining sales and questionable loans it had taken, as well as another series of sexual harassment lawsuits.
Charney, however, has refused to hide amidst controversy. Once defending himself for sexually harassing his employees in court, he said during a deposition made public by Dateline, "I frequently drop my pants to show people my new product…There's some of us that love sluts. It could be also an endearing term."
Born in Montreal and educated in Hebrew and Canadian schools, Charney came to the United States in 1988 and began one of the most successful American clothing companies.
As a fan of American-made goods, Charney reinterpreted the classic American t-shirt, and with his brand, defined the next generation of urban hipsters.
"There was something about American products, that are just, like, rugged," he told CBS's morning show in a February 2009 interview.
Back in high school, he began buying American made t-shirts, and selling them back in Canada.
Charney latched onto his idea of American-made apparel and took it to the bank, establishing the famous clothing company in 1998. While the downtown, Los Angeles American Apparel factory was not acquired until 1997, Charney began manufacturing clothing under the American Apparel name long before.
"It was during my freshman year at Tufts, that my T-shirt company took on the trade name 'American Apparel,'" Charney writes on his website, explaining the fact that he was not the one to come up with the name. "I briefly entered into a partnership with Bob Smith, owner of Kellsport Industries, one of the most authorized Hanes wholesale dealers, and the name 'American Apparel' was actually his idea."
By 1990, Charney had dropped out of Tufts and moved to South Carolina, where he spent time learning about the t-shirt trade from textile producers. Driven, fascinated and inspired, the well-educated entrepreneur made the decision to strike out on his own. Charney borrowed $10,000 from his father to start American Apparel.
According to the New York Times, Charney also gained financial backing from the mothers of former girlfriends. "I noticed they were Mrs. Robinson-types," he told the Times last April when asked about how he charmed his female endorsers.
A large portion of the company's success is attributed to the fact that Charney—in a world that has globalized its markets—has branded American Apparel as a domestic company with goods produced by American workers. As CEO, Charney supports employee-friendly corporate policies that require that workers are treated fairly, paid above minimum wage, and have access to benefits.
Yet, despite Charney's goodwill towards his employees, he remains the subject of fashion and gossip circles around the globe. Charney continues to shock the public with his controversial mannerisms and use of sexually provocative ads that display half-dressed models with their chests and bottoms exposed. Perhaps this is what makes him a genius marketer for American Apparel.
Written by Catherine Toor | Illustrated by Yiying Lu
Download Free Digital Illustrations of  Dov Charney

iPhone | 480 x 320 | 800 x 600 | iPad | 1024 x 768 | 1280 x 960

Who Else Made the Intriguing List?
Read the rest of the intriguing profiles in Meets Obsession Magazine.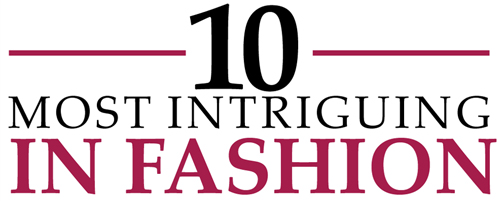 Illustrations by Yiying Lu. Click here to see Yiying's illustrations in progress.