Write for Meets Obsession Magazine
Write for  Meets Obsession Magazine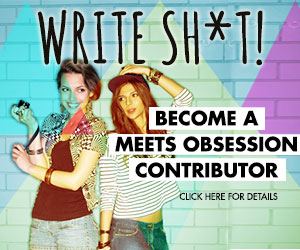 Hey you. Yes, you over there.  Do you like to write just for the fun of it?  Are you a protector of the English language with a strong voice?  Do you want to share your words of wisdom and wit with the world? Do you have an unhealthy obsession with music, film, fashion, or the arts?
If you answered yes to the above, you're in luck because we're looking for contributors.
Come join our seriously kick-ass team of creative writers and contributors.
Here's all the things you get to do while writing for MO magazine.
Music writers: attend free shows, meet bands and interview them. Grow your music collection tenfold by reviewing albums.
Fashion writers: attend fashion shows/events/openings, hobnob and mingle with designers, write about fashion events, fashion news and fashion features.
Film writers: See free movies. Tell the world why the movie maybe sucked (or maybe didn't). Go to press junkets and interview actors and directors like Joseph Gordon-Levitt, Gary Oldman, Greta Gerwig, Seth Rogen and Elizabeth Olson (yea, we did all of that).  You'll be the envy of your friends.
Here's what you need to know:
MO writers contribute from once a week to every other week.
MO writers know their shit.  If they write about fashion, music, or film, they understand the topic from a referential and historical point of view.
For writers just starting out (yea, current journalism student, we're talking to YOU), this is a great opportunity for feedback and experience. And for those experienced writers, it's a great opportunity to build clips, or just a much-needed creative release from your day job writing technical jargon—you'll  have much autonomy to write about the things you want.
[divider top="no"][/divider]
So what are you waiting for? Give us your deets below.
[button url="https://obsessed.wufoo.com/forms/become-an-obsessed-contributor" target="blank" style="flat" background="#ef2d4d" size="8″ icon="icon: pencil"]Start Here[/button]
.