Meets Obsession attended Washington D.C. photographer, Victoria F. Gaitán's solo exhibition at the Conner Contemporary Art gallery.
Gaitán's work focuses on female subjects, and in the past several years, she has created provocative images of women that evoke in us a sense of beauty, chaos and at times, decay.
In person, her look is as compelling as her photographs. With mermaid-like, flaxen blonde hair, and a tattooed body, Gaitán stood tall and striking in her black, feather-trimmed dress and ruby red slippers like those of Dorothy's from the Wizard of Oz.
We are in love with her and her work, and were pleased to see so many of D.C.'s finest art patrons at her showing.
[nggallery id=112]
---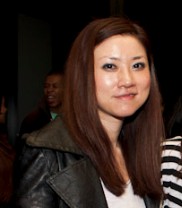 Mei Tan is currently obsessed with lace-up booties, anything by Marc Jacobs, sleeping in until noon, and "winning."
All author posts