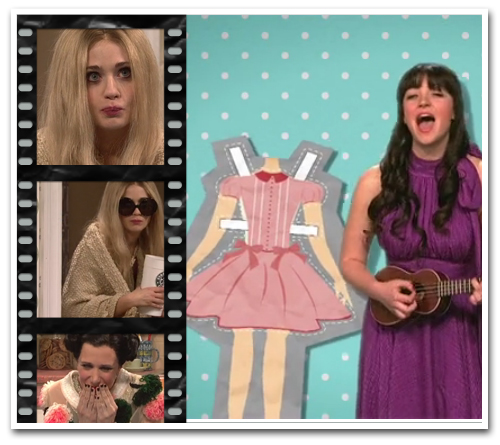 This weekend's Saturday Night Live sketch "Bein' Quirky With Zooey Deschanel" is hilariously truthful—all while making us wonder why have we been so obsessed with the new quirky girl cliché.
SNL cast member Abby Elliott brilliantly plays Zooey Deschanel perfectly, capturing the actress's character "Jess" from the new television series New Girl.
The real Zooey Deschanel joins Abby Elliot on the SNL stage depicting a very hobo-chic Mary-Kate Olsen, and actress Kristen Wiig tops it all off in a spot-on quirky Bjork.
The characters engage in all things that make Zooey, and other quirky girls of the world, eccentric: the big puppy dog eyes, love for all things vintage, knitting, taste for indie music, and of course worshipping Blossom's own quirky heroine played by Mayim Bialik.
The quirky girl parodies have gone viral with Funny or Die's own "Quirky Girl" video, featuring Aaron Paul and Teresa Palmer, as the now overused boy-doesn't-believe-in-love-until-he-meets-her trope couple in a comical rip off  from indie faves like, 500 Days of Summer and Garden State.
Is the quirky girl going to become a run-off cliché like the typical girl next door?
Well, if there's one thing that's known for sure, it's Zooey Deschanel telling Lucky magazine last year that she didn't like being called quirky. She says it's "annoying" and it's a "nice way of saying weird."
Weird or not, we find these skits hilarious.
Zooey' SNL skit continues next week featuring "Chloë Sevigny and an American Girl doll."