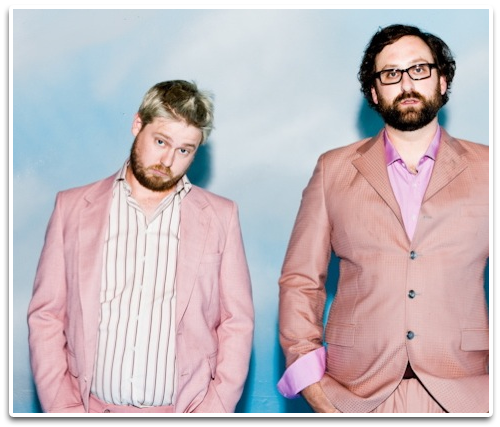 Courtesy Photo
Over the past 5 years, cult comedians Tim Heidecker and Eric Wareheim have carved out quite a name for themselves with the success of the absurd and darkly hilarious sketch comedy show "Tim and Eric Awesome Show, Great Job!"
Their bizarre blend of surreal, uncomfortable, and gross-out, controversial humor has become a staple of Cartoon Network's acclaimed Adult Swim programming, and they've established a solid repertoire with large groups of loyal fans just as easily as they have with detractors of the show.
In the course of the show's 5-season run, the duo have brought on a slew of guest-stars, establishing regular relationships with the likes of comedy stalwarts like Zach Galifianakis, Will Ferrell and John C. Reilly, among others.
Through the appeal and acclaim of the "Tim and Eric Awesome Show, Great Job!," Tim and Eric have become something of cult icons as they've gone on to explore other avenues such as directing music videos, and even commercials with Old Spice, Absolute Vodka and others.
Tim Heidecker and Eric Wareheim in "Tim and Eric's Billion Dollar Movie"
________________________________

However, Tim and Eric have just created perhaps their most ambitious project yet: the full-length feature film "Tim and Eric's Billion Dollar Movie." The film, which abandons the 11-minute sketch comedy format for a traditional, 90-minute stringent narrative, involves a plot in which Tim and Eric are given a billion dollars to make a movie and, subsequently, fall into a billion dollar debt when they produce what is quite possibly the worst movie ever made. In a last ditch effort to pay off their billion-dollar debt, they agree to manage a decrepit, run-down shopping mall. The result is a bizarre, disgusting, but utterly hysterical and fantastic film that has all the makings for a new cult classic.
Recently, writers/producers/directors/stars Tim Heidecker and Eric Wareheim talked with Meets Obsession about their new movie, the challenges of shifting from TV to film, and what's next for the duo.
Meets Obsession: So let's talk about the movie. When did you guys get the idea to shoot a movie? Was that something you've always planned to do?
Eric Wareheim: We went to film school together, that's where we met. We always always wanted to make a movie, but we kind of fell into making TV first. We made 50 episodes of the "Tim and Eric Awesome Show, Great Job!" as well as a bunch of other shows, and we made a couple short films for HBO. One of them was "The Terrys" that got into Sundance.
MO: What was the process of making this movie like? I've read in earlier interviews that you said shooting the "Tim and Eric Awesome Show, Great Job!" was a really busy process, was that the same with the movie?
Tim Heidecker: Absolutely. We met with the Funny or Die people and had casual conversations about making a movie. We wanted to make a movie and they wanted us to make a movie. So Eric and I went off and wrote an outline and some ideas and we brought it back to Funny or Dieand they said, "all right, let's do it!" From there, we went on together to look for financing. We shopped it around to studios and said, "look we've got this movie and we want to get Will Ferrell, Zach Galifianakis, John C. Reilly, etc. up on the big screen with us." And it worked.
Zach Galifianakis in
"Tim and Eric's Billion Dollar Movie"
 ________________________________
MO: You both wrote, produced, directed, and starred in this movie, that's a ton of work, what were some of the biggest challenges making this movie?
Tim: We get to wear those fancy sounding titles, but the truth is we had a lot of support. A lot of creative people work with us— producers, editors, etc. People that really give us the energy and freedom to do what we want to do. At the end of the day, we have the final say in everything, but we're not doing it alone.
MO: So it's a really organic process with your producers, editors, the Funny or Die people, etc.?
Tim: Yeah, I think everyone's intention is to make the funniest, most original film, TV show, or whatever it is we're working on. There's really no other considerations.
MO: The movie features "Tim and Eric Awesome Show, Great Job!" regulars and guest stars like Zach Galifianakis, Will Ferrell, John C. Reilly, Will Forte, and Jeff Goldblum. Can you talk about how you got some of the other cast to be in it? Like Robert Loggia and Ray Wise?
Eric: We sent them the script and they said, "hell yes, we'll do it!"
Tim: Well, we actually have worked with Robert Loggia and Ray Wise in the past on the "Tim and Eric Awesome Show, Great Job!" I think they respected the work and they were eager to come in and gave great performances. They did exactly what we hoped for and we couldn't have been happier.
MO: You guys went to great lengths to plea to your fans to not pirate the movie and actually pay to see it, and your audience seems to be listening, can you talk about that for a bit?
Eric: We feel very lucky that we have such great, loyal supporters. Our fans are like our friends in a lot of ways and we asked them in all seriousness that if they pay to see this movie, then we can make another one, and I think people got it—they're turning up for screenings and watching it on demand, it's really great.
MO: The response to the movie, from the Sundance screenings to your live shows—seems to be overwhelmingly positive, what's that experience been like for you?
Eric: Feels great, man.
Tim: Our success and popularity has very slowly gained an audience over the years, so it isn't like an overnight thing. It's still relatively small, Eric and I can still go about our business and live life fairly anonymously, depending on what part of town we're in. We still feel like we have a ways to go and we're appreciative of our fans, but it's hasn't been an overnight story or anything, so we're fairly used to it by now.
MO: So after 5 seasons and a movie, is it safe to say that the "Tim and Eric Awesome Show, Great Job!" is done? Or would you guys do another movie?
Eric: We'll start with another movie. "Tim and Eric's Trillion Dollar Movie."
Tim: We're also looking to explore other avenues altogether. Maybe get into the interactive development market, more of a global strategy, not so focused on the United States market. Network platforms and cross-compatibility with different operating systems. Technical stuff like that.
MO: What about politics? I think our country needs some Tim and Eric leadership to bring us back into the glory days.
Tim: We might run for president next year.
MO: I'd vote for you.
Eric: Thank you.
Tim: Well thank you very much!
MO: I think that about wraps it up, thank you both for talking with me!
Tim: No problem, man. Thanks a lot!
Eric: Take care!
Tim and Eric's Billion Dollar Movie opens today select  theaters and is currently available on VOD, click here for theaters and showtimes.
---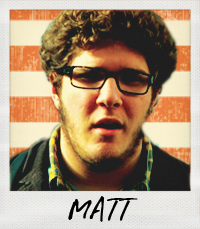 Matt is currently obsessed with Rap Snacks, post-hardcore, pizza parties, and Carl Sagan's Cosmos.
All author posts