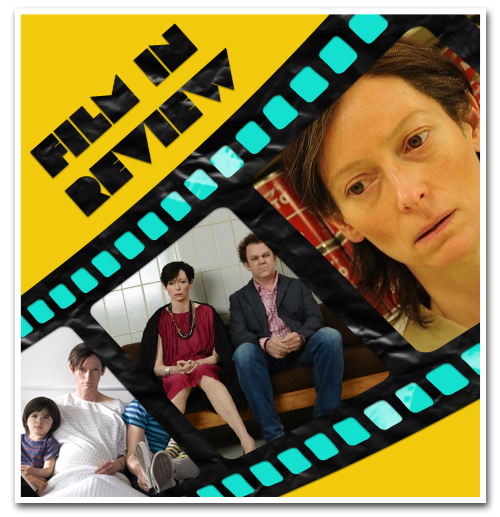 You've got to hand it to "Morvern Collar" and "Ratcatcher" director Lynne Ramsey for a film with such menacing subject matter.
Her latest film, "We Need to Talk About Kevin" is surprisingly visceral, and at times, visually stunning.  Still, it goes without saying that Ramsey's film is nonetheless a deeply disturbing and downright terrifying look at the fundamental and—as demonstrated in the film—horrific question of nature vs. nurture.
Based on the book by Lionel Shriver—which is presented as a haunting series of confessional letters from a woman whose misanthropic child went on a killing spree at his high school—Ramsey's adaptation finds the ever-eloquent Tilda Swinton in a harrowing portrayal as the book's omniscient narrator, Eva.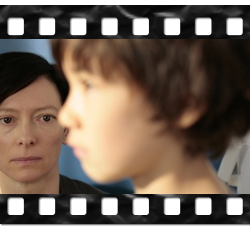 In what is one of the most criminally underrated performances of 2011 (of which the film had a very limited and very brief run in order to gain eligibility for awards consideration, to no avail), Swinton fearlessly and masterfully tackles the role of Eva as the film jumps back and forth through a narrative timeline from raising her resentful, sociopath son Kevin (played by both Ezra Miller and Jasper Newell throughout different points in his life), to the aftermath of his atrocious crime.
The film opens with Swinton taking part in the running of the bulls somewhere in the streets of Spain— an introduction to Eva's prominent past as a travel writer, which lingers so much in her memory whilst raising Kevin, and  that it's more than apparent she never wanted him in the first place. Combined with vivid and visceral imagery of stark colors and abstract images, the scene also serves as an introduction to the visual macabre that becomes Ramsay's film.
Soon after, we're told the story of how Eva meets Franklin (John C. Reilly), falls in love and marries him, but is reluctantly and unwittingly forced to put her lush and exciting life on hold when she becomes pregnant with Kevin. As the film jumps between flashbacks of Eva's timorous hand at raising her child to her life postmortem of Kevin's massacre, we are thrown into a harrowing back-and-forth of a tragic woman twice scorned: first by her resentful child Kevin—who makes it his mission to make Eva's life a living hell—and once more by her community as she tries to move on with her life in the wake of Kevin' atrocious crimes.
By dropping the epistolary literary narrative for a more cinematic technique that jumps back and forth through a before-and-after timeline, Ramsay creates an effective narrative ebb and flow that showcases Swinton's intense characterization, and consequently, Miller's sociopathic development.
But while the visual cues provide a unique and glaring narrative departure, the film finds its real footing in the development of Eva and Kevin's mother-son relationship. Even in his infancy, Kevin seems detached and resentful toward Eva, and given her reluctance towards children to begin with, the disconnect between the two only grows wider and more severe as the years pass. As an adolescent, Kevin constantly berates his mother and goes out of his way to destroy anything that she displays any sort of passion about.
Eventually, as Kevin develops into a darkly sarcastic and textbook sociopathic teenager, his sadistic intentions start to become clear.
With "We Need to Talk About Kevin," we get a modern American horror story, an in-depth study at every parent's worse nightmare—raising a malicious sociopath.
Much in the vain of Gus Van Sant's school shooting masterpiece "Elephant," the tension and suspense of the movie is never in the "what's going to happen?," as the film makes it abundantly clear from the get-go the extent of Kevin's crimes, but rather the "how did it happen?"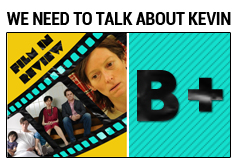 While her husband is oblivious to any of Kevin's malcontent ("he's just a boy, a beautiful little boy!" he remarks early in Eva's suspicions of Kevin), Eva must live in fear—and hell— with her suspicions, and in the aftermath, her guilt.
We Need To Talk About Kevin opens tomorrow in select theaters, click here for theaters and showtimes.
---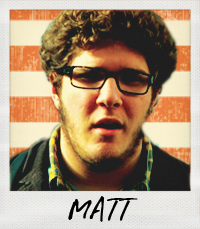 Matt is currently obsessed with Rap Snacks, post-hardcore, pizza parties, and Carl Sagan's Cosmos.
All author posts