Over the past few years, ballet flats have gone from being a new trend to becoming a staple in the wardrobes of the majority of women.
Yet, some are still hesitant to adopt this type of footwear for fear of leaving their heels and happiness behind. Have no fear, here are ten reasons why you should reconsider and add a pair of flats to your wardrobe!
Due to the simple design and flat sole, ballet flats are one of the most comfortable shoes a girl can wear. After walking through town all day, you will feel no pain and be able to dance the night away!
Seychelles Rule of Thumb D'Orsays Mint 6 Flats
Flats are one of the best shoes for a big shopping trip. Feel free to try on dresses and jeans, as you won't be spending hours taking off and putting back on your shoes. Instead, the design of flats allow you to easily remove them and within seconds and then they are right back on your feet, ready to head to the next store.
Leggings or jeans, skirt or dress, ballet flats are the perfect pair to any outfit. Whether you are looking for the perfect pair of patent black leather shoes, or a statement piece that will complete your neutral look, there is a flat for you. Any outfit, any style, any time, ballet flats are perfect.
Saint Laurent classic 'Paris 10' ballerinas
From Chanel to Marni, flats are available in all shapes, styles, colours and prices. They follow all trends from nautical to floral and everything in between. With so many designers releasing their version of the  flat, there is something out there for every woman. The hardest part? Picking just one!
Aquazzura Seduce Me" Ankle-Wrap Flats
No mother wants to be running after her children in heels. Instead, slip on a pair of flats for playing hide and seek on the playground with your little ones! Don't miss a moment of their day, but look stylish doing so. It's the best of both worlds!
With the new airplane rules, packing to go away on a trip is harder than ever. Ballet flats will be the easiest shoe to pack and can easily be stuffed into a pocket or even slide into a large purse. Instead of choosing one pair of heels, bring three pairs of flats! You'll have more options and more space!
Countries all around the world are designing, producing and selling ballet flats. Women around the world are wearing and looking fantastic in them. No matter where you travel, some style of flat will be fashionable. So make sure to pack your flats and you will always look great!
Dolce & Gabbana 'Bellucci' ballerinas
College bound,  just-turned-thirty, or approaching mid-life crisis, any woman of any age can pull off flats in a spectacular way. With the right style, this type of footwear will prove to be classic and timeless at any point in your life. Invest in a style with simple design and a neutral colour; this will guarantee you will get your money's worth, wearing these flats for years to come.
Valentino Rockstud Patent Ballerina Flat, Nude 
Unlike heels, flats will not only keep you stylish, but healthy. Heels can do a number on your back over the years, but flats will definitely slow down the process. Take a break a few times a week and put less strain on your back by throwing on a comfy pair of flats. You will be happy, years down the road, that you did!
Nicholas Kirkwood + Erdem embellished croc-effect leather flats
When you head out your door in the morning, anything could happen. You never know when you'll get into a situation where heels are just not appropriate. Flats will save the day. They will keep your feet ready for whatever adventure they are put in and let you enjoy every minute of your life!
Don't say a permanent goodbye to your higher heeled friends, instead give your sensitive soles a break every few days and invest in a great pair of ballet flats.
There's certainly equal love to share for your flats and your heels.
After all,  you can never have too many pairs of shoes!
---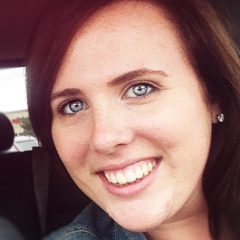 Kate Lutes is a senior at St. Thomas University with a double major in English and Communications and a minor in Sociology. She currently works as the Social Media Assistant for P.I.N.K. Publicity and after graduation hopes to break into the fashion world. Kate is currently obsessed with Sam Smith, rose gold, chai lattes and all things Topshop.
All author posts