How Our Obsession with Fast Fashion Might be Doing More Harm Than We Think 
Once upon a time, the fashion industry based the collections and trends it sold to the masses on two notable periods of time on the calendar: the fall and spring seasons. Those days are long gone, and now the common practice in the industry is to produce smaller versions of the main collections at rapid speeds.
With the pressure to create interest within their stores, or with the retailers that their fashions are sold to, the number of collections increased to include pre-fall and resort seasons in addition to fall and spring in an effort to drive sales.
In the late 1990s, the concept of fast fashion came to the forefront as a leading trend in the fashion industry. With brands looking for new ways to increase profits, new "must-have" trends began being churned out on a weekly basis.
With these new trends coming out consistently, consumers are buying as many garments as possible, as quickly as possible.
Fast fashion giants such as Zara and H&M are pioneering the "wear it once and toss it" mentality. With deliveries coming to the stores twice a week, clothes that you see on the runway are hitting the retail floor at lightening
Although this new way of spending and wearing the latest trends may seem appealing and cost-effective, that's not always the case. Fast isn't always free, someone somewhere is paying, and one victim is the
The increase in the amounts of clothes people are now consuming has heavy consequences for the environment. More clothing is shipped and flown from factories overseas, and the life cycle of these garments is decreasing.
Statistics shows that when consumers are finished with the latest trends, 68 pounds of clothing and textiles per capita are sent to landfills on average each year.
According to the Council for Textile Recycling, of that amount, which comes to a staggering 25 billion pounds per year, only 15 percent is recycled through secondhand stores such as the Salvation Army or Goodwill. While a portion of these excess textiles does feed back into the economy via sales from these stores, the volume of discarded materials has illustrated a dangerous view of clothing: disposable.
The question becomes, how do we make a change in our behaviors and halt fashion overconsumption?
It may require some work, but it is possible to purchase garments that will last and remain trendy, rather than resort to the fast fashion styles that aren't made to last.
First, it's necessary to negate the need to buy an item because it is on sale or appears to be a good "deal." The idea of fast fashion is that the clothing is cheap, so you are compelled to shop until you drop. In reality, these discounted items tend to not be designer garments at all. Rather, they are replicated designs made with lower quality fabrics instead of the sought-after label that you have been led to believe has been marked down.
Instead of purchasing clothes that are piled high underneath a sale sign, do the research required to learn what a good quality garment looks like. This will change consumers' minds about what real value is. It may cost more money in the short term, but overall, purchasing clothing with a higher price tag will mean that you have pieces that will survive the inevitable wear and tear. It's all about quality over quantity.
Another way to break the cycle of fast fashion is to take items that need some repair to the tailor. A needle and thread can quickly mend that beloved dress shirt, save an unnecessary trip to the store, prevent overspending, and make one less item to add to the pile of unwanted clothes.
Buying what you love and taking care of it is just one option to help avoid adding to the graveyard of unwanted clothing. Participating in the eco-friendly fashion market is another. You don't have to sacrifice style for sustainability. By supporting brands that have made it their mission to design for a cruelty-free closet, you can be both environmentally friendly and stylish.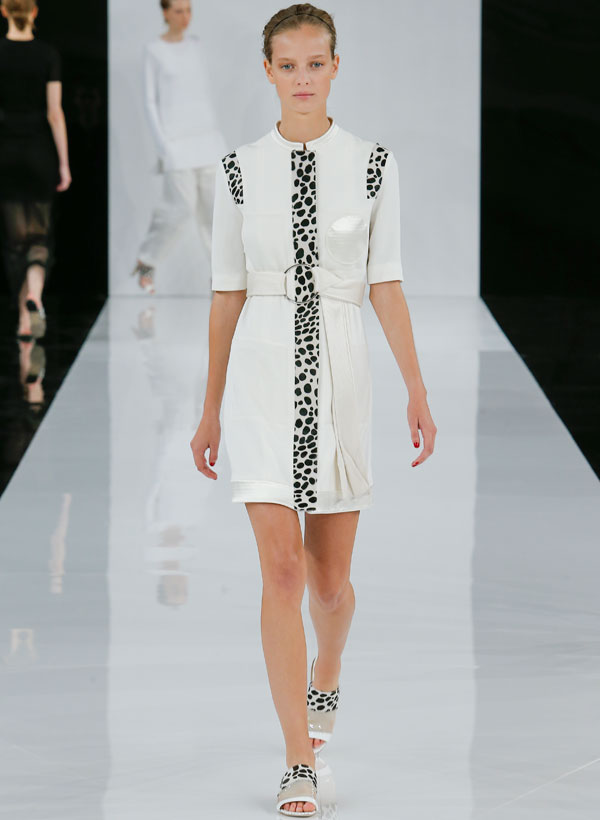 Edun, the ethical brand founded by U2's Bono and his wife Ali Hewson, is trendy and produces garments with trimmings and fabrics that are environmentally friendly.
Vegan designer Stella McCartney is committed to green fashion as well, and even H&M has a launched a conscious collection.
Patience is no longer a virtue when it comes to shopping, but if we take the time to plan each purchase and invest in clothes that may be more expensive but will last, fast fashion will become a trend of the past and we will thank ourselves and the fashion industry in the future.