A makeup artist's kit can usually be identified by the horde of MAC and Makeup Forever shadows, pricey brushes and pro-only products. And even though most MUA's rely mostly on the professional grade stuff, they aren't above using timeless old faithfuls from drugstore brands that never fail. Check out these surprising drugstore must-haves that pro makeup artists can't live without:
This go-to liner is a staple in most women's makeup bags, and even in that of celebrity makeup artists. "It's the blackest pencil I know," says Scott Barnes, the veteran artist responsible for the infamous J-Lo glow. There's no other pencil on the market that will give you the same inky, long-wearing effect. It's the perfect liner for placing in your waterline. The formula is also extremely forgiving, meaning it's easy to smoke out and change the shape if you wish.
L'oreal seriously hit the nail on the head with their True Match line. These foundations are favored by too many artists to count, including Kandee Johnson (pro makeup artist and Youtube beauty guru).
They're so exceptional because of their extensive shade range, which just cannot be matched by high-end brands. They also offer amazing coverage because of their high pigmentation. A drugstore foundation that's better than anything at Sephora? Yes please.
Is it just us, or is L'oreal True Match the shit? We're noticing a pattern here with this drugstore line that keeps getting professional praise. Kristopher Buckle, Blake Lively's go-to makeup man, favors these blushes over many higher end ones. "Many drugstore blushes have too much of a glittery finish, and you end up looking very made-up" says Buckle, "with this blush, the colors and textures are natural. They create the illusion of pretty, flushed skin." Any drugstore blush that doesn't give us disco ball cheeks gets an A+.
You don't need to break the bank to get vibrant, impactful lips. Emmy Award-winning makeup artist Vanessa Elese can't get enough of this cult classic, which comes in 24 old Hollywood-inspired shades. "I recommend 'Love That Pink' for a gorgeous pout certain to make heads turn. This is also one of the lipsticks used on HBO's "Boardwalk Empire!" says Elese.
If you've ever wondered how to get Kim K's glowy under-eye look or Jessica Burciaga's lit-from-within skin, the secret is Ben Nye Luxury Powder. These light-reflecting powders are used by nearly all makeup artists, including pros like Etienne Ortega, Rokael Lizama and Mario Dedivanovic. They create a glow that's perfect for an under-eye highlight or setting the skin without making it too matte and powdery. If you want to try this cult favorite, get the Banana color for olive and dark skin tones and Cameo for fair complexions.
---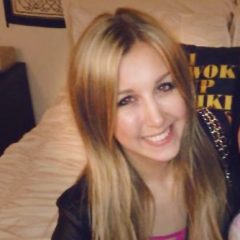 Sara is a student at The George Washington University. She loves sharing her need-to-know beauty and fashion tips, and thinks everything should come in leather. She can't live without NARS bronzer, Voluspa candles or her four cats.
All author posts