Makeup is ever-evolving. Product junkies, us included, constantly crave new innovations from variant brands that deliver convenience and creativity–in cute packaging of course. We've fallen in love with these 5 moguls who are making their mark on the world of beauty.
Lora Arellano and Dana Mobar, Melt Cosmetics
These makeup and entertainment industry veterans bonded over their shared idea of what the ideal lipstick would be: matte but not drying, and full of vibrant color. Together they formed Melt Cosmetics and are now known for some of the coolest, craziest colors to grace the pouts of daring ladies like Rihanna. Grey-blues, vampy reds, emerald greens and loud pinks are just a few of the shades available from Melt's creative palette. Even better: they're vanilla cake scented. The newest addition to their repertoire are magnetic eyeshadow stacks, which lend a fresh take on your typical eyeshadow palettes.
Emily Weiss, Glossier
Emily Weiss' approach to beauty is refreshing and personal, as displayed on her cult-followed website: Into the Gloss. Her site  strives to showcase beauty interest as fun, but also intelligent. Weiss incorporated her take on beauty into her own range of products: Glossier Cosmetics. Her line consists of four essential products to enhance the skin you're in, not cover it up. These include a soothing face mist, a priming moisturizer, a salve and a skin tint– because "foundation scares me," says Weiss. In her own words, "Glossier begins with YOU, which is why our first products are all about letting your personality shine through…glowy, dewy skin."
Adair Ilyinsky and Nadine Ferber, Ten Over Ten
"We were friends — crazy busy with work, and looked forward to the one hour we'd carve out for a mani/pedi all week long. We felt it should be a moment of luxury, not hectic and gross" says Nadine Ferber, co-owner of Ten Over Ten nail spa, in an interview with Marie Claire. You won't find any giant massage chairs or clunky dryers here. This chic, pristine take on NYC nail salons adds glamour and innovation to a typically routine experience. Their Soho sanctuary blends organic and modern elements, using earthy decor like salvaged barn doors from upstate New York,  iPads at each station and the smart option to have your credit card on file for payment (meaning no manicure-ruining digs into your purse for cash and cards). Perhaps the best element of Ten Over Ten is the "amongst your girlfriends" atmosphere, rather than the factory production line feeling of typical salons.
Zena Shteysel, Z Palette
Emmy Award-winning Zena Shteysel had a very specific mission in creating her company, Z Palette: to customize and simplify a beauty lover's makeup collection. Her ingenious magnetic palettes allow you to "de-pot" (remove the actual product pan from the packaging–which Shteysel has video tutorials on) your eyeshadows, blushes, etc. and fit them all into one palette,  unbounded by packaging that wastefully takes up space. Her expertise has landed her the role as head makeup artist for "Dancing With the Stars."This convenient palette is a must-have for makeup artists, and just those who have way too much makeup (like me).
Jenny Frankel, NUDESTIX
Inspired by her model daughters, Jenny Frankel wanted to create a line of simple, "barely there" makeup that enhances, not covers, the natural features of a woman's face. With this inspiration, NUDESTIX was created. Her line is an assortment of easy to use, foolproof pencils for your face, eyes and lips. Her products were designed to quintessentially appeal to Generation Y– young people who are always on the go, and don't want to spend more than 10 minutes on makeup. These pencils were created by an expert, too. Frankel is a seasoned contributor to the beauty industry, having worked as a chemical engineer for over 20 years creating products for brands like MAC and Cover FX. Her brand embodies simplicity and the bare necessities of what makeup is for most people.
---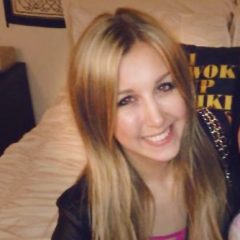 Sara is a student at The George Washington University. She loves sharing her need-to-know beauty and fashion tips, and thinks everything should come in leather. She can't live without NARS bronzer, Voluspa candles or her four cats.
All author posts