Forget the bob, lob, wob and whatever other awkwardly named but trendy crop hairstyles you've been pining over. We all know the most likely outcome of this situation: you chop off your long locks to be on-trend and then cry on the phone to your mom for an hour, asking why it looked so cute on Jennifer Aniston and not you–and then you'll turn to the one and only hope: extensions.
All types of extensions have their pros and cons. Fusion bonds are versatile and can be added in any quantity– but the balls of glue in your hair are a total pain and seriously damage your hair. They can also be felt really easily if anyone touches your hair, so this option has the potential to cause painfully awkward encounters.
A sewn-in weft may be a good option, but the tight braids can leave you with a serious headache and– again– damage your hair. Not to mention that both these options can sometimes appear really fake (so cringe-worthy).
Tape-ins are becoming hugely popular for easy, manageable length that won't destroy your hair in the aftermath. This method lasts about 2-3 months before maintenance is required, as opposed to other methods that only last 2-3 weeks before falling out. The tracks are attached to 10-15 of your natural hairs with a type of double-sided tape, making them secure but not uncomfortable or heavy.  Also, tape-ins are great because they'll lay flat against your head and be concealed for when you want to put them in a ponytail.
Getting these babies can be anywhere from 200-600 dollars (depending on the salon). But keep in mind, with these extensions, you'll keep re-using the same hair for months and simply get them re-installed as they grow out.  So, you're only paying the bulk price once. If you're not ready for the investment, you can get a less expensive deal by only having half a pack of hair put in. You can still achieve plenty of body, volume and length this way. You'll also need a special shampoo and conditioner, as to not break down the adhesive holding the hair in place. In terms of upkeep, all you need to do is brush the extensions twice a day and sleep with your hair in a braid or ponytail.
Tape-in extensions can add glamor to any hairstyle. Even simple styles look so much more va va voom with added fullness. Be aware that more hair means a longer drying time, which may be inconvenient if you don't have much time in the morning for styling. But I think it's worth it if you can feel like Ariana Grande when you're just at the gym, whipping your ponytail galore and making Rapunzel jealous.
Check with your local salons to see if they offer tape-ins, or visit one of the specialty tape-in extension salons that are popping up all over the place.
---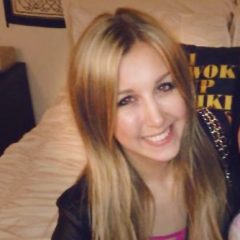 Sara is a student at The George Washington University. She loves sharing her need-to-know beauty and fashion tips, and thinks everything should come in leather. She can't live without NARS bronzer, Voluspa candles or her four cats.
All author posts