With the "Fifty Shades of Grey" film adaptation ready to sex up the big screen this week (just in time for Valentine's Day!), there's no shortage of heavy petting merchandise for fans to get their hands on.
From handcuff-holding Christian Grey Teddy Bears to adult-only board games, there are pickings aplenty for Christian-and-Ana lovers.
And the beauty aisles are no exception! So cue up that Crazy in Love remix, pour yourself a glass of Fifty Shades wine, and check out these five naughty beauty nods to the most popular mainstream tale of BSDM love. (Sick of all the hype? Maybe this Lego trailer is more your speed.)
You can give yourself a natural, rosy glow or a sultry, after-sex flush with this trio of highlighting cheek colors. The palette comes packaged in a sleek velvet pouch, along with a fluffy blush brush and how-to tips from the movie's head makeup artist.
Use this lip liner, lip color, and gloss set to create a pout ready for the most passionate of nights. The Innocent Nude Lip Trio contains three bashful beige shades, while the Passionate Lip Trio is all bold berry.
O.P.I. created six limited-edition nail colors for this special movie tie-in pack. It contains five grey lacquers ('natch) which range from sparkling silver (My Silk Tie) to smoky charcoal (Dark Side of the Mood), and one rich and sexy red.
This double duty candle can also be used as a sexy massage oil. The wax is enriched with skin-softening jojoba and coconut oil, and creates a wonderfully musky aroma while it burns.
Infused with bergamot, sandalwood, and musk, this bath oil softens the skin with vitamin E and jojoba oil while it soothes and heightens the senses. But please don't sue the company (Target) if you find the oil "ineffective." Seriously, folks — it's just a movie/book/TOTALLY FANTASY.
---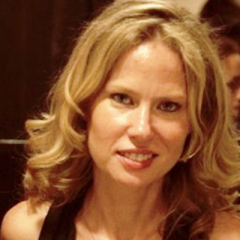 Susan is a freelance writer, born and raised in NYC and currently based in Brooklyn. She's the senior beauty editor for Meets Obsession, and also writes for online publications such as Mamasarollingstone.com, TueNight.com.
and The Huffington Post. Susan had a serious candle hoarding issue that she has no plans to address. She's currently obsessed with Marc Jacobs' new beauty line, her black Zara moto jacket, and Aaron Paul.
All author posts